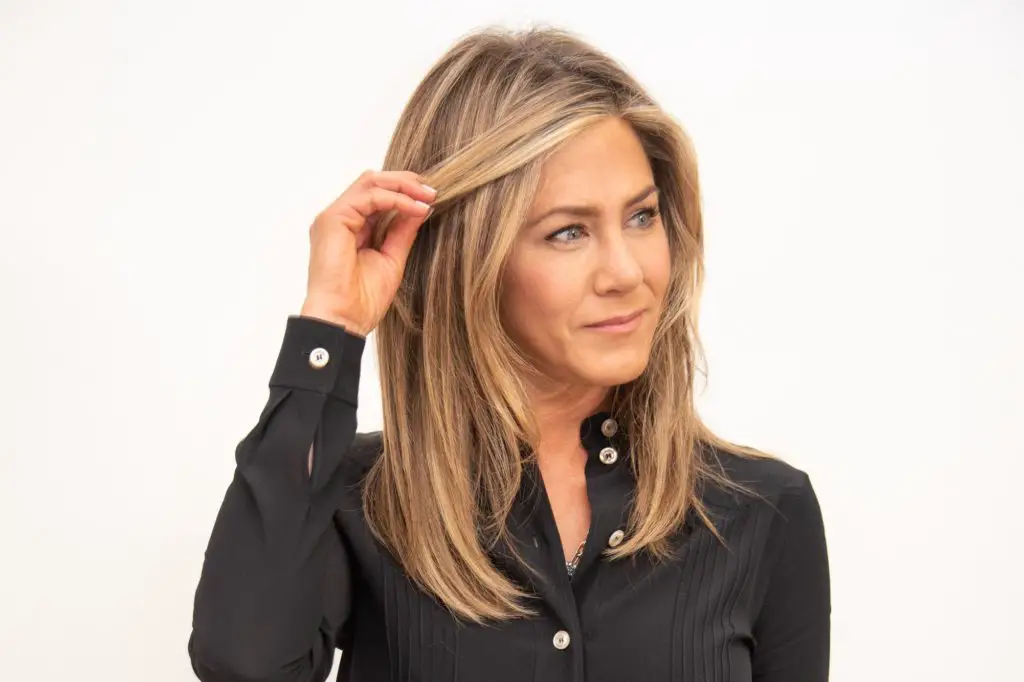 Jennifer Aniston is easily one of America's best female actresses. If fame and success could take human form, Aniston's fame and success merged into a person would be bigger than the giants in A Game of Thrones. While the 51-year-old earns hugely for her acting skills, she's also a body goddess, practicing Hatha yoga and Budokan karate.
Jennifer Aniston is without any doubt one of the most recognizable and beloved actresses in Hollywood. She became a household name after portraying Rachel Green on the television sitcom Friends (1994-2004), for which she earned Primetime Emmy, Golden Globe, and Screen Actors Guild awards.
The actress who had once married Brad Pitt and Justin Theroux is one of the sexiest ladies in Hollywood. If you aspire to become the next Jennifer Aniston, you may want to know her weight and body measurement so as to keep yours in check.
Jennifer Aniston: Early Life
Jennifer Aniston was born on February 11, 1969, in Sherman Oaks, California. Her name at birth is Jennifer Joana Aniston. Her parents divorced when she was nine, and she grew up with her mother.
Aniston was born to parents who were movie stars. John Aniston and Nancy Dow. Aniston's father, John Aniston, starred on "Days of Our Lives," and her mother, Nancy Dow, starred in the 1960s shows like "The Beverly Hillbillies" and "The Wild Wild West." They didn't want Jennifer following in their footstep but there was little they could do to divert the little girl from her passion.
Jennifer Aniston revealed that her father begged her not to pursue her dreams because he was scared that she may not handle rejections well. He wanted her to become a lawyer. But the actress's heart was set on acting and there was nothing no one could say or do to convince her otherwise. She began acting at 18 years.
Life Before Friends
Aniston worked in less than glamorous jobs before landing her major acting gigs. According to Aniston, at the age of 19, she worked as a bike messenger in New York. She described it as the toughest job she's ever had and the job lasted only two days.
During those early days, Jennifer Aniston also worked as an ice-cream scooper and a waitress. In 1996, Aniston moved to Hollywood to take a job as a telemarketer; a job she likened to selling her soul. At 21, Jennifer Aniston starred on Fox's "Molloy;" on a brief TV adaptation of "Ferris Bueller's Day Off" in 1990; on a Fox comedy series called "The Edge" in 1992; and on a CBS comedy called "Muddling Through" in 1994.
Personal Life and Relationships
While it seems Jennifer's parents passed on the acting genes to her, their relationship may have rubbed off on Jennifer too. Jennifer Aniston has not had the forever ever after kind of relationship that rarely comes with the glitz and glam of Hollywood stardom.
Between 1995 and 1998, Aniston was romantically involved with actor Tate Donovan, one of her co-stars on Friends. After their break up, the two had to work together for six episodes on Friends. Awkward, right?
Aniston's relationship with Brad Pitt is her longest and most serious relationship to date. The two met after their managers, who were friends, introduced them in 1994 at an event. Four years later, their same managers set them up on a date after they were both getting over breakups.
Aniston and Pitt started dating in 1998 and eventually married in 2000.  However, they had one of the most high-profile divorces after five years together. Pitt was rumored to have had an affair with his "Mr. & Mrs. Smith" co-star, Angelina Jolie, who he later wed in 2014.
After her breakup with Pitt, Aniston went on the rebound with her co-star, Vince Vaughn, of the 2006 romantic comedy, "The Breakup." In 2007, she dated Paul Sculfor briefly but ended things because of their hectic schedules.
Aniston and Theroux got together in 2010. They got married in August 2015 in a surprise private ceremony at their home in Bel Air. Aniston didn't get her happily ever with Theroux though. In February 2018, the couple ended their marriage.
Ex-husband Pitt, reunited with Aniston at the 2020 Screen Actors Guild Awards. He was also photographed backstage smiling while watching her accept an award.
Rumor has it that the two may be getting together, and we would definitely love to see that!
Jennifer Aniston: Age, Height, Weight
Jennifer Aniston occupies a position in Hollywood that many actors covet. At 51, the actress isn't losing any of her relevance. With a cabinet filled with awards, most notably a star on the Hollywood Walk of Fame, the actress has shown no sign of slowing down. Her body neither!
Height
We all know Jenifer Aniston for her athletic frame. The blonde-brown beauty stands at 5 feet 4.5 inches. She is the same height as stars like Victoria Beckham and Britney Spears.
Weight
In 2011, Men's Health magazine voted her "Sexiest Woman of All Time." And boy, were they more right?
Like most big movie stars, Aniston is committed to the characters she plays, and wouldn't shy away from gaining or losing an extra pound or two if the role requires it.
Prior to shooting the film, "Cake," Aniston stopped exercising and changed diets so as to gain few extra pounds for the role of Claire Simmons, a woman who suffers from chronic pain after a debilitating car accident.
Regardless of this, the actress weighs a healthy 53kg. Aniston revealed that she follows a strict training routine, and follows the Zone diet.
Her Measurements
Aniston's bust is 34 inches, her waist is 23 inches and her hips her 35 inches.
There have been speculations that the actress had some work done on her breast after she went from a B cup to a 34 C cup.  While admitting to having undergone a few rhinoplasties to fix her deviated septum and frequents laser treatments of the skin to help her regain her youthful radiance, Aniston has remained silent on the rumors.
Jennifer Aniston is all shades of awesome and you should check her out on Instagram!
COVID-19 Relief
In addition to the sexiness is a compassionate human. In as much as Jennifer is successful is as much as she gives.
As part of her contributions to the COVID-19 pandemic relief effort, Aniston announced On Instagram that she would be auctioning off her famous 1995 nude portrait for charity.
The iconic picture was captured by Mark Seliger in November 1995 after he was assigned to capture the casts of Friend. Aniston selected NafClinics as the recipients of the proceeds from the auction.
Conclusion
Jennifer Aniston's acting career was not all bed of roses. She was depressed after four unsuccessful TV shows but she bounced back with strong appearances in the movies. She has been in two marriages that crashed along the way and she has no child yet. However, the 51-year-old star has not taken more than a step away from the world's sexiest woman for which she was once voted. She may still find the man of her dreams and maybe a kid like she always wanted.