Courtney Thorne-Smith is an American Actress that graced our screens with her blonde beauty and incredible talent in the 90s and early 2000s. She amassed a cult following of fans because of her exceptional act in the Two and a Half Men series where she starred as Lyndsey McElroy. However, she became even bigger after her role as  Alison Parker on Melrose Place.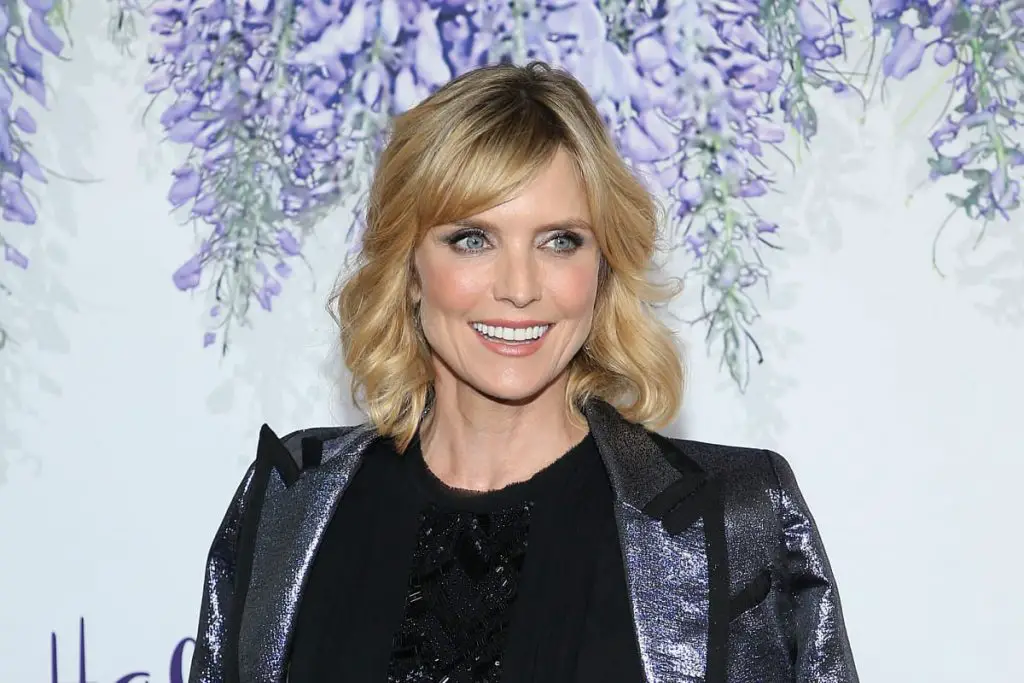 After her big break, Courtney went on to feature in so many other movies and series that were widely loved. However, she has been on a hiatus ever since after her marriage and victory streak in the movie Industry.  Find out what Courtney Throne Smith now does, apart from being a mother in this article. 
Quick Facts About Courtney Thorne Smith
Brief Bio About Courtney Thorne-Smith
Courtney Thorne Smith was born on the 8th of November, 1967 in San Francisco. She grew up with her parents, Walter Smith and Lora Thorne. Her father was a computer market researcher, while her mother was a therapist. Courtney was barely seven years old when her parents got divorced.
She attended Tamalpais High School in Mill Valley and graduated in 1985. Afterward, she went to the  Ensemble Theatre Company in Santa Barbara, CA to further her education and pursue her dream of becoming an actor. 
Her career kick-started in 1986 with her debut movie, Lucas where she starred as  Charlie Sheen's girlfriend Alise. Ever since, she has starred in so many movies and shows such as; Welcome to 18, Lindsey Infidelity, Robin Revenge of the Nerds II: Nerds in Paradise,  Day by Day, L.A. Law, Breach of Conduct, Chairman of the Board, According to Jim. Two and a Half Men, Site Unseen: An Emma Fielding Mystery and  Mom.
Apart from being a phenomenal actress, Courtney Thorne-Smith is also a Humanitarian. She is an advocate of breast cancer awareness and cure. She has also appeared in several adverts by Race for the Cure and Susan G. Komen Cancer Foundation all for the course.
What Is Courtney Thorne-Smith  Net Worth?
Before Courtney went on her hiatus, she made some ton of money. She currently holds an estimated net worth of $10million. Regardless of her inactivity in the entertainment industry in recent times, she luxurious yet low-profile life.
Courtney Thorne-Smith Now Married
Although this is her second and longest marriage, Courtney has been married to her husband, Roger Fishman for over 13 years. The couple had a secret ceremony in Los Angeles on the 1st of  January, 2007. Their wedding was like a top-secret mission-highly confidential, not even their close friends or their parents were in attendance.
However, before she got married to her husband,  In the 90s she dated  Andrew Shue who was her onscreen lover in Melrose Place.  She was married to geneticist Andrew Conrad for less than a year before they divorced in 2001.
Does Courtney Thorne-Smith Have A Child?
About a year into her second marriage with Roger Fisherman, the couple welcomed their first son, Jacob Emerson Fishman on the 11th of January, 2008.
Where Is Courtney Thorne-Smith Now?
Courtney went from gracing our screens with her blonde beauty and exceptional acting talent to nothing at all. She further explains that this is so that she doesn't get choked with work as she is on an unannounced hiatus. However, it is comforting to know that she hasn't retired from acting even though we barely see her on-screen. She recently revealed in an interview that she is still an actress but she is now very picky with the roles she takes up.
intentional about maintaining a healthy balance between work and family life. However, she recently starred as Sam in the movie Mom in 2020.  Apart from being very meticulous with her time, she also hopes to take on more roles in sitcoms in the coming years.
Conclusion
Courtney Thorne-Smith is not just a phenomenal actress, she is also a very considerate homemaker who values her family and is unashamed about it. She found a way to strike a balance between her work and her family life, which she prioritizes over her acting career. Well, it's a win-win situation for her because, at the end of the day, family is everything.