Third time's a charm for Idris Elba who vowed in 2017 not to walk down the aisle again. But, you know how love strikes you when you least expect and you'd have no other choice than to submit. This is what happened with Sabrina Dhowre, Idris Elba wife (new wife, we should say). The 48-year-old British actor, DJ, musician, voice artist has been married to the Somalian beauty, Dhowre since 2019. The year is 2021, and it looks like perhaps, Elba is third time lucky after his previous two failed relationships. 
In this article, we will be looking at Idris Elba wife, Sabrina Dhowre who looks like an absolute piece of beauty and a worthy companion for the hugely talented Idris Elba. With several years in the movie industry, Elba has not had it smooth with his relationships. It got so bad that he thought he was not going to marry anymore – enter Sabrina– and the story has changed. 
Quick Facts About Sabrina Dhowre Elba
#1. Sabrina is a Professional Model
Dhowre, 32, is a Somalian-American professional model. Dhowre is the former Miss Vancouver. She has made several magazine covers as a model including Versace and Harrods Magazine.
#2. Her Parents Are Somalian Migrants
Sabrina Dhowre's parents are Somalians who migrated to the United States of America after their marriage in Somali. There are no details of their background as she is quite private about her personal life. 
#3. Sabrina Met idris Elba At a Bar
The widely travelled movie star was on a filming set in Vancouver, Canada when he came across Sabrina in a jazz bar. Elba was filming The Mountain Between Us, a movie that had Kate Winslet in it. Immediately their eyes locked, it was an instant connection. In an interview with British Vogue, Elba mentioned that it was "love at first sight." Since their meetup in 2017, the two have appeared to be inseparable and Elba's fellow actors have confirmed their love affair
#4. Idris Elba Wife Has Never Married Before
Sabrina's first husband is Idris Elba. There is no news about her being with someone else. It is very likely that she had been in relationships before, but that is not in the public. She is quite private about her affairs.
#5. She Grew Up in Canada
Even though Sabrina Dhowre was born in New York, United States of America, she grew up in Montreal, Canada. We suspect this was because her parents moved to Canada.
#6. She is a Graduate of English Studies
After her high school education, Dhowre earned her bachelor's degree in English studies from Howard University.
#7. Dhowre Became Idris Elba Wife in Morocco
Idris Elba proposal was accepted by Sabrina and they proceeded to marry in one of the choicest hotels in Morocco, the Ksar Char Bagh Hotel in Marrakesh.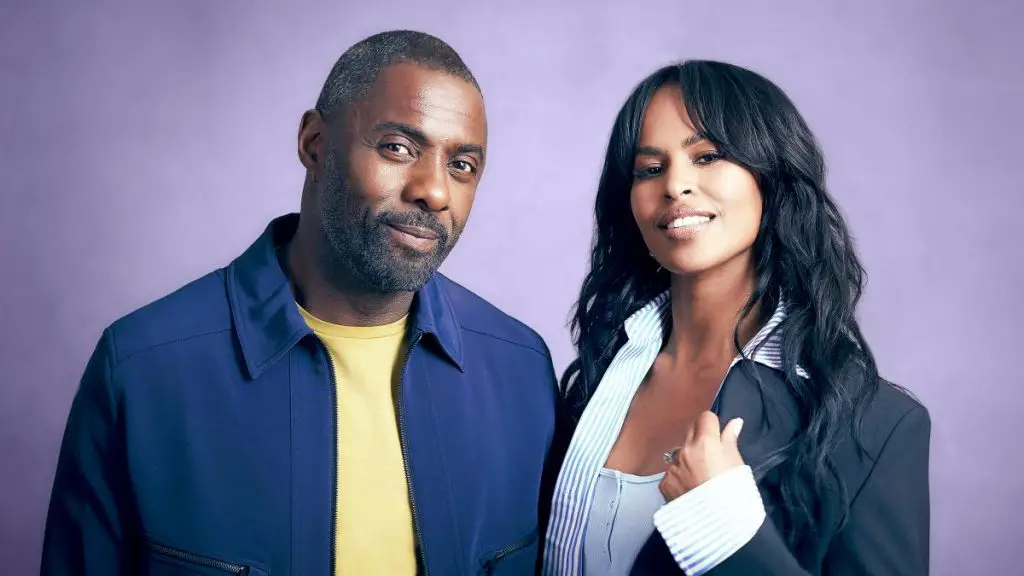 #8. She is a Business partner With Her Husband
The couple owns a business together which they named Sable Labs. Their first project was named Coupledom, a podcast that talks about their marriage so far.
#9. Sabrina and Her Husband Are UN ambassadors
One of the commitments the couple vowed to do is to help flatten the curve of the effects of COVID-19 in rural communities. To this cause, Idris Elba and his wife have been selected to be UN Goodwill ambassadors.
#10. They Both Tested for COVID-19
Who is Idris Elba? 
Idris Elba is one of the most revered and highly paid actors in the movie industry today. But he didn't get to this status by just displaying his fine face and wicked smiles. He got here with his hard work and determination. Elba was born Idrissa Akuna Elba on September 6, 1972, in the London Borough of Hackney. His father Winston Elba is a Sierra Leonean, who worked at the Ford Dagenham plant. His mother Eve is a Ghanaian. Elba's parents were married in Sierra Leone before moving to London. Idris had his high school education at Canning town. It was also here he changed his name to "Idris." Idris is a professional Disc Jockey (DJ). He started out as a DJ in 1986 when he joined his uncle with his DJ business. In just a year, he had mastered the art of DJing to start his own DJ business. 
After leaving school, Elba was a recipient of the Prince's Trust grant of £1,500. Before he got his big break, he did so many odd jobs like night shifts at Ford Dagenham, tyre-fitting. In his early twenties, Elba started auditioning for television roles. 
Idris Elba's Career
Elba appeared in Crimewatch, it was his first appearance on screen. However, his first big role didn't come until Bramwell, a medical drama series. He was the central character. Elba has gone on to make several appearances in some of the biggest movies in the world. 
For his role on the BBC crime thriller series Luther, Elba won the award for Best Actor in a Series, Mini-Series, or Motion Picture Made for Television at the 69th Golden Globe Awards. The British actor is renowned for his role as Nelson Mandela in the biographical film Mandela: Long Walk to Freedom, Commander in the Civil war-themed Beasts of No Nation. 
Idris Elba Awards
Idris Elba has been nominated four times for a Golden Globe Award for Best Actor. He's won one. He has also received five nominations for a Primetime Emmy Award. The tall, handsome man was named Essence's Sexiest Man of the Year in 2013. Five years later, he was named People Magazine's Sexiest Man Alive. Elba was made an Officer of the Order of the British Empire in 2016. 
Sabrina Dhowre is Currently Idris Elba Wife
The pair continued in the relationship with every fervor they had. It was obvious that this time around, Elba is totally in love with his wife. The way he spoke about her even before he proposed, was everything a woman would want. After one year of their first meeting, Idris Elba popped the question at an East London theatre, Rio Cinema, on February 10. She said yes! It was during a screening of his directorial debut, Yardie. 
The theatre tweeted: 
"Another @riocinema first! Still, 5 days to Valentines Day but @idriselba went down on one knee and proposed to his girlfriend live on stage this morning before a preview of his film #Yardie pic"
— Rio Cinema (@riocinema) February 10, 2018
April 26, 2019, became the day Sabrina Dhowre and Idris Elba walked down the aisle. Dhowre was stunning in her Vera Wang custom made wedding dress, while People's Sexiest Man of the Year, 2018 looked absolutely dashing in his tuxedo. 
Was Idris Elba Married Before?
In 1999, Elba married Hanne Norgaard. However, the marriage ended in 2003 due to irreconcilable differences. Three years later, he fell in love with Sonya Nicole Hamlin. They married in 2006. However, one year later, they broke off the relationship. The British-Ghanaian has two kids from his previous marriages. Isan Elba and Winston Elba are both children from Hanne Norgaard and Naiyana Garth respectively. 
Idris Elba Wife Net Worth
Sources say Sabrina Dhowre's net worth is around $1 million. 
Conclusion
With a booming career, Idris Elba wife still has the world to conquer. Her husband, however, is an established star and well revered. Having him by her side means she can take on the world. The couple's pledge to make the world a better place for other people is something admirable from them.