For many people, it is love at first sight but not with Katie Nolan. Nolan was first friends with her husband for many years before becoming lovers. Funnily, it sounds strange that Katie Nolan can keep an affair off the media, keeping it under wraps.
Knowing her boisterous personality, it is so much unlike her. It is hilarious though. Katie may want to prove a point that she can keep secrets and so can we! However, it is our quest to uncover this secret, so shall we?
It is no doubt that Katie Nolan is a lively but also curious character. The self-effacing female is the poster girl for The Girl Next Door. All she just needs is a good platform to reel out jokes imbued news items and she is good to go. Regardless, we both do agree that beauty is deserving of all accolades. Handling her on-air personality especially for such dreary area as sports takes guts and a healthy dose of humor. 
Unvaryingly, We can assure you that this brunette beauty is not lacking any of these qualities. Katie Nolan's steady rise in journalism can be attributed to the possession of these soft skills. Nevertheless, it is so heartwarming to watch her spend bonding time with her family.
Even though this post intimates you about Katie, we know that you would love to know the beau behind those smiles. Soon we would get to that but first, this is about Katie Nolan.
Katie Nolan Early Life
Katie Nolan was born on the 28th of January 1987 in Boston, Massachusetts, however, she is born Katherine Beth Nolan. Nolan attended Framingham High School graduating in 2005 then later on obtaining a Bachelor of Arts in Public Relations.
In addition to this degree, she also obtained a minor in Dance all from Hofstra University in 2009. When not at work, Katie Nolan enjoys spending time with her family and also hangs out with her brother Kevin. Moreover, Katie Nolan is a diehard fan of Boston Sports.
Katie Nolan Early Career
The 'Always Late with Katie Nolan' ESPN 2 host was initially a waitress in 2011. And while holding this job, she writes a blog against feminism which introduces her to another platform Guyism. Now at Guyism she produces comedy skits for the website (yeah you guessed the content right!).
Successively, sometime in 2013, Katie joined Fox Sports as Digital Correspondent.  Handling then the weekly podcasts 'Sport? with Katie Nolan' and later 'Garbage Time with Katie Nolan' both on Fox Sports. Moving on, she hosts the 'Crowd Goes Wild' sports talk show that was short-lived. 
Katie Nolan has at various points in her career spoken against the culture of female discrimination especially on the 'No Filter' forum. I doubt though, that this means that she identifies with feminism, or probably she is just a convenient feminist. The Show 'Garbage Time with Katie Nolan' wins for her a Sports Emmy for Outstanding Social Television Appearance Experience in 2016. Subsequently, in 2019, her other show 'Always Late with Katie Nolan' nominates her for an award. 
Albeit, she makes appearances in the past as guest a panelist on ESPN's 'Highly Questionable' in 2017. Afterward, also appearing on the comedy central program 'Drunk History' in February 2018.
Katie Nolan Husband
Katie Nolan Husband, Dan Soder, has oftentimes in the past appeared on Katie Nolan shows. In no distant time, they hit off as friends before they become more intimate and decide to become lovers. The soon-to-be-married love birds are enjoying their engagement with each other.
Dan Soder, Katie Nolan Husband stars as the character in the movie 'Billions on Showtime' as Dudley Mafee. Born on 24th June 1983 in Aurora Colorado USA, the 6ft 3in is worth $2.5 million. Dan Soder weighs 68kg and was recently voted as the 'Funniest Comedian' at the New York Comedy Festival.
Katie Nolan Husband, Dan Soder, began his career as a standup comedian at 21 as a college student. Dan Soder features in the recent past at 'Live at Gotham', and currently his skits 'The Standups' streams on Netflix. 'Not Special' premiered on Comedy Central 2016 and he is responsible for 'Son of Gary'.
Dan fascinatingly intimates that humor is a hereditary trait in both his parents. In recent years he has consecutively lost two members of his family-his father first then his older sister.
When a seven year old boy becomes the subject of the world, then he must have done something either extraordinary or unimaginable, this is the story of Latarian Milton, Read up here.
Katie Nolan Husband Previous Relationships
Speculatively, Katie Nolan Husband, Dan Soder has previously dated Hannah Berner and Nikki Glaser. Similarly, Kevin Connolly is regarded as Katie Nolan's ex-boyfriend. Conversely, theirs is a brief fling that ended on account of a bitter Facebook sub between the duo.
Kevin Connolly, an actor has also previously dated Francesca Dutton, Sabrina Gadecki, and Lydia Hearst respectively. However, Dan expresses his challenges in romantic relationships with the opposite sex to be a misunderstanding.
At 10 years of age, young Katie Nolan won the Gold Medal at the Junior Olympics for rhythmic gymnastics. Katie loves dogs and she shares her home with a little cute retriever Myrtle.

Furthermore, her net worth is currently pegged at $1.5 million. The 5ft 4in lady weighs 57kg with body measurements 26-39-37.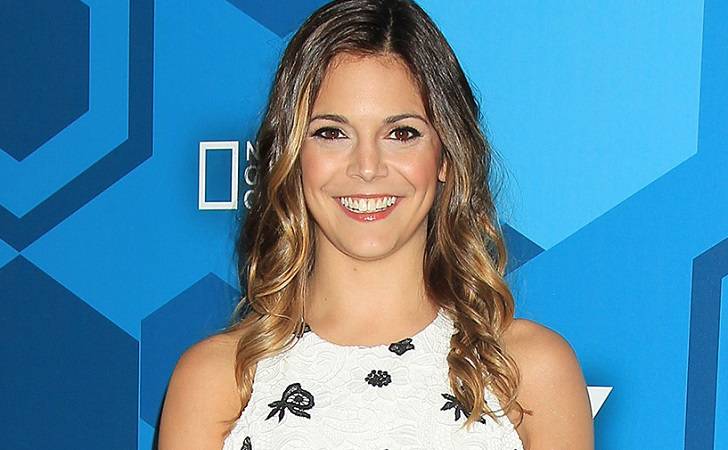 Remarkably, she is a Guinness Book Record holder (18th Nov 2018) for stacking the most doughnuts blindfolded in a minute! Although Katie Nolan Husband (according to rumours) is of mixed ethnicity, Katie Nolan is a North American. Dan Soder is part Swedish, German, and English.
Conclusion
Katie Nolan Husband is Daniel Edward Richard Soder who is actively now pursuing a career in acting. Katie presently works for ESPN although she searches for platforms with a wider audience.
Understandably, you can say that this match is heaven-made with Katie herself been a humorous fun lover. Though engaged at the moment, they do make a beautiful couple and of course, all things being equal they hope to wed soon!