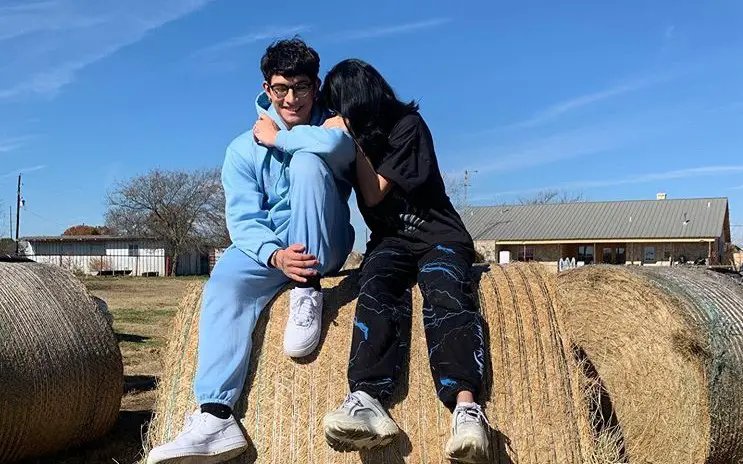 Talent doesn't seek permission to attach itself to people. Talent chose Brandon Arreaga who has problems with his sight and just like those blessed with talents, Brandon is attracting beauty. The PRETTYMUCH star, Brandon Arreaga, is moving out with the beautiful Maggie Lindemann and after a year and five months of their relationship fans are curious to know if they are still together.
Brandon may know the magic that is required to produce great music, but does he have the same magic to keep the beautiful Maggie? Not being able to use your eyes could be frustrating as you wouldn't be able to see what beauty you have – not even when you lose it. But there surely is something more than the physical appearance that draws the ladies to Brandon.
He had dated Charlotte Dean for a year before she moved on. Whatever it was that made her cling to Brandon may have dissipated after a year. Now, fans are wondering the same for Maggie Lindemann after a year with her relationship with Brandon Arreaga. How much longer before they split? Are they still together? You'll discover these in this article.
Fast Facts About Brandon and Maggie
Maybe you knew Brandon Arreaga and Maggie Lindemann independently now is the time to know them jointly. Here is a little highlight of the lovers that will come handy to you!
Brandon Arreaga
Maggie Lindemann
Brandon Arreaga's Bio
Brandon Arreaga was born on 14th December 1999 to the family of Chris and Gina Arreaga as Brandon Michael Lee Arreaga.  As of June 2020, he is 20 years old. He has an older sibling, Hallie Arreaga who dotes on him. Brandon was first homeschooled until sixth grade when he began attending public school. Born with a defect did not pose real problems for Brandon, rather it inspired him to keep pushing. He learned to play the piano and guitar at the age of six and began to produce music for local talents around him.
This came right after he built his studio at age 12.  Meanwhile, Brandon was raised in Dallas, Texas. Now, he resides in Los Angeles, California. At 5ft 10 and weighing 62kg, Brandon Arreaga is almost a man but that doesn't change his allergy to sunscreen and butt cream. Brandon enjoys hamburgers, sushi, monopoly, cola, skateboarding, riding roller coasters, and the occasional baseball and football matches. His full names are.
Brandon Arreaga Career
Recording music at the age of twelve was the needed platform to project his singing prowess and ability but adding to this, Brandon is a dancer and a social media personality. He is a member of the TruCrew entertainment group. Brandon broke through sometime in 2011 when he made his appearance in the Hub's singing competition Majors and Minors. Since then Brandon has done business with Avril Lavigne, Will.i.am, and Jordin Sparks.
Currently, Brandon Arreaga is a member of PRETTYMUCH formed by Simon Cowell that released its debut extended play in 2018. While music and dancing is Brandon Arreaga's main thing, he occasionally appears on television shows. There's the Entertainment Tonight Canada and Good Morning America that he features in. Brandon even went ahead to take a minor role in the television movie, A Christmas Story Live, in 2017.  
The Tale of Charlotte Dean, Brandon's Ex-girlfriend
Brandon Arreaga may have been in previous relationships that we know nothing about. The earliest relationship we know of the young American star was with Charlotte Dean. Charlotte Dean's personality is unknown. We can't tell where they met but highschool will sound right. Meanwhile, Brandon and Charlotte dated from 2017 to 2018 and the last thing we hear about Charlotte was that she is enrolled in college.  
Moving on for Charlotte Dean is more important to her right now and rightly so. Despite the not too cool breakup, the duo still maintains a cordial relationship that is healthy. Like really it would be a sorry sight to continue with the shades and all on social media so at least we give it up to them. However, while Charlotte season with Brandon is over, further down is the celebration of Brandon Arreaga's new girlfriend, Maggie Lindemann.
Maggie Lindemann Bio
Margaret Elizabeth Lindemann knows what it is to be creative but weird. She was born to Barton Duane and Susan Denise Lindemann on July 21 1998 in Dallas Texas. She bears a rich heritage, being of an English, Irish, German, Scottish and Welsh ancestry. Maggie, as she is so lovingly nicknamed, attended the JJ Pearce High School in Richardson Texas. We are uncertain whether she was through with high school before starting her music career. We know, however, that she moved to Los Angeles at the age of 16.
Being the first of her parents, Maggie is fiercely protective of her younger brother, and she loves dogs. However, the twenty-one-year-old does not enjoy a close relationship with her parents. In fact, she rarely speaks about that and her fans seems cool about it. Her parents had sort of prevented her from meeting up music promoters quite early.
Left to Maggie, she would have loved to be a pediatric oncology nurse if music did not happen. However, she loves being the center of attention and that's something music gives in abundance. Meanwhile, it is heartwarming to discover that Maggie did cheerlead and run races during her High School days. Being Maggie, she loves makeovers and trendy fashion and she encourages her fans to be true to themselves.
Maggie Lindemann's Career
Maggie started singing at age four in her local church and by eleven years she began to write songs. She gained recognition by promoting her music on social media, with Gerald Tennison discovering her talent. Presently, it is to her credit that we have singles as Knocking on your Heart and Couple of Kinds and Things. There is also Pretty Girl which is her breakthrough song. Maggie is inspired by Marina Diamandis, Lana Del Rey, and Azealia Banks.
These are persons she calls non-pop stars. Also, Margaret featured in some singles like Personal and Friends. She loves eating pasta, traveling, and wishes to act, of which she is currently taking acting classes. Maggie Lindemann is currently signed to 300 Entertainment Labels.
Maggie's Relationship: Past and Present
Like Brandon Arreaga, Maggie Lindemann also has previous relationships, in her case, more than Brandon. Before Brandon Arreaga in 2019, Maggie Lindemann dated fellow social media star, Cartel Reynold, from 2014 to 2015. When their relationship came to an end, she went to Mickey Barone in 2016 and then YouTube personality, Brennen Taylor in 2017.
Her relationship with Brandon first came as a rumor until Brandon confirmed it by wishing Maggie a happy 21st birthday. From 2019 to current year, 2020, the lovers have dated for one year. Following the previous relationships of both Maggie Lindemann and Brandon Arreaga, this should be the year their relationship hits the iceberg.
Fans are already shifting uncomfortably in the sad expectation but the two are still together in love and this may be one of the rare stories of sweethearts who maintain a relationship from a young age till marriage at a more mature age.
Here's Maggie Lindemann still showcasing her love for Brandon Arreaga on Instagram!
Conclusion
Brandon Arreaga is currently dating the 5ft 4 Maggie Lindemann. Lindemann weighs 52kg and has had three previous relationships. Despite this, the duo seems to be comfortable with each other, pursuing their various paths. It is however funny to discover that Brandon Arreaga is a sleepwalker. For whatever it is worth, as of present, the lovers are yet to seek a college education.  While we don't have details on how they met, we wish them the best of everything!