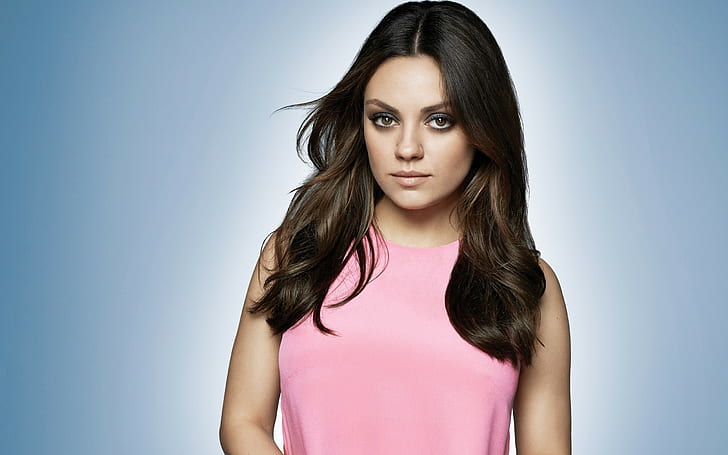 The story of the life journey of Mila Kunis is one that sparks up a glint of hope and motivation. After leaving her home in Ukraine, Mila didn't know a single word of the English Language. Who would have guessed she'd become the glamorous actress that we know today?
When Mila first arrived in the United States with her family, they had nothing on them. Her situation was so dire that Mila would always say she hasn't forgotten her roots. Now, she lives in Los Angeles, and like a typical Ukrainian, she doesn't live far from her parents. Whenever she visits them, she often speaks the Russian language which feels as comfortable as wearing her skin.
Mila Kunis and family came to the country with literally nothing to hold on to life. But looking at the level of her success in the American movie industry, you can draw that one's success can depend on something as trivial as learning the English language as a child.
Mila's journey to becoming an actress and stardom wasn't as smooth as you would imagine. Her parents never wanted her to become an actress but due to the need to socialize and make friends, they enrolled her in an acting school. Before she became famous for acting, Mila struggled with her immigrant parents to survive in a foreign land. At that period, survival was their utmost priority and it was only natural they had to worry about having stable jobs and steady income.
Early Life and Immigration to America
Mila was born as Milena Markovna Kunis in the Ukrainian city of Chernivtsi on 14th, August 1983. When they moved to the USA, Mila, her brother, Michael, and their parents, Mark and Elvirathey lived in Los Angeles. Mila was only seven (7) years old then. It was quite an uneasy start for the Kunis family whose arrival in their new country was with a meager sum of $250 in their purse.
Although Los Angeles is the city of dreams, both of Mila's parents forfeited their professional careers to delve into menial jobs in LA.
The more realistic dream for Mila's parents was a comfortable and better life for their children. Mark who was a mechanical engineer in Ukraine eventually became a cab driver, while Elvira, his wife who previously taught physics, ended up managing a pharmacy.
Mila never understood, read nor spoke English at the time. The foreign culture of the United States was overwhelmingly alien to her. It took her a while to get incorporated into the American cultural system. According to Mila when she arrived in the USA, she didn't understand the language and the people. Seven felt like the year she was deaf and blind.
Personal Life and Relationships
Mila Kunis dated Macaulay Culkin for about eight years before she disclosed their separation in 2011. No one ever thought Culkin and Mila were ever going to split. However, she claimed responsibility for being a major player towards the end of her relationship and their breakup was far more difficult than anyone imagined or portrayed.
After the sad breakup in 2012, Mila Kunis found love again in the person of Ashton Kutcher, her longtime co-star, and on-screen boyfriend. They dated back to one of her shows, That '70s Show. In 2014, media outlets and paparazzi began reporting that Kunis was engaged to Kutcher who was 36 years old.
Mila and Ashton confirmed the rumors of their engagement as they were expecting a baby. The couple welcomed their daughter, Wyatt Isabelle Kutcher, on September 30, 2014, and in 2015 Kunis and Kutcher got married at the Secret Garden at Parrish Ranch in Oak Glen, California. Kunis gave birth to their second child, Dimitri Portwood Kutcher, on 30th November 2016.
Age, Body Statistics and Net Worth
As a teenager of 14, Mila had her television breakthrough when she got the role of Jackie Burkhart on That 70s Show. Burkhart is the youngest member of the group, who is spoiled, selfish, and immature. Kunis became part of the show from 1998 to 2006, with a salary of about $100,000 per episode.
She also appeared in minor roles for Baywatch, 7th Heaven, Walker, and Texas Ranger. Mila voiced Meg Griffin on Family Guy in 1999 and received an Annie Award nomination in the voice acting category for this. Kunis debuted on the big screen in 2001 titled Basin in Get Over It. However, the film was a box office failure turning in $19,900,366 as against its $22 million budget.
Mila Kunis is a semi-petit actress. Below are her body measurements including her weight, height, dress, shoe, and bra cup size details.
Regarding Mila Kunis's net worth, as of January 2020, she was estimated to worth over 66 million. She gained her wealth from several TV commercials, movies, and TV series. Mila is just 36 years old and is incredibly beautiful!
Check the stunning Mila Kunis out on Instagram!
Conclusion
Not all celebrities who have attained stardom were born in promising families. Mila Kunis migrated from Ukraine to the USA with her family and despite how tough it is to make a living as a migrant, Mila, through sheer love and commitment to her passion, has grown to become the household celebrity that we know today. Her relationship with Caulkin may have gone down the drain but there is no saying how far Mila will go with Ashton, especially with two kids born into the marriage.