Barely four seasons into his MLB career, Aaron Judge has proven to be more than competent. The baseball player has displayed some really great skills in the short while he has been the right outfielder for the New York Yankees. He eventually turned out to be the rookie of the year during his rookie season in 2017. Aaron is well on the way to becoming the Yankees' MVP. However, nothing is certain yet. Given his antecedent, we have a strong faith that the outfielder will definitely come through.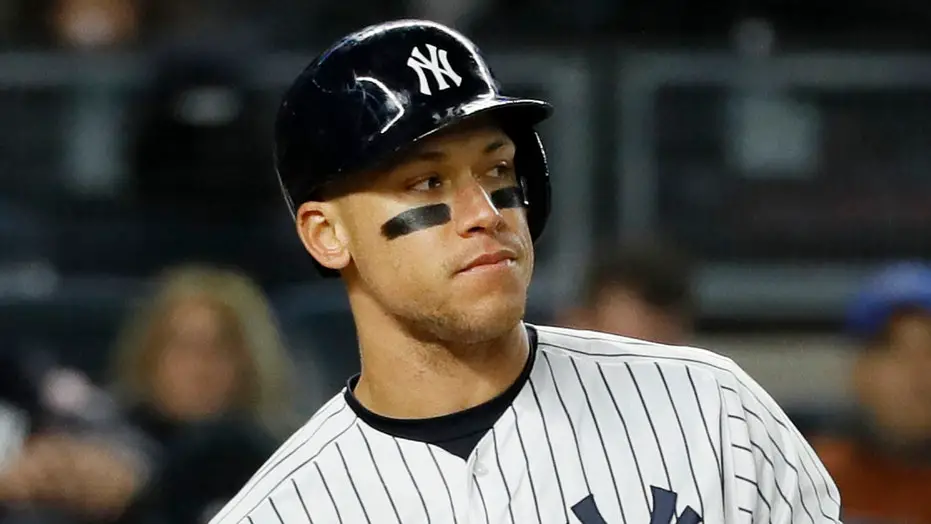 The baseball player is not just good at his craft. He is reportedly known to be well mannered and polite – "very gentlemanly". This begs the question of who raised him? Read further to get the answer.
Who Is Aaron Judge?
Aaron Judge is an American professional baseball player. He has been an outfielder,  specifically a right fielder for the New York Yankees in Major League Baseball (MLB) since 2013. He was selected into the MLB after the first round with the 32nd pick. 
Aaron Judge Is An Adopted  Child
While some people strongly maintain the belief that the family unit must be bound by blood. The story of Aaron Judge proves otherwise that family doesn't necessarily have to be blood relations. The baseball player was adopted as a child when he was barely a day old. His adoptive parents are a sweet white couple whose names are Wayne and Patty Judge. The couple adopted him exactly a day after he was born because his biological parents didn't want him. Ever since then, they have been his legal guardians and the only parents he knows.
The Judges' have been nothing short of amazing parents to Aaron. Their parenting is unsuspecting. Never in a million years will anyone guess he was adopted until the news was broken to him at the age of 10.  However, Aaron claimed he had a suspicion about it because of the lack of resemblance between him and his parents. Interestingly, the big news didn't change anything or affect his relationship with his parents. Instead, their bond grew stronger each day. The outfielder's full name is Aaron James Judge. He was born and raised in Linden, California, on April 26, 1992.
Who Are Aaron Judge Parents?
Aaron Judge Parents are Wayne and Patty Judge. Although they are his adoptive parents, they are the only known parents of Aaron. However, not so much personal information is known about the outfielder's parents. We do know that they are educators.  They are based in California where they raised Aaron and his brother. Aaron Judge parents were teachers, they taught in San Joaquin County, California. The couple is really loving. They instilled discipline into Aaron and his brother and also taught them to always set their priorities right.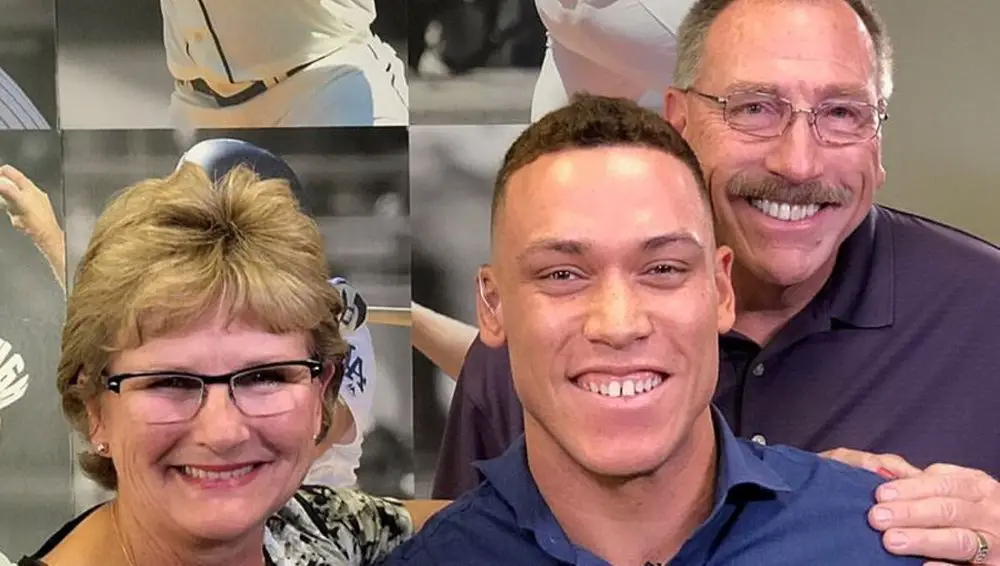 Araon Judge Parents Have A Huge Influence On Him
Not many people believe that Charity begins at home. However, Aaron Judge parents made it a point of duty to begin theirs at home. The retired teachers, prioritized education and good morals for Aaron and his brother. In addition to being an athletic prodigy who excelled in football, baseball, and basketball. His parents encouraged and advised him to also focus on his education and not forego it for sports. Aaron continually thanks his parents for helping him build the mindset that education is paramount.
Even when football recruiters from Notre Dame, Stanford, and UCLA, recruited him, he turned them turned. Instead, he opted for college. He stated that for his parents, education comes first. Most importantly, he didn't feel ready to go off into the world at that young age. He often seizes every given opportunity to thank his parents for robbing off him a great deal.
Aaron Shares A special Bond With His Mother
Maybe biology is a sham, maybe not. Despite not being his birth mother, Aaron and his mother share a very special bond. The duo have a rare Mother and son relationship. He often attributes his success as an MLB player to his mother.
According to Aaron: "The guidance she gave me as a kid growing up, knowing the difference from right and wrong, how to treat people and how to go the extra mile and put in extra work, all that kind of stuff. She molded me into the person that I am today."
He maintains that his mother has the biggest influence on his life, especially his career. If it weren't for her love, support, and guidance, he won't be anywhere near the game and he's forever grateful.
He said:  "I'll just thank her again for everything she's done, and tell her again I know I wouldn't be in this position I know if it wasn't for her love and guidance," 
His mother, Patty, on the other hand takes pride in him. She continually blows his trumpet about how good he is both in character and sports.  She also never misses his events and makes sure to cheer him from the sidelines. 
What Is Aaron Judge Parents Net Worth?
Despite being in the spotlight because of Aaron's successful baseball career,  Wayne and Patty Judge still lead very private lives. There is no clue whatsoever to their net worth. However, we do know that Aaron Judge holds an estimated net worth of $2million. 
Who Are Aaron Judge Biological Parents? 
While we know that Aaron Judge adoptive parents, are Wayne and Patty Judge and are both Americans. There is no information about Aaron Judge's biological parents. However, Aaron's ethnicity gives a clue as he is biracial. Unfortunately, the country or names of his parents are unknown. This could possibly be because his adoption was a closed one.  His biological parents have also never reached out. Aaron on the other hand has never spoken about or attempted to contact his biological parents. He said:
"I have one set of parents, the ones that raised me. That's how it is."
Conclusion
In hindsight, parental influence is usually stronger than peer group influence. Still don't believe it? Check this, why are/were you hesitant to drop out of college?… Your parents crossed your mind too right? That's what we're talking about. Aaron Judge parents although not his biological parents were influenced and supported his life choices to a large extent.