You will probably never hear a story as crazy as Aileen Wuornos'. It is the most chilling story of a female serial killer ever. Well, maybe we are biased, but you will be the judge of that as you read through. You know a woman's legacy is enduring when her story has been adapted into several films even though it is not positive. Not only that, several books have been written about her, and her story has stirred up songs dedicated to her. Aileen's story cuts the heart and again reemphasizes the need for a parent's bond. It got so bad that Aileen Wuornos son never saw her mother till her death.
You read about serial killers, and you feel a sort of disgust towards them, then you read the story of Aileen Wuornos's serial killing, and you are moved to compassion. For some, it is a mix of compassion and dread. But you will never discard the fact that Aileen wasn't born a killer; she was made into a killer by those who were supposed to protect her. It is an emotional story. Little wonder Charlize Theron, who played her character in the adaptation of Wuornos's story, won an Oscar Award. At the age of 14, the serial killer had a son. So, where is Aileen Wuornos son today? We intend to reveal the details to you.
Who was Aileen Wuornos?
Aileen Wuornos was born Aileen Carol Pittman on February 29, 1956. She was born to Diane Wuornos and Leo Dale Pittman. Her parents married at a very young age. Diane was 14 when she married Leo, who was 16 years old at the time. In a little over two years, Diane filed for divorce, just two months after having Aileen. In essence, Aileen didn't get to meet her father. Leo Dale Pittman received charges of sex crimes against children. He was incarcerated at the time of Aileen's birth. He later committed suicide in prison on January 30, 1969.
Aileen grew up with no biological parents as her mother absconded and left her with her maternal grandparents. Unfortunately, her grandparents were chronic alcoholics.
Aileen found life growing up harrowing. She had to survive by exchanging sex for drugs, food at the tender age of 11! Aileen also had sexual relations with her older brother, Keith. Not only that, she was sexually assaulted by her grandfather, with her grandmother turning a blind eye to it. Aged 14, she became pregnant after her grandfather's accomplice forced himself on her. Aileen Wuornos son was birthed in a home for unwed mothers. In 1971, her son was placed for adoption as she couldn't take care of him.
Wuornos' Grandfather Threw Her Out of The House At Age 15.
After abusing her severally and Aileen not having it anymore, her grandfather threw her out of the house. To support herself, she began sex work when she was age 15. This was the beginning of the atrocities she would later commit. With nowhere else to go, Aileen needed to survive, and with a deep-lying traumatic childhood, her mental health changed irrevocably.
Aileen Wuornos' First Marriage
When Aileen was 20 years old, she met a yacht owner, Lewis Fell, triple her age in Florida. They fell in love somehow and married. However, the marriage wouldn't last as her husband filed a restraint order just weeks into their marriage. Nine weeks after their marriage, Fell abrogated their marriage. Aileen lost her brother to esophageal cancer. With a $10,000 life insurance fee inherited from her brother, she spent it on luxuries that didn't last.
Aileen Wuornos Became Notorious
Still no news about Aileen Wuornos son, the brunette-haired woman became notorious. It was as if she was unleashed as all the demons of her past started to make her do their bidding. Several arrests for stealing, forging, theft all happened between 1981 to 1985. She also served a jail term.
In seven months, Aileen murdered seven men. First, it was Richard Malory, who was an ex-convict of attempted rape. Wuornos claimed to kill Malory in self-defense. Malory's body was found with several gun bullet holes on his body on December 13.
Another victim was David Spears, whose body was found with six bullets lodged in. Spears was located in Citrus County.
Other Aileen's killing spree victims were Charles Edmund Carskaddon, Peter Abraham Siems, Walter Jeni Antonio, and Charles Richard Humphreys. Aileen killed all in the space of 13 months.
How Was She Arrested?
So, it happened that Aileen had a love affair with a woman who she met –Tyria Moore. With no man in her life, the two began a relationship. Aileen supported the relationship with the earnings from her prostitution. Tyria was instrumental in the arrest and conviction of Aileen. However, till her death sentence, Aileen claimed that Tyria was the love of her life.
Aileen was finally convicted and sentenced to death in 1992. But after mental evaluations by psychiatrists, the doctors decided that she was not mentally stable and had a borderline personality disorder and antisocial personality disorder. She pleaded guilty to the charges and was granted a stay of execution till 2002.
On October 9, 2002, Aileen was executed at the Florida State Prison. Her last words were: "Yes, I would just like to say I'm sailing with the rock, and I'll be back, like Independence Day, with Jesus. June 6, like the movie. Big mother ship and all, I'll be back, I'll be back."
Her body was cremated, and ashes were spread in her hometown of Michigan by her friend Dawn Botkins.
Why did a teenager murder his entire family? You may want to read about Brian Britton here
Where is Aileen Wuornos Son Today?
Well, we only know that he is under the tutelage of another family. We do not know where he is or what he looks like. Hopefully, she doesn't learn of the atrocities of his parents. Hopefully, he lives life without knowing what monster his mother was.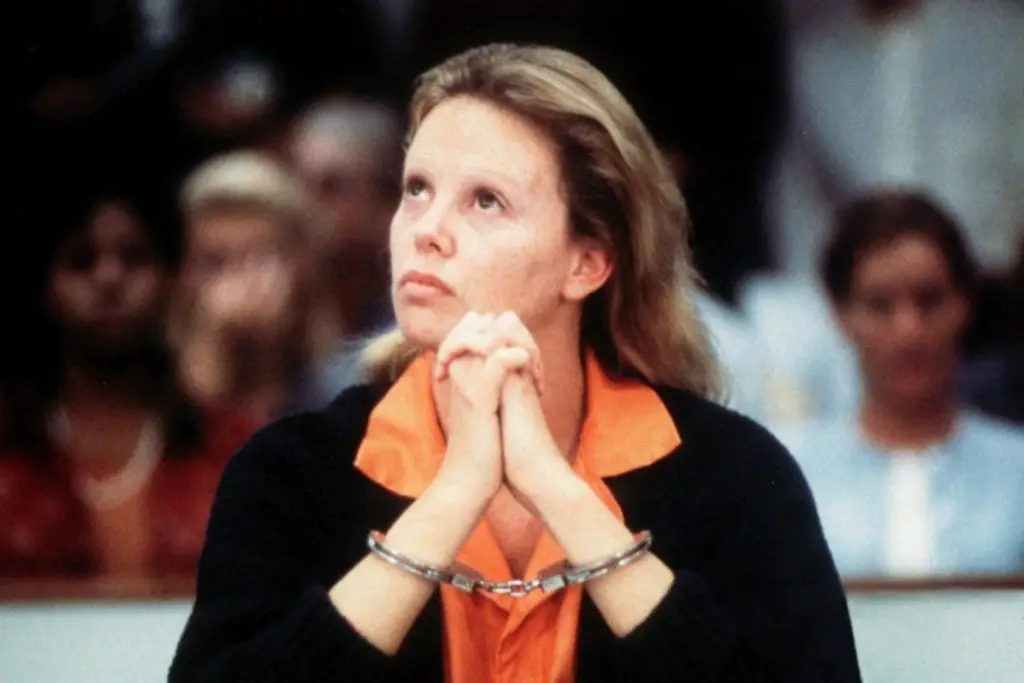 Conclusion.
If Aileen made any good decision in her life, deciding to send her son for adoption is. Even though we do not know what he is up to today, Aileen Wuornos son has escaped what would have been a life of torture. This is when you consider the life his parents lived before their death.