Who is Bill Nighy's wife? Having starred in numerous movies and TV shows, Bill Nighy is a household name in the entertainment industry. However, not many people know about his personal life as much as they do his work. This can be primarily attributed to the fact that lots of Hollywood relationships are shrouded in mystery.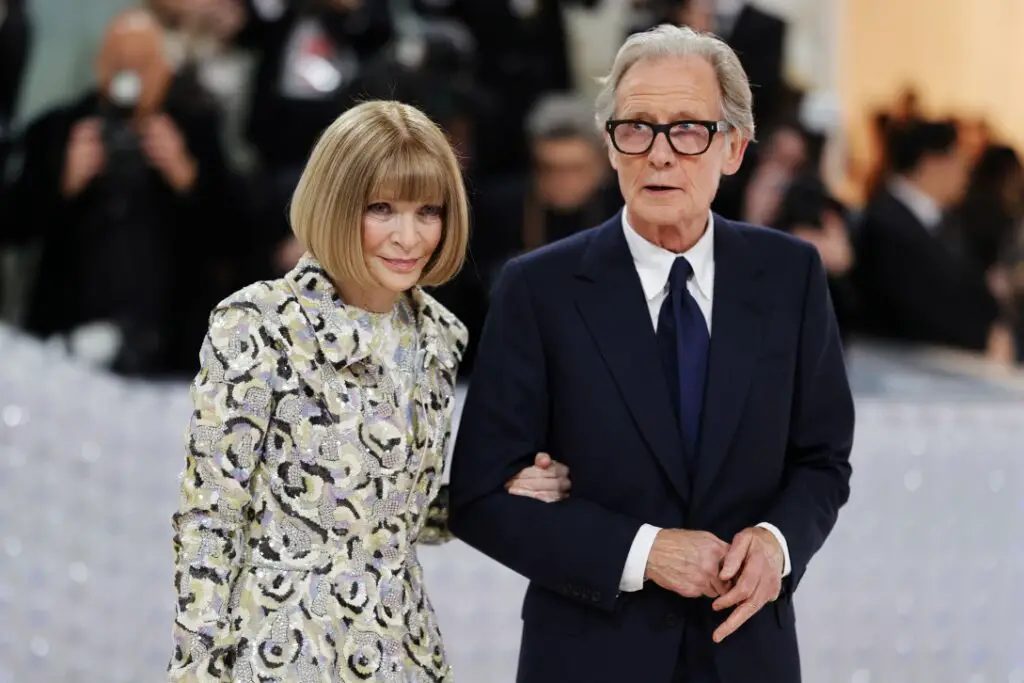 One such captivating relationship is the enigmatic chemistry between Bill Nighy and fashion icon Anna Wintour. Their unexpected pairing and appearance at the 2023 Oscars red carpet have left fans and media buzzing with curiosity.  
And now more than ever, the quest for Billy Nighy's wife's identity has heightened alongside a background check on the circumstances surrounding Bill Nighy's relationship with Anna Wintour; unraveling the important events that have shaped their connection over the years. 
Kindly read this article to the end to find out who Bill Nighy's wife is and how his relationship with Anna Wintour came to be.
 Is Anna Wintour  Bill Nighy's Wife? 
Contrary to the rumors that their arm-in-arm appearance at the 2023 Oscars red carpet has sparked,  Anna Wintour is not Bill Nighy's wife.  However, the duo are very good friends.  They first met in the early 2000s when Nighy was promoting one of his movies at the Cannes Film Festival and have remained friends since then.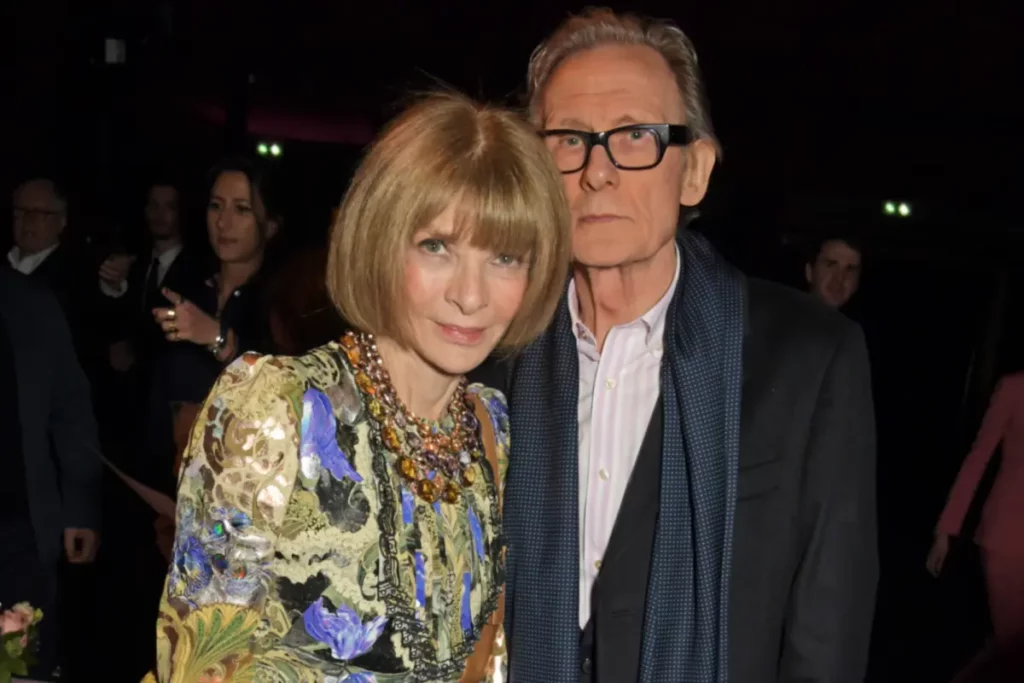 Though they aren't officially married, rumor has it that Anna and Nighy are in a serious relationship. Per  The Telegraph reports, Nighy and Wintour have been spotted together on numerous occasions in the past, however, there hasn't been an inkling towards marriage.  
Despite the intense scrutiny, with the media buzzing about the status of their romance,  the couple has managed to keep their personal lives private, avoiding confirmation or denial of their relationship. While this secrecy can be seen as a sign of their deep commitment,  it also profers an opportunity for endless speculation of Anna Wintour being Bill Nighy's wife. 
Who is Bill Nighy's Wife? 
Interestingly, Bill Nighy has never been married hence the confusion about the identity of his wife. However, Bill had a 26-year-long relationship with Diana Quick—they dated from 1982 to 2008. 
Even though the couple never married, Nighy often referred to Diana Quick as his wife. Perhaps this is the origin of the confusion about the identity of Bill Nighy's wife. 
Why Diana Quick Never Became Bill Nighy's Wife 
After dating for over a decade and having a daughter, Mary Nighy, who is also an actress, the duo took fans by surprise with a breakup. While their separation remains heartbreaking,  it was eminent because of the way Bill treated Diana over the years. 
Moreso, despite helping him quit his addiction to alcohol in May 1992, Bill became irredeemable and hard to love because he replaced one addiction with another. He became a workaholic which put a bigger strain on their already failing relationship.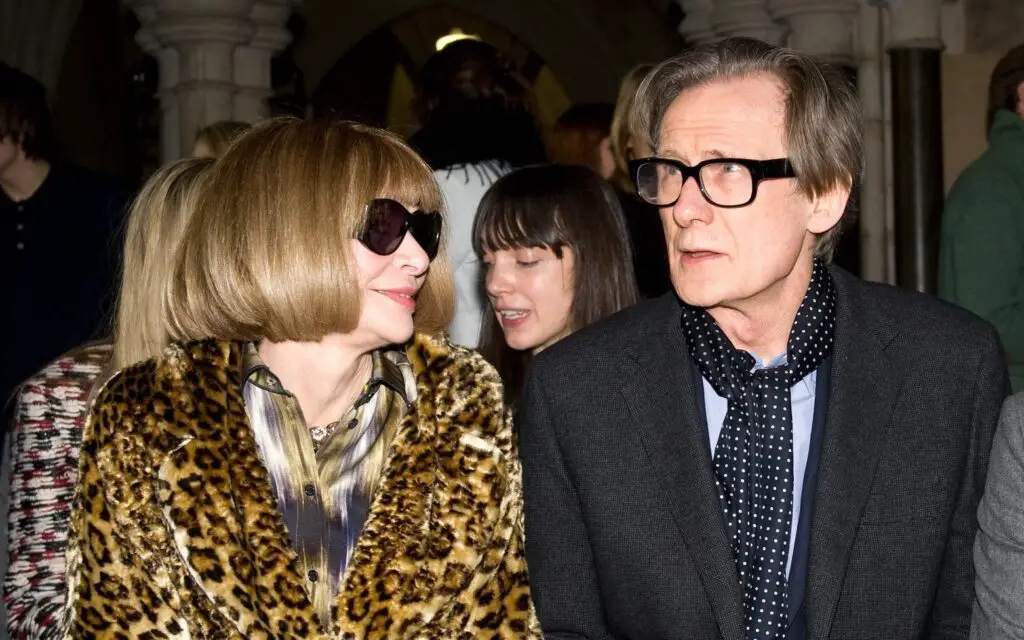 Bill Nighy's Wife: Why He Has Never Been Married
Even though  Anna and Nighy's relationship is bulletproofed with secrecy, one can still connect the dots from the way he speaks fondly of her in interviews, often  describing her as "fantastically kind" and "extraordinarily supportive." He has also said that Wintour is one of the few people in his life who truly understands the demands of his career, as she has worked in a similarly high-pressure and high-profile industry for many years.
However, other than being work besties, with Anna Wintour, Nighy has never been married but obviously has a soft spot for high-profile women in the art world. One of his high-profile relationships was with actress and model Diana Parish. The duo dated for several years in the early 2000s. Nighy and Parish ultimately ended their relationship in 2008.
Conclusion 
It turns out nobody holds the title of Bill Nighy's wife as he has never been married. However, his unique relationship with Anna Wintour hints towards a possible romance—they have been photographed together at numerous events over the years, and Nighy has even made several appearances at Vogue events, including the Met Gala, which Wintour oversees.