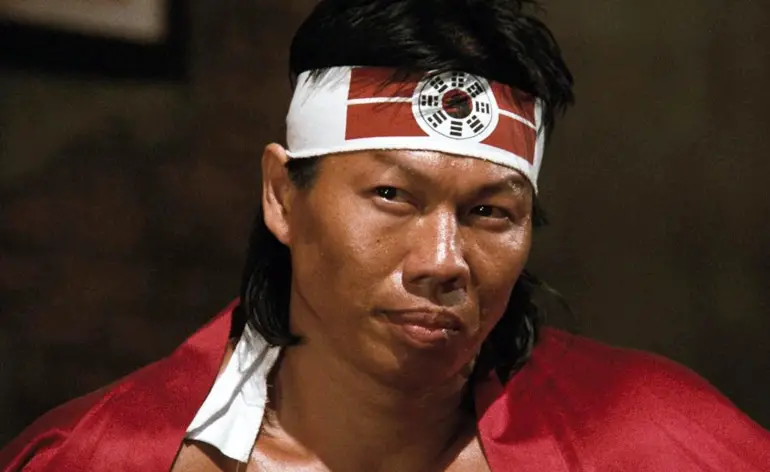 Although Bolo Yeung is now old, many of us won't forget him for his major roles as villains in movies, creating tough challenges to the heroes. The Chinese martial artist was more than a martial artist. He was a bodybuilder and a huge motivation for younger martial artists who have graced the screens.
Bolo Yeung has been acting kung fu martial art movies since the early 80s. He's a competitive bodybuilder who turned out to be an actor. He became famous when he appeared in Bruce Lee's Enter the Dragon.
His fame rose when in 1996, he acted Fists of Legends 2: Iron Bodyguards. The Chinese martial artists. whom many know as the Chinese Hercules have featured in so many movies after then and in this post, we'll explore his career and everything you need to know about him.
Fast Facts About Bolo Yeung
Before we commence, here are quick fasts you should know about Bolo Yeung:
Early Life of Bolo Yeung
Bolo Yeung was born on July 3, 1946, with the original name of Yang Tzu. He is the son of a renowned businessman from the suburbs of Canton. The bodybuilder veteran is now 74 years old. At the age of 11, however, his father enrolled him in a martial art school, which wasn't uncommon in that age and time.
Yeung grew up just like every other Chinese young man practicing kung fu and acrobatics led by local teachers or sifu at a young age. At his prime as a boy, Bolo Yeung showed a personal interest in heavy physical work and lifting heavyweights. Unlike most of his peers at such stage, he focused more on building his muscles and showing his strength.
Yeung became a local champion by helping people lift heavy loads. He also combined martial arts with power load, partaking in the very heavy lifting workout. His ego and passion made him, in the end, the champion of China in powerlifting.
Bolo Yeung and His Bodybuilding Journey
In the mid-60s, amid the dynamism of the Communist revolution, Bolo Yeung left for Hong-Kong. At Hong-Kong, Yeung began to make a living teaching bodybuilding while he continued to train hard. In the 70s, he won the title of Mr. Hong Kong, which held every 10 years.
From the late 70's to the late '80s, Yeung repeatedly became the champion of South-East Asian Camp (fighting). Up to the '90s, Yeung successfully participated in the competition.
Bolo Yeung's Personal Life: Is the Bodybuilder married?
The popular martial art movie villain, Bolo Yeung, has all of his movies on social media but not enough info on his personal life. We know that he is married, as he has children, but there is no information on his wife or his romantic relationships.
Yeung is a proud father of two sons. His eldest son is Danny and he was born in the late 70s. In the early 80s, Yeung gave birth to his second son, David. The issue with the parenthood of these children is that no one knows who their mother is.
Were they born by one woman or by separate women? Until Yeung decides to talk about this, we'll go with the belief that Bolo Yeung's boys were birthed by one woman, Yeung's mysterious wife.
Is Bolo Yeung on Steroids?
Because of his size, one of the major questions fans kept asking Yeung was if he was on steroids. His physique and structure were just unimaginable. His admirable body and muscles drew attention.
The easiest method to know if Bolo was on drugs is to analyze his body composition. Fans wondered how he got his cannonballs for shoulders, broad chest, and large biceps. Their unusual size indicated that Yeung may or may not be on drugs. Even though this was a heavy contention in his early career, the Chinese martial artist never publicly affirmed or debunked the speculations.
We can say with some level of certainty that Yeung isn't on steroids because so far, he has shown no symptoms of the side effects. His skin is pretty smooth/natural-looking and although his chest is huge, there's nothing artificial-looking about him.
It has become apparent that he has a naturally muscular body, unlike the case of the former Governor of California, Arnold Schwarzenegger who admitted to taking steroids for a better muscular body.
Bolo Yeung's Acting Career: A Timeline
Bolo Yeung began his acting career in 1970 where he played the role of Unicorn Du Kuo Lung in The Wandering Swordsman. Back then, he was with the producers, Shaw Brothers, and took up bad guy roles for his muscular physique.
Yeung met Bruce Lee sometime after leaving Shaw Brothers in 1971. They were both filming a commercial for Winston cigarettes. Somehow, the two got close and Bruce Lee invited him to star in the movie, Enter the Dragon. The movie was shot in 1973 and Bolo Yeung, formerly Yang Sze, picked up the name Bolo for playing the role of Bolo in the movie.
From 1970 to present, Bolo Yeung has featured in 86 movies, taking both key roles and minor roles. His latest movie is the Diamond Cartel (originally The Whole World at Our Feet) where he played the role of Bula. The movie premiered in 2017.
Below is a timeline of popular Bolo Yeung movies:
| | | |
| --- | --- | --- |
| Year | Title | Role |
| 1970 | The Heroic Ones | General Meng Chieh Hai |
| 1971 | The Deadly Duo | The River Dragon of Jin |
| 1972 | Five Fingers of Death AKA King Boxer | Pa Tu-er, Mongolian Fighter |
| 1972 | The 14 Amazons | Hsia Boxing Champion |
| 1972 | Man of Iron | Jin Xi Fu |
| 1973 | Enter the Dragon | Bolo |
| 1978 | Game of Death | Yeung See |
| 1985 | My Lucky Stars | Millionaire Chan |
| 1986 | Where's Officer Tuba? | Henchman |
| 1986 | Millionaire's Express | Cotton Weaver |
| 1988 | Bloodsport | Chong Li |
| 1991 | Double Impact | Moon |
| 1992 | Ironheart | Ice |
| 1993 | Shootfighter: Fight to the Death | Shingo |
| 1993 | TC 2000 | Master Sumai |
| 2002 | Shootfighter 2 | Shingo |
| 2007 | Blizhniy Boy: The Ultimate Fighter | Erik's Trainer |
| 2017 | Diamond Cartel (Original title The Whole World at Our Feet) | Bula |
Bolo Yeung's Net Worth and Body Statistics
Bolo Yeung had an impressive size during his younger days. Back then, he weighed between 102.1 -106.6 kg (225 – 235 lbs). His arms size was 21″, his chest 55″, his waist 27″, and his thigh 26.5″. Bolo Yeung stands at 5′ 6″ (169 cm) and currently weighs 70kg. Age has done its thing on Bolo Yeung, but the martial artist is still strong and fit.
Yeung has had an impressive acting career, so he is really worth some big bucks. Bolo Yeung has an estimated net worth of $2 million. This is money he made majorly from acting and then from his bodybuilding training.
Bolo Yeung may keep the information about his wife secret but not that about the progress of his life. Follow Bolo Yeung on Instagram and keep up with his life and bodybuilding goals.
Conclusion
Supposedly, 2020 has been a busy year for Bolo Yeung. However, we do not have any detailed information on what Bolo Yeung is doing these days. We believe that he is working as a bodybuilder and living a happy, comfortable life.