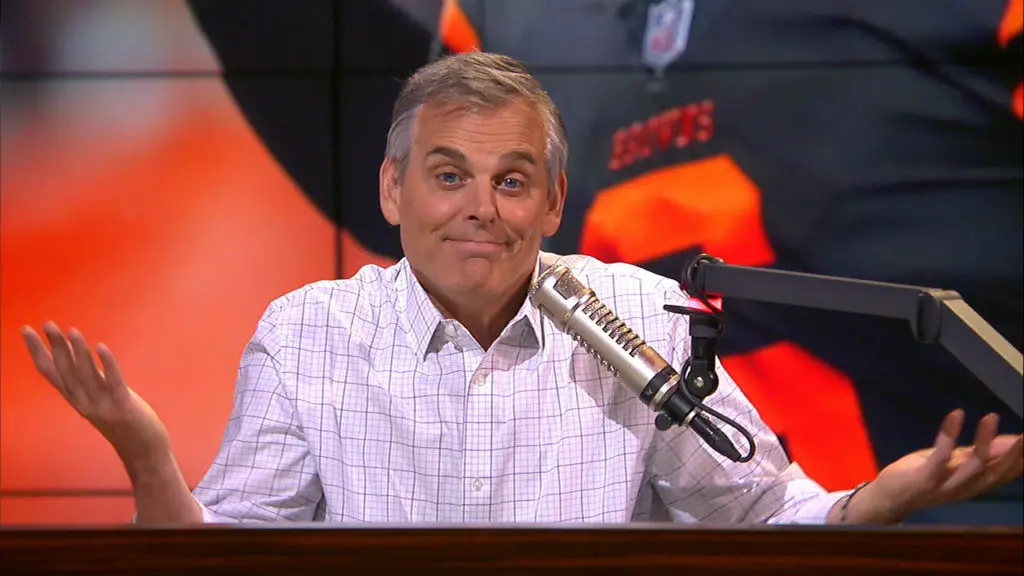 You can't take away the brilliance of Colin Cowherd when he is in a mood to break down sports or run commentaries. As a matter of fact, only a few would match his prowess when it comes to sports journalism. If your sports show is top-rated in the U.S, then your expertise shouldn't be questioned.
Moving from a school teacher to a celebrated sports journalist is no mean feat. No doubt, Colin is one of the famous people in the business of sports journalism. However, being a very popular TV host comes with its cons, and for Colin, it is brewing controversy. But Colin understands that controversy actually brings more people together to talk about their beloved sports.
One such controversy about Dominican Republic baseball players caused Colin to be booted out of ESPN in 2015. But as a hotcake in the art of sports commentary, he easily grabbed a bigger contract. Class is permanent but form is temporary. Let's show you all you must know about Colin Cowherd.
Fast Facts about Colin Cowherd
To prepare you for the load of juicy information packaged in this post, here are facts you should know in a glance.
Brief History of Colin Cowherd
Cowherd described himself as a lone ranger when he was younger. He always kept to himself, staying on the roof of his father's house listening to baseball commentaries on his beloved radio set. It is easy to say that Cowherd piqued on sports at a very young age.
He was born in the small city of Aberdeen, Washington, on January 6, 1964, to an optometrist father, Charles, and mother, Patricia. Unfortunately for him, his parents divorced while he was still finding his feet as a young boy. Alcoholism from his father broke the relationship. His sister, Marlene, and he were raised by their mother.
Little is known about his father till date, and we didn't hear of him from Cowherd.
Early Career
As a man who was fascinated with sports from his tender years, Cowherd started out running commentaries for the San Diego Padres Triple-A affiliate Las Vegas Stars. His talent was discovered and it didn't take long for him to land a job at KVBC (a radio station owned by the Sinclair Broadcast Group) in las Vegas, Nevada.
He was so good at his job that he went on to claim the award of Nevada's Sportscaster of the Year five times, a feat still unblemished to this day.
His quest for success saw him constantly upscaling, changing location along the way. From serving as a weekend sports anchor at WTVT in Tampa, Florida to anchoring sports for KGW-TV in Oregon. He sure was a man who was passionate about his job.
Colin Cowherd Career Breakthrough
After his work as an anchor at the relatively smaller TV stations, ESPN came calling. Who rejects ESPN? This was the start of Cowherd's bloom. In 2003, Cowherd announced he was going to be live for the late morning show on ESPN Radio. A show formerly anchored by Tony Kornheiser.
Fast forward to 2004, Colin Cowherd had his own show. What better name to give than, The Herd with Colin Cowherd? It was a show that was broadcasted to all ESPN Radio affiliates abroad and the United States. At this point, Cowherd's popularity was peaking.
Talking about sports, hosting sports personalities, having interviews with sports celebrities, commentaries on sports features, Cowherd's show took a slight difference from other sports shows in the country, and boy, did people love it? However, his romance with ESPN came to an end after he made comments which were deemed damnable against the Dominican Republic baseball players.
Colin Cowherd Hitting it Off With Fox Sports
On August 12, 2015, Fox Sports announced that Colin Cowherd had joined them on a four-year deal. He would become a co-host on a daily sports talk show with former sportswriter at ESPN, Jason Whitlock.
His show, the Herd also was moved to Fox Sports Radio in September 2015. Colin Cowherd also runs a youtube channel with his name, where he regularly gives an analysis of sporting events across the country.
Colin Cowherd Books
As a well-respected sports journalist, Cowherd's opinions on NFL, College Football, and NBA are usually held in high regard. Seeing that as an opportunity to pass home salient points, or at the very least give his insights from his wealth of experience, Cowherd wrote books.
In 2013, Colin released his first book, You Herd Me! I'll Say It If Nobody Else Will. This book gathered a lot of reviews for its rich analogies and precise analysis.
Years later, he released his second book titled, Raw: My 100%, Grade-A, Unfiltered. Inside Look at Sports. Just as his first book, this book warmed the hearts of sports lovers.
Colin Cowherd Awards
A man of Colin Cowherd's caliber hardly goes unnoticed and unrewarded for their work. Colin was rated as the best Pundit by PunditTracker in 2012. He also won the Nevada Sportscaster of the year five times. Also, in 2005, he has named the Sports Illustrated Radio personality of the year.
Colin Cowherd's Net Worth
Hosting a sports show on one of the biggest stations in the world, it'd definitely come with some monetary perks.
As of March 2020, Colin Cowherd has a net worth of $20 million. He has an annual salary of $6 million according to reliable sources. Of course, the sources of this income are his commentary job and the sale of his books.
Colin Cowherd's Personal Life
In 1996, Colin married his longtime girlfriend, a fitness enthusiast, and a model when she wants to be, Kimberly Ann Vadala. The marriage lasted till 2007 before they broke it off. The union, however, had two kids; a boy and a girl. Vadala currently holds custody of the kids.
Colin wouldn't give up on marriage as he met with another woman, Ann, with whom he tied the knot with, in 2010. The two do not have children together but are parents to six children from their past relationships – two from Colin's and four from Ann's.
For Colin, marriage must be from one Ann to another, but he hope there wouldn't be another Ann in the future, or a Kim.
How about you follow Colin Cowherd's life from Instagram?
Conclusion
Colin Cowherd has over the years built a reputation for which he is known for today. He is fondly known for his incisive analysis of sports in general. His rise to stardom didn't come overnight. He had passion but also coupled it with tenacity. He would be one of the sports commentators that aspiring commentators will aspire to be like.