Who is Mike Holmes wife? Mike James Holmes is a Canadian contractor, investor, businessman, TV host, and philanthropist. He became famous for his TV series Holmes on Homes.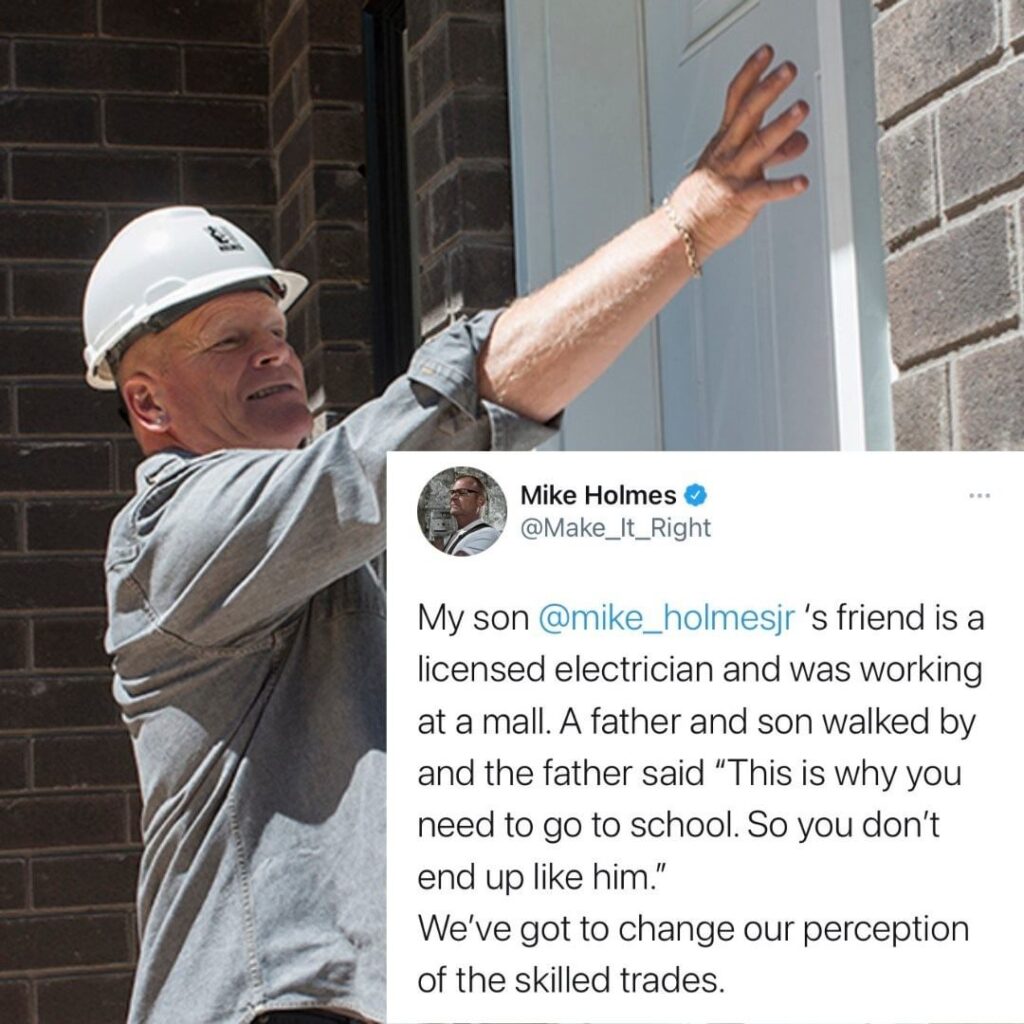 Mike Holmes has been referred to as the most trusted contractor in North America. He helps homeowners identify the problems with their renovated homes. Often times he builds the houses from scratch when the problem discovered is complex. 
Mike learned the craft from his father when he was only six years old. The success of the show led to the birth of similar series like Holmes Inspection and Corner Gas, Holmes in New Orleans, Holmes: Makes It Right: Retooled, and most recently, Holmes 911. 
He is the father of three children and likes to spend time with his family. Keep on reading to find out who Mike Holmes wife, more about him and his family.
The early life of Mike Holmes 
Mike was Born on August 3, 1963, in Halton Hills, Canada. His parents are  Jim Holmes and Shirley Holmes, He is a native of Toronto, Ontario. Mike grew up with his younger brother and an elder sister.
His father, Jim Holmes was a plumber and an engineer with General Motors. He was the one that sparked  Mike's interest in the construction business when he was only six years old.
Mike displayed so much brilliance and bravery when he helped rewire the entirety of their home's second floor at six.  
Quick facts about Mike Holmes
His Relationship With Alexandra Lorex  
Alexandra Lorex was one time Mike Holmes wife in the 90s. They got married in 1982 when Mike was 19 years old.  The marriage was happy and blessed with three children: Amanda, Sherry, and Mike Jr. Sadly the marriage sank during the economic recession in the early 90s. The recession hit Mike's business so hard. 
The challenges from the recession posed serious financial threats which affected Mikes's business. The whole situation went on further to put a strain on his mental health and likewise his relationship and made him and his then-wife grow apart till the marriage ended.
It was a very trying time for Mike Holmes as he lost his parents during the period of the divorce .
Who is Mike Holmes wife now?
After his divorce in his thirties, Mike didn't date for a while until 2000 Although it is unclear if Anna Zappia is currently Mike Holmes wife. However, we do know they have been in a long-lasting relationship.
Anna came into his life at his lowest point when his business was about to hit rock bottom, his marriage crashed and he lost his parents to untimely death. This was a very trying time for him but she came as a beacon of hope.
She supported him in rebuilding his business again to get back on his feet. It was Anna that encouraged him to get into television when he had the opportunity.
Mike and Anna have appeared on many red carpet events several times, not much is known about her either. However, some reports suggest that they had a secret wedding which officially makes Anna Mike Holmes wife. Mike on the other hand sometimes refers to Anna as his wife and calls her a perfect partner.
They have since been together staying happy and content in their relationship. However they do not have any kids yet.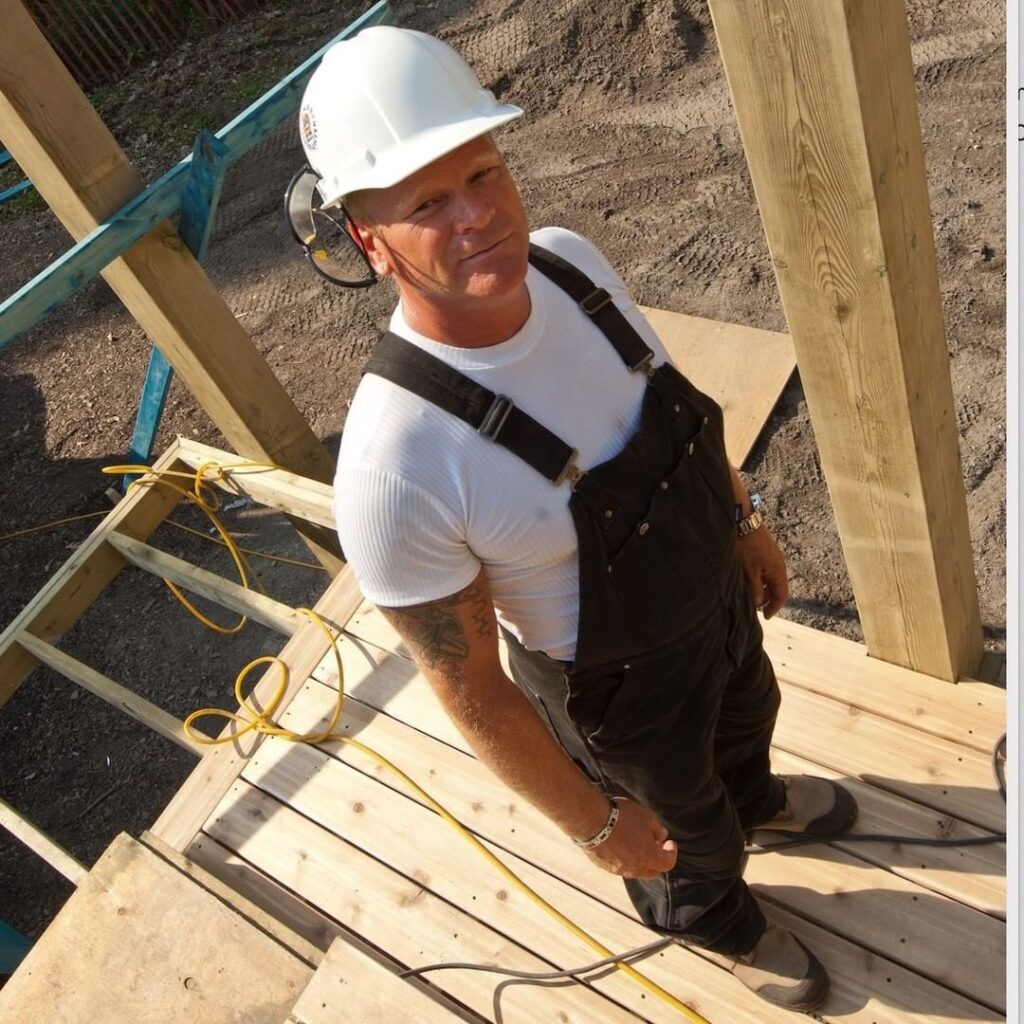 Mike Holmes children and grandchildren.
Mike's eldest daughter, Amanda, was born two years after Mike and Alexandra got married, in 1984. She lives a private life and has reportedly been married twice. Her first marriage was to one of her colleagues at work, Adam Belanger.  Sadly, the marriage didn't last long as it ended in a divorce for undisclosed reasons.
 Amanda is currently married, however, the identity of her husband is unknown as they keep their personal life discrete. They are blessed with two beautiful children, Wyatt and Emily.
Mike's second daughter, Sherry, is also happily married to her husband, Blake Steed. They got engaged in 2017 and share a beautiful daughter, Cali Kay Holmes Steed. His only son, Mike Jnr is also married. He got married to Lisa Grant in 2017. He seems to be taking after his father and describes him as a perfectionist. 
 Mike is said to have an ecstatic love for his children and grandchildren alike regardless of the separation between himself and their birth mother.
Mike's children also reciprocate the affection to strengthen the relationship as they usually come on Mike's show with the exception of Amanda who seems to be working from backstage. 
Mike Holmes net worth.
Apart from being an exceptional talent in the construction field, Mike has made quite a fortune from the field, his net worth is estimated to be around $30 million and is still expected to surge.
Conclusion
Anna Zappia has been an incredible partner, I bet we've all needed someone like her at some point in our lives. It is only natural for people to refer to her as Mike Holmes wife, Mike on other hand has shown so much bravery and resilience while still being an outstanding father and an amazing partner.