Music is indeed a universal language. It is a glue that binds people together. Hence why people quickly bond over shows like America's Got Talent. True to its name, the show has birthed some of America's most notable and talented acts. Season 16 of America's Got Talent show is not an exception. It brought forth the very talented Nightbirde. Getting on that stage changes the lives of contestants in a second, but In Nightbride's case, her presence changed the lives of the audience and judges.
She has a voice of an angel and a celestial sheen which is to die for. Unfortunately, the star that swooned us all has pulled out of the show for health reasons as she is battling cancer. This article will give us an insight into Nightbirde today, her present state of health, and her battle against cancer. Additionally, some fascinating and inspiring facts about the star.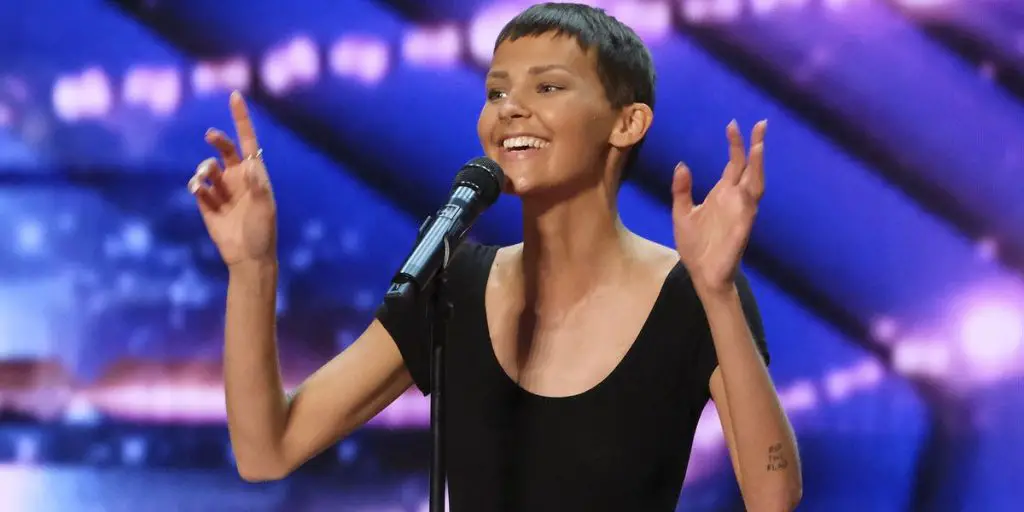 Who Is Nightbirde?
Nightbirde is a cancer battling singer. She became a force to reckon with following her superb performance in America's Got Talent, season 16. Nightbirde is also famous for the breathtaking rendition of her original song, "It's ok." Although her birth name is Jane Marczweski, she is 30 years old and a native of Zanesville, Ohio.
How Long Has Nightbirde Been Battling Cancer?
Despite the weight of cancer on the star, she still has a strong will and spirit to live. Nightbirde is full of life, and you would never imagine that such a cheerful person as herself is going through such great pain. The talented singer made the shocking revelation during her audition. She has been battling cancer for 3 years. Unfortunately, she was diagnosed with terminal cancer on new years eve in 2019. She has numerous tumors in her lungs, liver, lymph nodes, ribs, and spine. Ever since her diagnosis, she has been jobless and has had cancer thrice. The doctor told her she had barely six months to live and a two percent chance of survival at the diagnosis.
Read 10 facts about Jennifer Gates, you will be shocked at what you find out. Read here
Nightbirde's Struggle With Cancer Inspired Her Song, "It's Ok"
The show America's Got Talent is notorious for leaving viewers, Judges, and audience gobsmacked. But Nightbirde performance was ethereal. There are no words that can justifiably describe her vocals and performance. After the jaw-dropping performance, she revealed that "It's Okay" is her original song. According to Nightbirde, the song is all about her life's journey and struggle in the past year. She also disclosed the isolating fact that she was present at the audition all by herself. So it was a very heartbreaking moment when she revealed that she has cancer and has been out of job for a while. 
Just like the audience, the judges felt the wholeness in her voice. One of the Judges, Mandel Howie, commended her tenacity and bravery. However, he also questioned her about her strength to pull off something as beautiful as the song despite her predicament. In her response, Nightbirde explained how it is essential for people to know more than the bad things happening to her. The singer also further explained that you can't wait until life is no longer hard before you decide to be happy.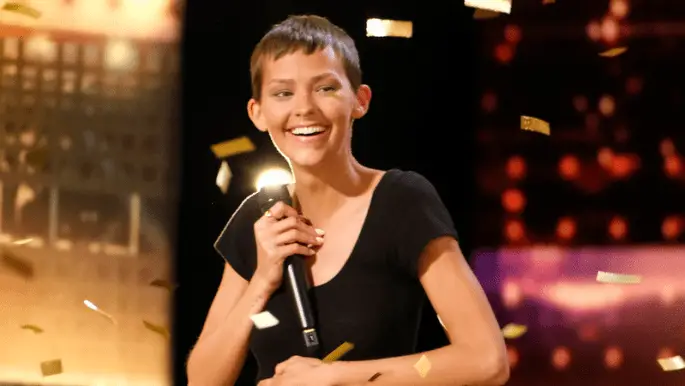 To our amusement and out of his character, one of the judges, Simon, famous for his mean idiosyncrasy, gave her a golden buzzer. He also embraced her in a huge and warm hug on stage. He kindly remarked that everything about the song was exceptional. 
How Is Nightbirde Today?
Despite her struggles with cancer, Nightbirde today is a fighter. She has fought since 2019 and is still fighting the deadly disease. Sadly, shortly after her audition that swooned the whole world, she got very sick—this time around, more unwell than she has ever been. However, the singer likes to remain optimistic. But things aren't looking bright in any sense. From the looks of things, it seems she is caving in from the weight of cancer. She took to her Instagram to announce her withdrawal from the show with a heartfelt post. The post reads thus;
"Sharing my heart with the world on AGT was an honor and a dream come through. My point of view this summer has been astounding. What a miracle that the pain I've walked through can be reworked into beauty that makes people all over the world open their eyes wider. Since my audition, my health has taken a turn for the worse and the fight with cancer is demanding all of my energy and attention. I am sad to announce that I won't be able to continue forward on this season of AGT. Life doesn't always give breaks to those that deserve it—but we knew that already. Thank you for all your support, it means the world to me. Stay with me, I'll be better soon. I'm planning my future, not my legacy. Pretty beat up, but I've still got dreams."
Nightbirde Changed Her Name 
Nightbirde is her stage name, but her birth name is Jane Marczweski. She also revealed the inspiration behind her change of name was a recurrent dream. She had the same dream numerous nights in a row. It was about birds who were singing outside her bedroom window in the dark. The first two times were mere dreams. Then, surprisingly, the third time happened in real-time. Nightbirde disclosed that she wanted to replicate what the birds were doing in her dream—singing through the darkness. She wanted to be someone who could sing through her pain as she was hopeful she would see the light too and very soon. 
Conclusion
It is pretty unfortunate that bad things happen to good people. We pray Nightbirde pulls through and comes out victorious in her battle against cancer. And also hope she comes out even stronger than before.