Who is stranger things star, Millie Bobby Brown dating? Millie is quite an exceptional act, she charmed viewers with her exceptional delivery of the character Eleven, in stranger things. Her charm grew even stronger on fans with her Class act in a Netflix original film; Enola Holmes. Enola was a 16-year-old teenage detective from a family of famous mystery solvers.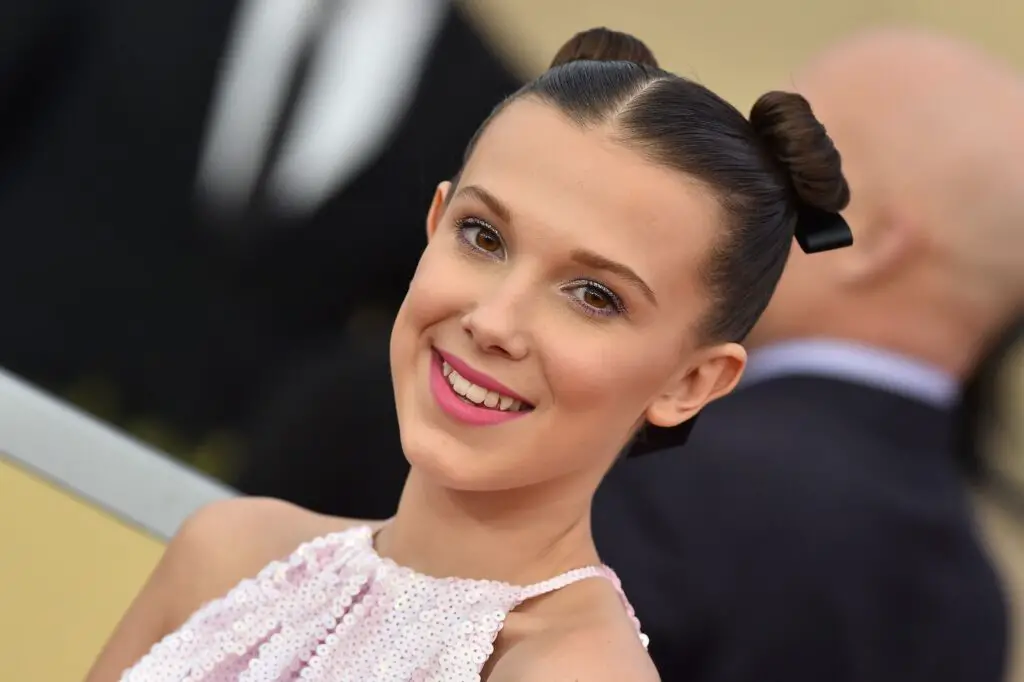 Millie is popularly known as Eleven because of her role in Stranger things. Just like in her movies where She seems to be a firecracker in relationships, pretty much the same can be said about her dating life in reality which is particularly why fans are curious to know if She is dating at all and who she is dating. Stick around to find out who Millie Bobby Brown is dating currently.
 Quick Facts About Millie Bobby Brown
Early Life of Millie Bobby Brown
Millie's parents are Robert and Kelly Brown. She was born in Marbella, Spain where she lived 4 years before her parents returned back to England, She grew up with her 3 siblings, her elder brother; Charlie brown, an older sister; Paige Brown, and a younger sister; Ava Brown.  Millie was homeschooled.
 Is Millie Bobby Brown Dating? If Yes, Who?
The question of who Millie Bobby Brown is dating poses to be a longshot as the  Stranger Things star seems to be big on privacy, particularly her personal life affairs like whether or not she is dating. Fortunately, there would always be words on the street and as the old saying goes in every element of rumor, there is an atom of truth. 
In early 2020, rumor had it that  Millie was in a relationship with Joseph Robinson, the son of rugby player Jason Robinson. The duo met while vacationing separately in the Maldives toward the end of 2019.   The rumors were confirmed when she posted  PDA-Snapshots with the caption "Ly" which stood for "love you". Millie and Joseph dated for roughly 8months, they were charming and loving together, They were best described as couples' goals.
 Sadly they called it quits over conflicting schedules, Joseph is based in the Uk where he plays rugby for the Wigan Warriors just like his father. Millie on the other hand spent a great deal of time in the US where she films Stranger Things.
Luckily for Millie, she found love again with Jake Bongiovi, the second-youngest child of legendary musician Jon Bon Jovi. Typical of Millie to be private, the hint of their relationship came off first in rumors which were confirmed on June 20, 2021, after they were spotted on the streets of New York walking hand in hand. This led to fans speculating about their relationship. Just like her previous relationship with Joseph, Millie and Jake have been all loved up and heavy on  Social media PDA.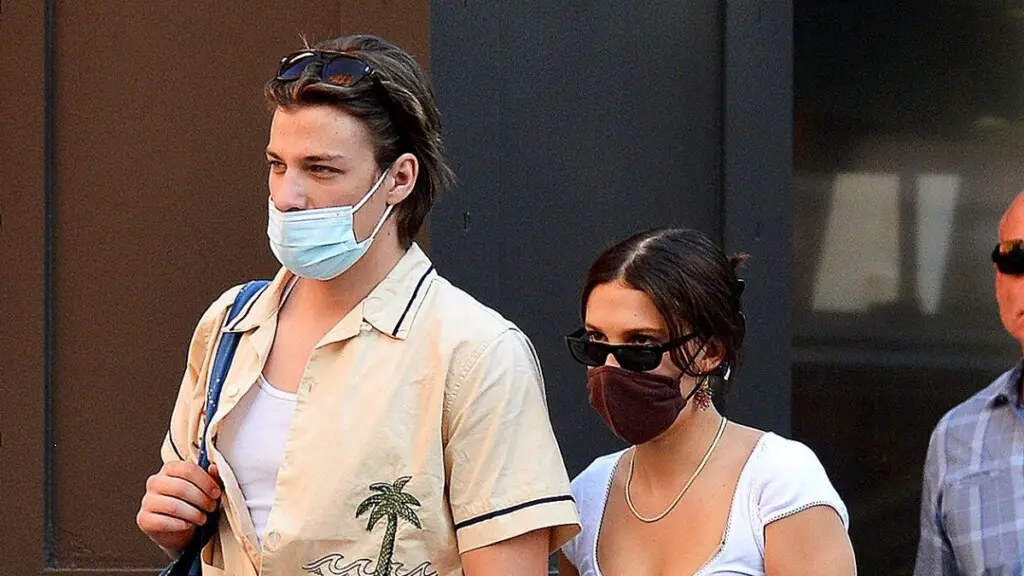 Millie's Relationship History
It might surprise you to know that in reality, Millie's love life seems to be as inquisitive and adventurous as her character in Netflix's original film, Enola Holmes. Before Millie dated Joseph, she had a couple of boys that made up her long list of exes.
Her first-ever public relationship was with YouTube superstar and musician Jacob Sartorius. Millie and Jacob dated for seven months before they split up. They first went public with their relationship in October 2017, In like manner to Millie's current relationship, they posted a bunch of PDA-filled photos together and gushed over each other nonstop! But in July 2018,  She shocked us all with the news of their separation on her Instagram Story.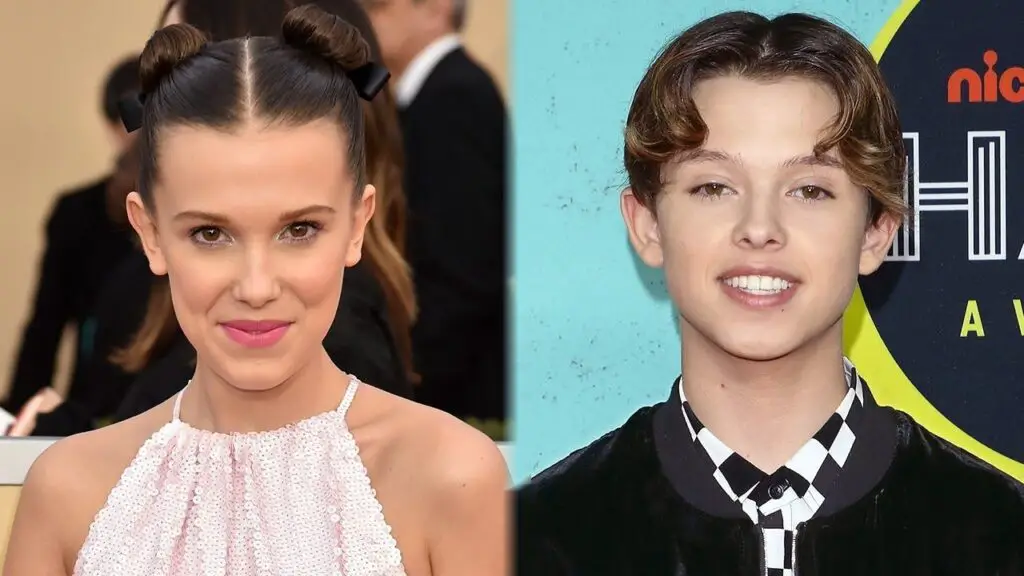 Afterward, she had a thing with Romeo Beckham, the middle son of soccer superstar David Beckham and former Spice Girl Victoria Beckham. They met at Unicef's 70th-anniversary gala in 2016. Millie fell in love at first sight and at some point met his family.  Sadly she cleared the air in the spring of 2019 when she revealed they are just good friends and nothing more.
Noah Schnapp and Millie were also rumored to be dating but it turned out they were just friends even though they seemed to have so much chemistry together. In like manner, fans had speculations about Millie dating her Stranger Things, co-star, Finn Wolfhard because of the level of their on-screen chemistry, They thought it perhaps isn't just fictional but also real. 
Fun Facts About Millie Bobby Brown
Millie Bobby Brown's Net Worth 
She reportedly earns $300,000 per episode of Stranger Things. On the side, Millie has an endorsement deal with various modeling agencies and a string of new projects, including a huge new franchise, in the pipeline. She is also starting to produce films as well as act in them., Millie has a net worth of around $3 million.
Nikki Deloach
Read about the amazing story behind Nikki Deloach's acting success, you will be inspired by her story, read about her here

Conclusion.
Millie Bobby Brown dating life seems to be quite interesting like her characters in movies. Even though she is discrete with her private life, she does the barest minimum to her fans by confirming relationship rumors or clearing the air around them. Millie is a Typical example of a lover girl given her antecedent of social media PDA even with just friends. We can only hope she enjoys every moment of her time with Jake whilst wishing them a happily ever after.