Often, when a lie is said many times, it will begin to take the shape of the truth. This is the story of Misty Loman, whose pictures went viral after one SheriffSheriff posted them with the caption "Don't do drugs." But what many people did not know that it wasn't the drugs that made her face look that way; it was because she was suffering from some diseases that had an effect on her physiology. So, it is fitting that we set the records straight. So, where is Misty Loman in 2021? We will be taking a tour of her life in this article.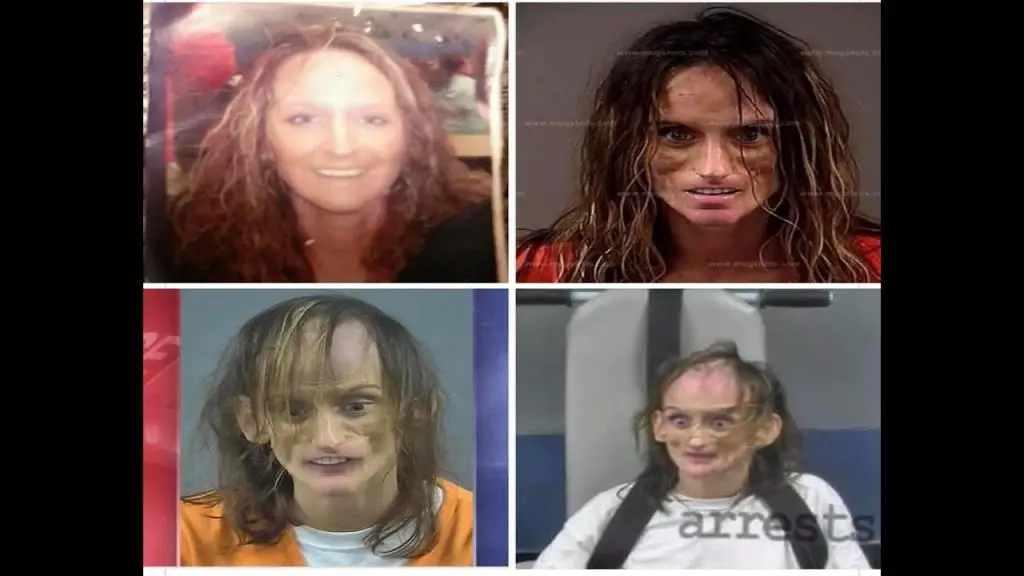 Rumors fly quickly because they have wings which makes it almost impossible to hold down. Rumors most times aren't true; well, in Misty Loman's case, they weren't true. It is true that Misty Loman was a drug addict, but the rumor didn't include that she was also suffering from some life-threatening diseases. It all started after one careless SheriffSheriff who thought posting a picture of Loman would deter those who abuse drugs. Good intention, but at the detriment of little information.
Who is Misty Loman?
There is not so much information about Misty Loman. Details about her background aren't readily available on social media and on the internet. But we know that Misty is from Kentucky and is 41 years old. She is married to Gary Glass. If marriage is still present today, that is what we cannot say. Misty had five children, out of which only two survived; Corey and Jacob. There are reports that perhaps the death of three of her children sunk into depression. This depression also became a reason for her to start taking drugs. She had stillbirths. Misty went through a lot of miscarriages which ultimately led to her losing three of her children. It must have been shattering for her. Contrary to what the internet said about her drug use, she had genuine reasons to feel hapless. While we do not condone her abuse of drugs, we should also extend grace to her.
How Did Misty Loman Get Popular?
With her regular visits to jail because of her abuse of substances, she was regularly arrested. One of the mugshots was posted by Adam Beiber in 2019, a Sheriff with the caption, "don't do drugs." However, the pictures captured her gradual deterioration, which the ignorant SheriffSheriff thought resulted from drug abuse. The post went viral, raking different types of comments. In fact, she became the object of memes around the world. Some anti-drug campaigners used her picture as a source of a deterrent.
But her drug usage wasn't the cause of the physical deterioration she faced.
Misty Loman Has Health Challenges
People already judged that Misty Loman had that appearance because she abused drugs, but there was more. Mentally, people didn't know that she was suffering. Anyone would suffer mentally if they lost three children. But apart from that, Misty Loman has life-threatening health issues. After seeing that their friend had gone viral and was attracting the wrong reasons for her looks, they knew they had to do something. So, one of the family members of Loman came forward to say Misty is suffering from two kinds of lupus, Scleroderma and bone cancer. These are lethal combinations. A woman named Lee Ann Volley Maples took it upon herself to ensure that people support her in getting better by donating to her treatment.
If you look at the pictures, one would see that her hair was falling out. This is because she had received chemotherapy treatment which ultimately led to hair loss. The reason her face looked that way was that her body tissues had hardened as a result of Scleroderma, a skin disease. After these revelations came out, it became apparent that the drug abuse wasn't the reason for her rapid deterioration.
Misty Loman's Jail Experience
In 2005, Misty Loman was arrested and sent to jail because of her drug addiction problem. This addiction started was when she was 26 years old. She was charged with possession of drug paraphernalia, marijuana, and Methamphetamine in Hopkins County. This was the first time she visited the jail. One would think, after her release, she would turn a new leaf, but it didn't happen. Misty has also been charged for appearing in court intoxicated. All these have changed as Misty Loman 2021 is different than what she used to be.
Where is Misty Loman 2021?
After people saw the real reason why she looked that way, there were massive support systems. People have raised funds for her treatment. The story of her life touched a lot of people. However, some people believed it was inappropriate for the SheriffSheriff to release her pictures without properly investigating why she looked like that. So, where is Misty Loman 2021? Loman has been under recovery and therapy. She is in good hands and has been clean from drugs for months now. There were rumors that she may have died, but this is not true. Misty Loman is alive and recovering. Hopefully, she fully recovers and beats cancer.
Conclusion
We have told you what Misty Loman in 2021 looks like now. It is sad that people already judged her without getting to know why she is like that. Yes, drug abuse is not a good thing, but we should learn to extend grace to people. We are glad that Loman is recovering and has vowed to go back to drugs again.