According to many, he is regarded as one of the greatest baseball hitters. With 400 home runs in 1,354 games and 5,273 at-bats, Sammy Sosa is the fastest baseball right fielder to reach this feat. In the history of Major League Baseball, Sosa is one of nine players to hit 600 career home runs. That's a big deal. But there is a dent to his career; a drug scandal. Did it really happen? Where is Sammy Sosa now? Why did he turn white? What is he up to? All of these questions will be provided with answers as you read on. 
While there are several controversies surrounding Sammy Sosa, you cannot deny his exploits as a professional baseball player in the 1990s. In 1998, he became a national baseball sensation for his home run hitting. He played for Chicago Cubs, Texas Rangers and Chicago White Sox. With several awards to his name, it will not be out of place to regard him as one of the best hitters of his generation. 
Who is Sammy Sosa? 
Sammy Sosa is of Haitian descent. He was born in the Dominican Republic on November 12, 1968. Sosa grew up in San Pedro de Macoris. Growing up, Sammy had a lot of struggles. He did a number of mean jobs to make ends meet. The death of his father worsened the situation, but he was hellbent on becoming successful. At the tender age of 14, he grew an interest in baseball and started playing organised baseball made from milk cartons. In 1985, he was signed up by Texas Rangers. However, he didn't make his professional debut till 1989. Unfortunately, he didn't last with the Rangers and was sold to Chicago White Sox. He struggled to hit full fitness and when he did, his performances just weren't enough. He was then sent to Chicago Cubs in 1992 and his career kicked off from there. 
Sammy Sosa Career
A year after joining the Cubs, Sosa became the team's first player to hit 30 home runs in a single season. It was a remarkable achievement at the time. In 1994, to show that what he did in 1993 was no fluke, he repeated the same feat. The following year, he made his All-Star Game debut. It didn't take long before he recorded his 1000th career hit. He was such a fearsome hitter. 
Sammy Sosa's Battle with McGwire
Sosa's fond battle with Mark McGwire for a single-season home run record also comes to mind. The duo battled it out to have their names in the record books. Sammy Sosa won the National League's Most Valuable Player Award in 1998. The following year he went on to become the first player to hit 60 homers twice. 
The Twilight of Sammy Sosa's Career; The Controversies
In March 2005, after Sammy had moved to the Baltimore Orioles, allegations about his use of performance-enhancing drugs became popular. He sat out 2006 after a woeful previous season. However, he left the Orioles to join Texas Rangers. In June 2007, he became the fifth major leaguer to hit the 600th home run of his career. 
In 2009, it was reported that Sosa had tested positive for a performance-enhancing drug six years earlier. 
Where is Sammy Sosa Now?
Today, Sammy Sosa says he is an entrepreneur after retiring from the sports. Although he doesn't grant interviews as he used to do before, he said he is healthy and manages some businesses he found. In what was supposed to be enjoying the benefits of a glittering career, Sammy Sosa now is ostracised from the Cubs because of the allegations of doping that have refused to go away. 
Why Did Sammy Sosa Turn White?
Sammy Sosa now is a different person from what he used to be. His new appearance gave the media something to feast on. Born black, today, Sosa has a whiter complexion. When questioned why his skin is a lot whiter than what it used to be, Sosa said he uses a bleaching cream that is soft on his skin. 
He said: "It's a bleaching cream that I apply before going to bed and whitens my skin some," Sosa revealed in a 2009 interview with Univision.  "What happened was that I had been using the cream for a long time and that, combined with the bright TV lights, made my face look whiter than it really is. I don't think I look like Michael Jackson," he concluded.
Is Sammy Sosa in the National Baseball Hall of Fame?
Since his eligibility to be inducted into the Baseball Hall of Fame in 2013, Sosa has not been elected. He has missed the induction by whiskers as votes aren't enough to select him. Hopefully, in 2022 which happens to be Sosa's final appearance, he will be voted in. The allegations also haven't helped matters. 
Who is Sammy Sosa's Wife?
Sosa is married to former Dominican dancer, Sonia Rodriguez. They have six kids together.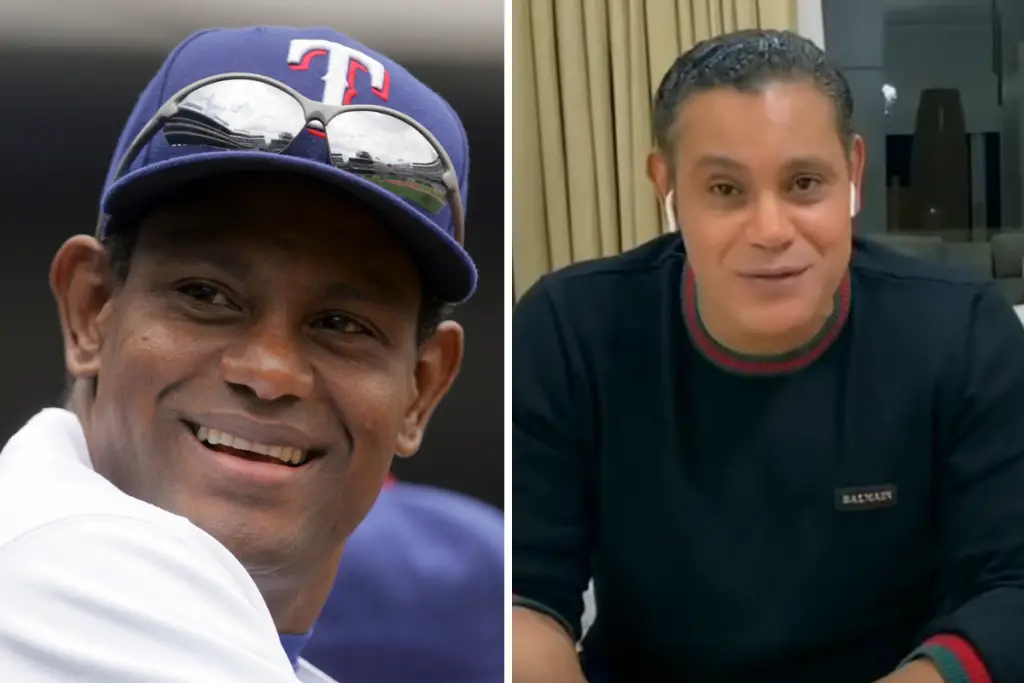 Conclusion
Sammy Sosa now looks like Michael Jackson even though he has vehemently denied the comparison. While Jackson's facial change was to hide his skin disorder, Sosa bleached because he felt "comfortable" with it.