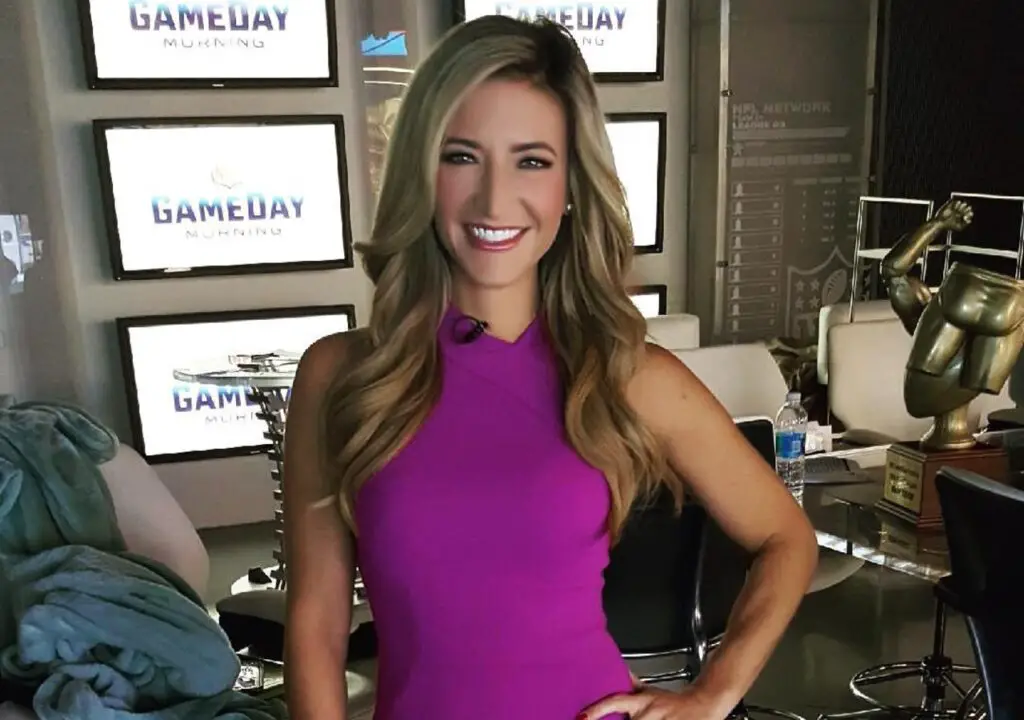 Cynthia Frelund is the name many ESPN and NFL lovers know and admire. She is a sports journalist who does a great job in the NFL network by analyzing data on football in great detail and bringing the fans closer to the sport.
Frelund was appointed to the NFL Network in August 2016 and over time has been able to break down complicated data and statistics, identify patterns and trends, and translate them to make them easy for fans to understand. That has been her remarkable trait among journalists and the reason she's so loved.
It is quite enjoyable to watch a woman who has a perfect aura analyze male-dominated viewers' sports. Frelund has been in the spotlight for several years and only gets better. You may know so much about this sports analyst and commentator, but if you don't, we'll answer exposing questions about Cynthia Frelund here.
Fast Facts About Cynthia Frelund
Here are quick information about Cynthia Frelund that would guide you throughout this article:
Early Life & Education
Cynthia Frelund is a native of Okemos, Michigan, and a graduate of Okemos High School. At a very young age, Frelund loved numbers and football. As a teenager, her most loved NFL football player was Barry Sanders.
Frelund graduated from Boston College with a Bachelor of Science (B.sc) degree in Biology in 2005. Upon completion of her undergraduate degree, Frelund enrolled in the Northwestern University Kellogg School and graduated with a Master of Business Administration in Finance, Entrepreneurship and Innovation.
While studying at the School of Management, Frelund was the Vice President of the Marketing Club. She later went on to still grab a Master of Science in Predictive Analytics degree at Northwestern University, a degree more suitable to the job she chose.
Cynthia Frelund's Years As a Fitness Instructor
While Cynthia Frelund has a special love for the NFL, she also has interests in the NBA, MLB, and PGA. Her personality has drawn a lot of male fans to her. Her love for sports makes her woman every guy wants to be with and accounts for her success in the industry.
Meanwhile, Frelund has been a teacher and tutor to people who wish to get fit. She has been holding group fitness classes at several gyms since 2001. These classes led to her first algorithm-based business, a recommendation engine for group fitness classes.
In 2005, Cynthia officially became a certified Pilates and Group Fitness Instructor. She joined the East Bank Club, and from 2007 to 2012 she worked as a Certified Pilates and Group Fitness Instructor for Equinox for 5 years.
Cynthia Frelund's Career as a Journalist
In August 2016, Cynthia's career as a journalist started. She joined the NFL Network as an on-air predictive analytics analyst and this made her the first-ever NFL analytics expert. Cynthia had a regular appearance on NFL shows such as the coverage of the Super Bowl, NFL Fantasy Live, and the NFL GameDay Morning.  
In the course of her career, Cynthia Frelund also hosted various shows and podcasts for NFL, including the Game Theory and Money with Matt "Money" Smith.
Cynthia Frelund's Running of 10,000 Computer Simulations
The NFL show focuses on compelling matchups and unique statistical information while projecting how players and teams will perform based on advanced analytics. Cynthia has a comparative advantage over other colleagues participating in the show having a degree in Predictive analysis. So, she's been able to break down various complicated statistical data, recognize trends and patterns, and then tabulate for proper translation.
This process made it quite easy for the ordinary fan to understand and digest. Frelund soon became a fantastic addition to the NFL team, making fans smarter and fantasy football owners better. She does so well that hardly any sports analyst could beat her to her game.
Frelund runs about 10,000 computer simulations for each NFL game. As a part of her job description, and despite how daunting it was, Cynthia was able to build computer simulations using tools including R, Python, Hive, PIG, and Tableau.
Career in ESPN and Disney Group As an Analyst and Expert
Prior to joining the ESPN network, Frelund was the manager of business development for Disney–ABC Television Group. She has also worked as a finance/strategy analyst for the NFL's CFO, and as a senior analyst for Fusion Finance.
Predictive Analytics Expert in ESPN
Before she joined the NFL team, Cynthia Frelund had previously worked for ESPN as a Sports Center's Predictive Analytics Expert. She also worked as a Producer whose major interest was on the next generation content and strategies for sport. At ESPN, Frelund also worked as an Associate Director of Technology Development at ESPN Innovation.
Cynthia Frelund and Her Perfect Model Body and Feet
Cynthia Frelund is a marathon runner – this has helped carve her into the trim model. She has completed 20 marathons in 20 states and has the goal of completing one marathon in each of the 50 states. Nonetheless, Cynthia impresses again and again on set. She knows exactly the right outfit to complement her supermodel shape and body.
On separate occasions, Cynthia posted several images of her feet on her Instagram page where she is quite active. Her fans will agree that her feet are as beautiful and remarkable as her beautiful body. If she wasn't a sports journalist, Cynthia could have become a famous and successful model.
Who is Cynthia Frelund Dating?
Since her first appearance on set and since attaining fame, Frelund has not been seen in any romantic relationship. At least, none the media knows of. She has not publicly consented to a relationship. On the issue of whether Cynthia Frelund is dating or married, one cannot really tell.
There have been rumors on whether she was engaged due to a video of her wearing a ring on her engagement finger on a show, but no man has been identified with her. She may still be single, although she has never spoken publicly about her romantic life.
Cynthia Frelund and Her Personal Relationship
Cynthia is incredibly secretive about her romantic life. On many occasions, fans have asked her if she is single, but she has never given an answer. Most of the guys seen on her Instagram page are either family members or employees with no strings attached.
Cynthia Frelund's Love for Dogs
On her Instagram page, Cynthia Frelund always uploads the picture of her dog and this shows how much she loves dogs. Frelund owns a bulldog that she absolutely loves, considering how she raves about it on her Instagram account.
15 Questions Answered about Cynthia Frelund
Conclusion
Cynthia Frelund has been quite successful in her career and education with two Master's degree certificates and an enviable job as a sports journalist and analyst. She would be 41 years old on her birthday in 2020 but she is yet to marry. This seems to be no issue to Cynthia Frelund who deeply loves her family. She instead concentrates on being the best she can be in her job and creating a legacy many youngsters in the sports analysis industry will follow.