With a strong support system Like Simone Biles parents, Success is 100% guaranteed for any feat. We can all agree that this is a statement of fact given Simone Biles antecedents as the GOAT of gymnastics. Apart from being famous for being her parents, they are famous for the unwavering support they show to Simone. They first went viral in 2016, when they cheered her on from the sidelines of the Rio Olympics.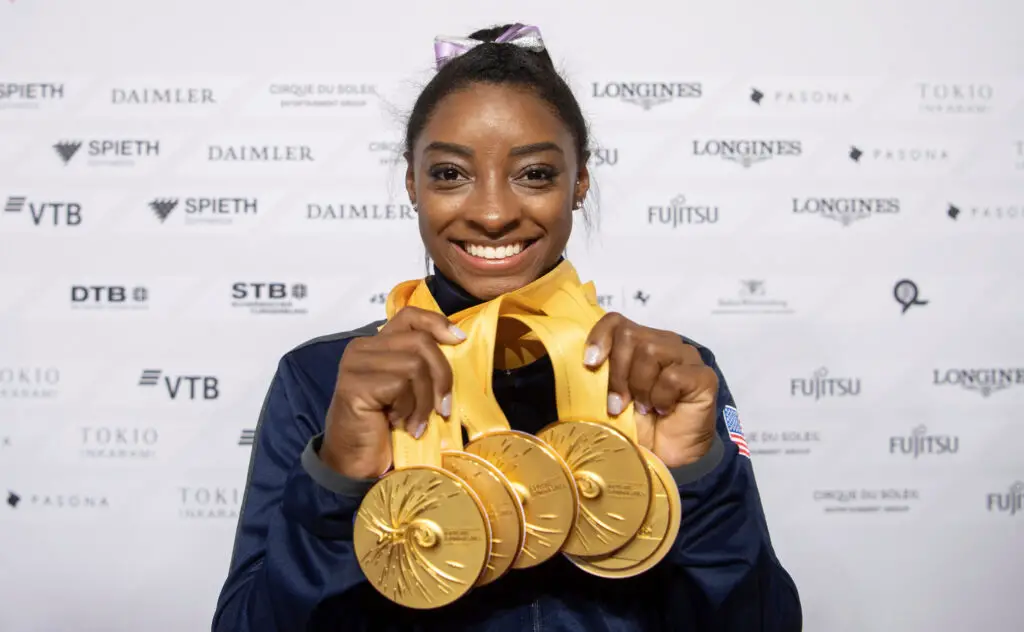 Sadly, they were unable to attend this year's Olympics in Tokoyo due to the COVID-19 restrictions. However, they showed their love and support still by proxy. In this article, we'll be revealing some top facts about Simone Biles parents and a lot more.
Quick Facts About Simone Biles
Brief Bio About Simone Biles
Born Simone Arianne Biles on March 14, 1997, in Columbus, Ohio. She is the third of four children namely,  Adria Biles, Ashley Biles, and Tevin Biles. Simone's father abandoned the family when they were still little. Her mother struggled with substance abuse and couldn't care for them alone, they all got sent to foster homes. Eventually, Simone and her younger sister, Adria, were adopted by their maternal grandparents in 2013. In like manner, her older siblings got adopted by their step grandmothers sister. 
 Who are Simone Biles Parents?
Simone Biles parents are her maternal grandfather, Ronald Biles, and his second wife, Nellie.  Simone's grandfather who also doubles as her father is the biological father of her mother, Shanon. He was the one that picked out Simone's name when her mother was pregnant.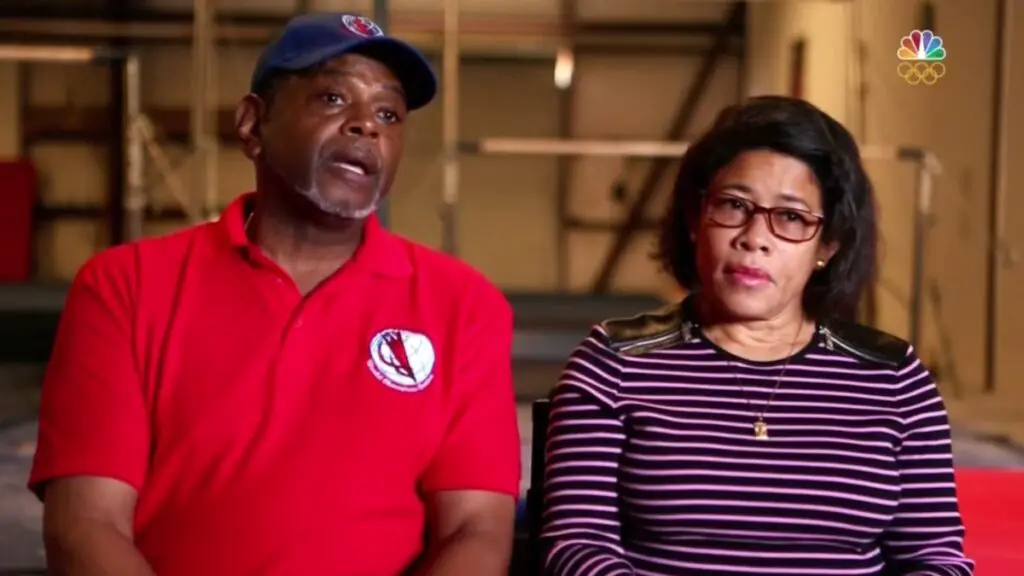 Ronald met his wife, Nellie while he worked in the Air Force worked close to her college in San Antonio. When he retired from the military, he worked as an air traffic controller. When Nellie graduated, she worked as a nurse and co-owned a chain of 14 nursing homes in Texas. After dating for a while, they got married in 1977 and began a nuclear family of 4 with their two sons, Ron Jr. and Adam. In 2003, they became a big blended family with the addition of Simone and her younger sister, Adria.
Where are Simone Biles Biological Parents?
Simone's biological parents are  Shannon Biles and Kelvin Clemons. Although they aren't actively present in her life at the moment, they still keep in touch. However, not much is known about her father, kelvin, but we do know that he abandoned Simone and her 3 siblings with their mother when they were still very young. 
Her mother, Shannon on the other hand, is the biological daughter of Ronald Biles, Simone's grandfather who doubles as her father and legal guardian. When Simone's biological father, kelvin, abandoned her and the 4 children, she couldn't take care of them. 
Although she has been sober since 2007 and has worked as a home-help aid, Shannon struggled with substance addiction in the past. She revealed that giving up her children to foster care was very difficult for her but she had to let them go eventually. She admits to still keeping in touch with Simone but their conversations are usually brief and cold. 
Michael Schumacher
Read all about the the former German racing driver and his current health condition, here
Top Facts About Simone Biles Parents
#1. Simone Biles Parents Double As Her Grandparents 
Simone Biles parents, Ronald and Nellie Biles are her maternal grandparents. She was just 3years old when she and her siblings were taken to foster care because her mother had issues with addiction and usually frequented jail. One of the highlights of her life during her time in foster care was visiting her grandparents who were always very warm and receptive. In 2003, they adopted Simone and her younger sister, Adria. Renold told her  "OK, you know how you called us Grandma and Grandpa? You can call us Mom and Dad now if you want to." 
Initially, the development was surreal for Simone as she recalled how lonely life felt without a mother figure. She lauds her gratitude to her parents at whatever stage she finds herself at any given time.
#2. Bonding  With Her Mother Took A While After Adoption
Although Simone and her younger sister, Adria weren't foreign to their mother, Nillie, as they used to frequent the house prior to their adoption. Upon adoption, she experienced some difficulty bonding with them as she was already raising her own biological sons. Nellie went as far as praying that they get along nicely and did everything within her power to be a good mother and be emotionally available to them.
"I remember praying for that bonding because telling them that you love them and you care for them; that's all words. But then you wake up one day, and you realize that you would do anything for these children and that you would die for these children. And when that feeling comes, that's when you know you are truly a mother."
#3.  Simone Biles Parents Own A Gymnasium
Ronald and Nellie Biles own a gymnasium called World Champions Centre in Spring, Texas.  The core mission of the gym is to foster athletes of all races and backgrounds. Simone also practices at the family-owned gym and is very passionate about the goal of inclusion that the gym is set out for. 
#4. They Are Very Supportive Parents
Apart from being loving parents, They are also very supportive of her career. They are her greatest fans and cheerleaders. In the 2016, Rio Olympics, they energetically cheered her up from the sideline. Sadly they couldn't be on the ground to cheer her up as usual during this year's Olympics at Tokoyo, due to covid-19 restrictions.  Regardless, their support for their daughter didnt fade, thanks to technology.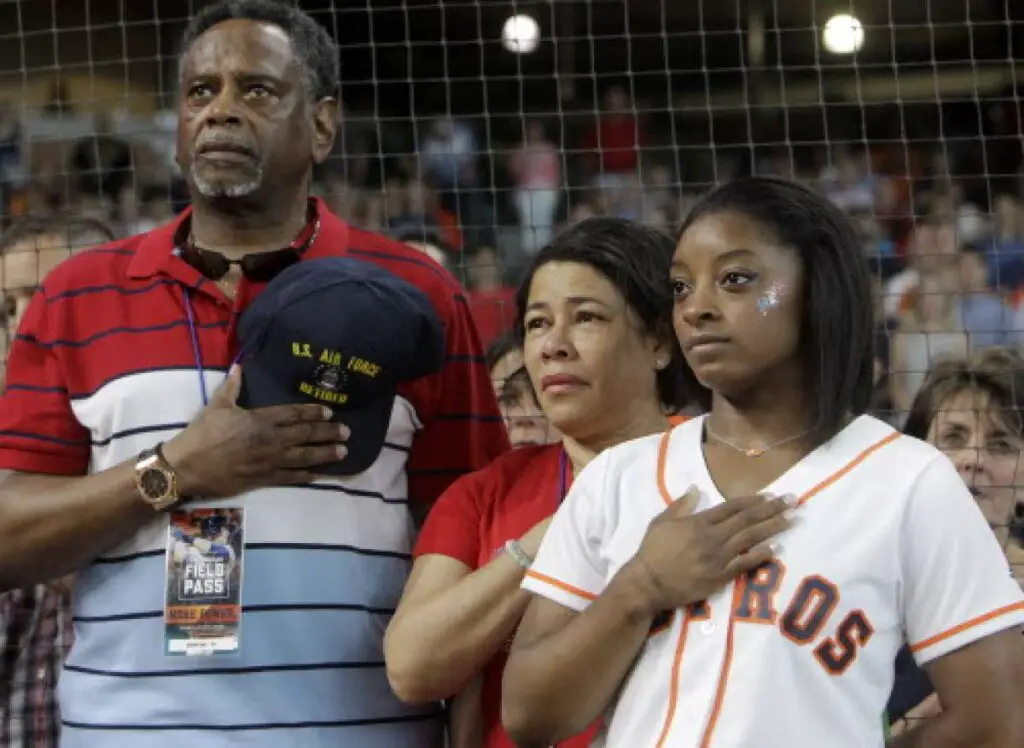 Conclusion
Just like the popular saying, "Anybody can be a father but not a dad" that is the case of Simone Biles. Her parents gave birth to her but sadly they were unable to discharge their parental duties. Luckily, she was adopted and is receiving all the parental love and support that there is to give.