Famed for his role as Dr. Frank-N-Furter in the widely acclaimed The Rocky Horror productions, Tim Curry has over four decades of acting experience under his belt. However, unfortunately, his health is under attack. First, it was a stroke that he suffered in 2012 that has reduced him to the wheelchairs. However, this hasn't stopped him from continuing the hilarious roles he plays and one we have come to adore. In this article, we will be examining what Tim Curry health now looks like. Is he better? What is he doing now? Does he have a movie in the corner despite his predicament? These questions and more are what we will be answering as you read on.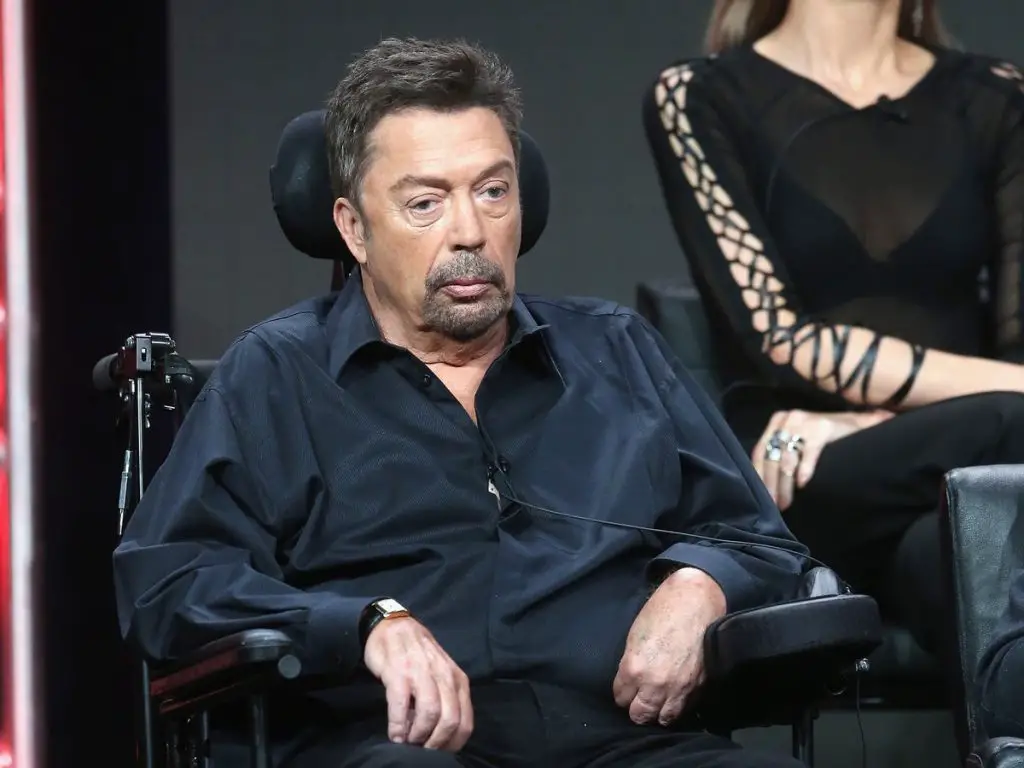 The world cannot forget the character Dr. Frank-N-Furter in a long while. For movie lovers, it is one of the most exciting characters any horror movie has produced. While Curry may want to bounce that, there is no work more remarkable than that character. We are sure Curry knows that already. He often tries not to put his character on the line for fear of being seen as a stereotype.
Nevertheless, no matter how much he tries, he cannot suppress that magnificent performance. It may be shocking to many people to find out that he got the role by accident. Yes, that is correct. However, you know what they say about seizing an opportunity and making it like you were destined for it? Yeah, that is precisely what Curry did.
Who is Tim Curry?
Timothy James Curry was born on April 19, 1946, to school secretary Patricia and Royal Navy chaplain James Curry. The British singer and actor was born in Grappenhall, Cheshire. Unfortunately, Curry lost his father when he was 12 years old. If that wasn't bad enough, he lost his elder sibling to a brain tumor in 2001. As a result, Curry practically spent his childhood with his mother in Plymouth.
Growing up, Curry spent time in the church where he was a choirboy. His father being a Methodist minister meant Curry couldn't miss church every Sunday. His first love was singing, but as he grew, he discovered that acting was something he was gravely interested in. So, he attended Kingswood School in Bath, England. Then, he pursued acting. But, this didn't happen till he took a gap year to tour Europe. He would later come back to England to get a drama program. No other University at the time was offering a drama program other than Birmingham University.
One would think that since Curry was passionate about acting, he would take his drama program seriously. Nevertheless, this was not the case. Curry skipped classes and was a poor student. One exciting story during his studentship was when a particular professor sent him out of the examination hall, saying he hadn't seen him in his class.
Well, this is not to say that during Curry's student days, he was a waste. No. He did not like attending classes. However, he was fervent in extracurricular activities.
Tim Curry Got His First Role By Lying
In 1968, Curry had to lie to get a role by saying he had experience. So the story goes: Tim Curry was considered for a role in the original London production of Hair. However, the cast directors needed acting experience, and here was Curry, who had zero acting experience. He submitted his resume, which was full of lies, but he landed the job. Strangely, Tim Curry impressed the cast directors.
The role of Dr. Frank-N-Furter that Curry got was also perchance. As a rising star in the theatre, Curry was wise to make friends with other rising stars. This was how he made friends with the talented playwright Richard O'Brien who was working on the scripts for The Rocky Horror Show. One thing led to another, and Curry landed the role. The rest they say is history. His performance in the show raised him to star status and undoubtedly opened more doors for him.
Tim Curry Health Now: He Struggled With Alcoholism
Tim Curry resorted to alcohol when he found out that Critics on Broadway panned the Rocky Horror Picture Show. If the show had been accepted, it would have made it one of the greatest shows bordering horror. To handle this disappointment, Curry took a heavy alcohol intake. Perhaps, this affected Tim Curry health now.
Tim Curry Suffers From Stroke
Sometimes, when we least expect, we are hit with some ailment that makes us look like a shadow of ourselves. Nevertheless, while others allow that to define them, people like Tim Curry just would not back down. It is an unreal strength. It all started in 2011 when he fell ill during some of the stage productions he was part of. He would have thought it was just one of those illnesses from stress, but he was wrong. In July 2012, the illness turned out to be a full-blown stroke. However, nobody had an idea of what had happened to the Brit, except his family. It took another year before people finally realized what had happened. So, what is the status of Tim Curry health now? Read along to find out.
With a stroke that was not as fatal as some others, Tim expected to make a full recovery. He has since maintained physical therapy and is doing fine now, but he is constrained to a wheelchair. Photos of the comical character surfaced when he attended an event in Manchester. His role was to meet fans and sign a couple of autographs. Unfortunately, the pictures revealed that he was still in a wheelchair. This event is as recent as October 2021.
Tim Curry Health Now: He Has Limited His Public Appearances
Strole takes away locomotion, so it is not surprising that Tim Curry had to reduce his public appearances. However, he did not just reduce it one day; he gradually made it happen not to hurt his fans.
Also, as a result of the stroke, Curry has lost some of the roles he usually would have gotten because, of course, he could not walk. However, his hard work would see him get voice acting roles and even singing roles. Again, this shows how passionate Curry is about his profession. Before his stroke, the industry recognized that Curry was no pushover, so it should not come as a surprise when he made the cast on movie sets.
You can read about the mysterious Juan O Savin here. Did you know this is not his real name? Also, he is rumored to be John F Kennedy descendant, do you want to know why? Read here
Tim Curry Narrates Audiobooks
One thing that Tim Curry has going for him is his unmistakable voice. The accent and the beautiful slurs have endeared him to many fans all over the world. To make more money off his incredible voice, Curry Narrates Audiobooks and does voice acting; you will enjoy listening to them. Some of the books he narrated include Dracula by Bram Stoker and Journey to the Center of the Earth by Jules Vernes.
Tim Curry is A Tony Award Winner
To honor the contribution of Curry in the movie industry, the Brit received a Tony Award for Lifetime Achievement for his illustrious career.
Conclusion
Fans are still worried about Tim Curry health now, but we can assure you that he is doing fine and is still very much in the movie industry.