Cooper Noriega story and death are a big blow to The TikTok community at large. His sudden and untimely death has brought tears to the eyes of his family, fans, and fellow TikTok influencers. According to a  TMZ report passers-by found  Cooper Noriega unconscious in a mall parking lot in Burbank, California. Unfortunately, by the time the paramedics got to the scene of his death, he was found dead.  Though an autopsy was conducted, the cause of his death is still a mystery to the public as it was deferred because medical investigations are still ongoing.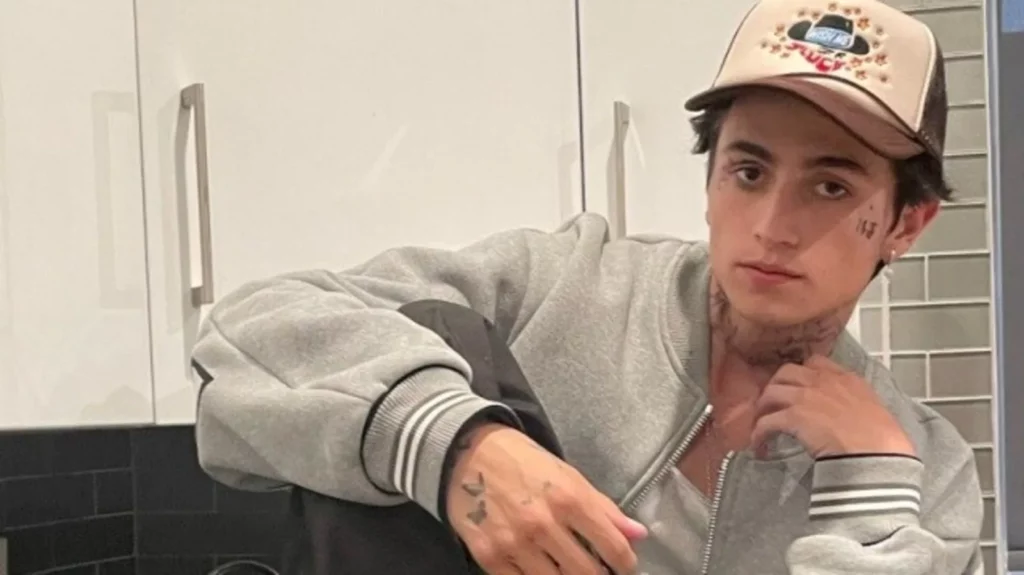 One of the notable actions to note about Cooper's death in the parking lot was that he wasn't inside a car. He was laid flat out on the floor.  Another cringe-worthy happenstance was the TikTok video he had posted earlier. The video hinted about his death  with an err caption: "who else b thinking they gon [die] young ." While still in mourning, Fans and loved ones have asked so many questions demanding to know the true Cooper Noriega story 
Who Was Cooper Noriega?
Cooper Noriega was  a young virbrant TikTok celebrity. He was born on 28th June 2002 to Treva and Harold Noriega. Cooper grew up in Laguna Beach, California, alongside his older sister, Parker Noriega. He was an alumnus of  Laguna Beach High School and an avid Volleyball player. 
What Is Cooper Noriega Story? He Launched His Modelling Career With Social Media 
Until the Spring of 2019 when he launched his social media career on TikTok,  Noriega was a regular kid.  He started out posting funny skits and lip-syncing videos.  And within a short while, his page saw engagement that drove traffic. According to social-analytics website Social Blade, Noriega hit a million TikTok followers before the end of 2020, and his account now has 2.8 million followers.    His influence also grew across other social media platforms like Instagram, Twitter, and YouTube. 
Before his demise, Cooper had a little over 600,000 followers across these platforms. He was very keen on his modeling career and saw social media as a gateway to breaking into the industry. To this end,  In March 202, he created a  fashion line dubbed the  'The 28 Club'.The fashion line was centered around hope instead of fear. He also had the number 28 tattoed on his hands. 
Cooper Noriega Had A Decade Long Addiction Struggle 
Cooper was very passionate about mental health struggles and he was also open about his struggles too.  A few days before he passed on,  He took to Instagram to tell his story and decade-long addiction struggles in a post. He wrote:  
"I've been struggling with addiction since I was 9 years old – you may think it's crazy, but that's the life I've been dealt,"
During an interview with Hollywire in March 2021,  Noriega said he "started taking pills when he was still a child. He also admiited to being  four months sober at the time and that former Sway House member Jaden Hossler had saved him by helping him to "become sober.
Noriega Was A Mental Health Advocate And Wanted To Build A Rehab
While he was alive, The TikToker was very fierce in his advocacy for mental health. 5 days before his demise on June 9th, Cooper copied a Discord server to enable people to discuss mental health freely and seek the help they need without fear of bullying or discrimination.  He also said that one of his long-term goals was to create a global rehabilitation center to help people with mental health and addiction struggles.  He said : 
"My goal is to eventually open a rehab where people aren't traumatized at the end of their recovery, and where the staff members are trusted people. One of the many things I've learned while struggling with addiction was that surrounding yourself with negative people will only bring you down."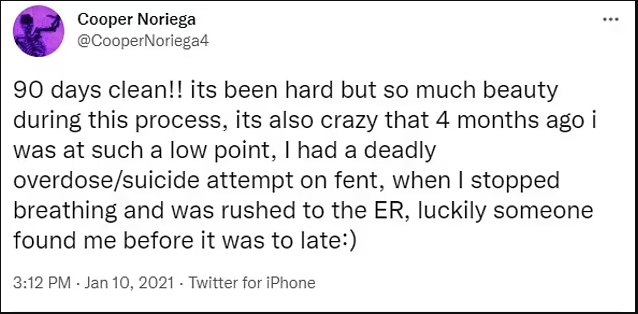 Cooper Noriega's Death  Brought Tears To His family, Ex-girlfriend, And Friends At Large
Cooper's family especially his sister, Paker, and father, Harlod are devasted by his loss. Cooper died just a day before his father's 66th birthday and Harlod can't seem to shake off the shock of his death as he states that a child isn't supposed to die before the parent in a mourning post he made on Facebook. 
His ex-girlfriend, Sabrina Quesada referred to him as the" light of her life". She also took to Instagram to pay tribute to him with a post captioned " You're the best thing that ever happened to me, Sabrina wrote.
"I'm so sorry my love. May we meet again."
One of his friends Chase Hudson shared a tribute on TikTok:
"I met Cooper two years ago when I needed someone. The day we met, we talked for hours on end – that conversation changed me."
Cooper Noierga Story Is Not Yet Over: His Family Intends To Keep His Legacy Of Mental Health Advocacy
From the looks of things, Cooper's family intends to see his dream of building a rehabilitation center through. His sister, Paker took to his Instagram page to appreciate fans for their love and support in these trying times. She also encouraged them to not stop reaching out to the Noriega Clan. "
His passing is an absolute tragedy to our family and loved ones. We pray that we all as a community can continue on his legacy. He loved each and every one of you. Please feel free to reach out to us as we love feeling all the support. Bless you, all."
In his Tribute post, Cooper's father also acknowledged the mental health discord channel he created. He  said :
" He recently started a chat on Discord which grew to thousands for those to have a safe place to talk about mental health. My boy was a believer and I know he is in the presence of God."
Find out everything we know about Shasta Groene's story and her horrific abduction recovery, here
Conclusion  
Cooper Noirega story is a heartbreaking one. Despite his own personal struggles with addiction, He was able to bring joy, peace, hope, and comfort to the lives of others around him. May his soul continue to rest in peace.