Only a handful of celebrities' significant others decide not to leverage on their spouse's popularity, one way or the other- Kimberly Ann Vadala is one of them. In fact, Kimberly ticks all the boxes for an incognito lifestyle.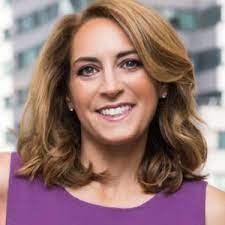 Thrust into the spotlight as a result of her marriage to her ex, the popular sports anchor-man, Colin Cowherd, Kimberly Ann Vadala has rigidly protected her privacy. Even after their divorce, Kimberly has chosen to live a reclusive life.
Kimberly has a booming career that she has also chosen to hide from the public, perhaps fearing the negative side fame has to it. Here is a timeline of how she became famous.
Kimberly Ann Vadala Childhood
Kimberly was born in the United States but the actual information about her birthplace and birth date are unknown. Little else is known about her parents, siblings, and childhood.
With regards to her education, Kimberly graduated from an unnamed college as an Economics major. She initially wanted to become either a journalist or a businesswoman but changed her interest to Fitness. She made Fitness her career as she was passionate about yoga and exercise.
Kimberly notably worked as a model and a fitness trainer.
1996: Kimberly Ann Vadala Marriage
Kimberly married Colin Cowherd in 1996 in a private ceremony. Kimberly and Colin dated for a while before their marriage but never revealed how and when they met.
1996 was also the year her husband, Colin, moved to Portland, Oregon, and became a full-time sports anchorman for KGW-TV. This was the movie that launched his path to becoming the co-host of Fox Sports Radio's The Herd with Colin Cowherd.
Ion September 12, 2000 – four years after their wedding- the couple welcomed their first child, Liv Cowherd. Liv is one of the two children that came out of the couple's marriage.
Prior to their divorce, Ann and Colin Cowherd were regarded as one of the most successful couples in the entertainment world. Her quiet nature and love for privacy were the perfect blend of Cowherd's extroverted personality. For a while, everyone assumed that the two had gotten the secret formula to maintaining a celebrity union.
2007: The Divorce
In 2007, Kimberly Ann Vadala and Colin Cowherd parted ways. Their divorce was handled quietly, and irreconcilable differences were cited as the reason for the couple's break up. Some rumors suggested the marriage came to an end over infidelity by the sports anchor-man. but that has not been confirmed by either party.
Another rumor suggested that Kimberly was becoming too controlling and her increasing bad attitude made the marriage unconducive. But like the infidelity rumor, this has also not been confirmed.
Since her divorce, Kimberly has stayed single.
Chandler Belfort

Heard of the Wolf of Wall Street? Remember Jordan Belfort? Well, He has a daughter, and she is definitely what you think, read about Chandler Belfort here
Kimberly Ann Vandala's Ex
Colin Cowherd was born on 6th January 1964, in Grayland, Washington State, USA. He is an American sports media personality best known as a voice on ESPN radio shows (2003 – 2015).
He currently hosts the show The Herd with Colin Cowherd on Fox Sports Radio and Fox Sports 1.
Cowherd also voiced Colin Cowling in the 2013 Disney Studios film, Planes, and its video game.
Colin's childhood wasn't pleasant; his parents got divorced and then remarried several times.
His father, Charles, was an optometrist and his British-born mother Patricia was a housewife who immigrated to the United States at 14. He has an older sister named Marlene.
He started his career on the radio after graduating from Eastern Washington University. His first role was a play-by-play voice for the San Diego Padres Triple-A affiliate Las Vegas Stars. He eventually became a sports director at KVBC in Las Vegas, Nevada.
Colin was named Nevada Sportscaster of the Year (5x); Sports Illustrated's 2005 Radio Personality of the year, and PunditTracker's Best Pundit of 2012.
Three years after his divorce from Kimberly, Colin got married to Ann Cowherd in 2010. Ann is also a divorcee and their marriage has made them parents to a combined six children, four of whom came from Ann's previous marriage.
Liv Cowherd
Liv is the first child of Kimberly and Colin, but unlike her mother who hates any form of publicity, Liv lives for it. The 20-year-old is in her own right a social media star with over 120 thousand Twitter followers, and 75 thousand on Instagram. She also has a self-titled YouTube account with 2,000 subscribers.
Liv also has an entrepreneurial side to her.  She owns a socks brand and makes cool sales from the venture.
She currently attends Arizona State University.
The identity of her younger sibling is a secret.
Net Worth
Kimberly's exact net worth is unknown. It is also unknown how much of her modeling and fitness training career has contributed to her financial success.
One thing we know is, Kimberly has earned handsomely since the divorce thanks to alimony and child support from her ex-husband, who is worth a reported $14 million. She serves as the custodian for their kids.
Colin's net worth proceeds from his sports show "The Herd with Colin Cowherd."
Conclusion
Kimberly has continued her reclusive life. Such is her insistence on privacy that she is not on any social media platform. Unlike her ex-husband who is an avid user of social media.
Although her life seems locked away from the media, one thing we can confirm is that her children continue to be the center of her life.