What happened to Brenda on Dr Pol? fans of the NatGeo WILD's show, The Incredible Dr. Pol, have been left wondering what happened to Brenda? Dr. Brenda has become one of the most liked faces of the animal TV show since its inception in 2011.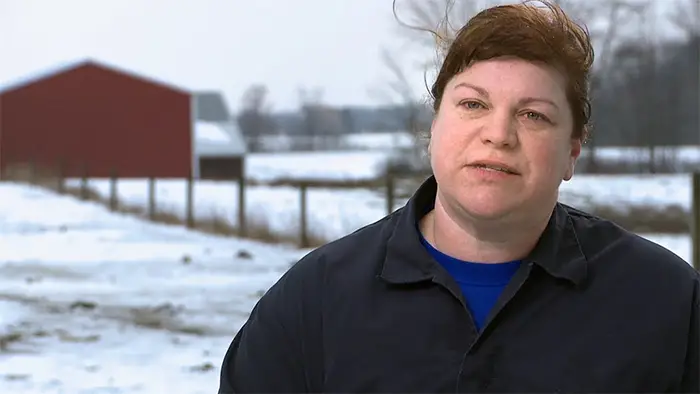 If you ever need a competent veterinary doctor to attend to your injured horse with calm and poise, you better be calling Dr. Brenda Grettenberger. But who are you to call with Dr, Brenda Grettenberger's disappearance from the show? Dr. Pol, definitely.
In this article, we are going to answer your questions on the current situation of things and what happened to Brenda on Dr Pol show. You'll also discover facts about The Incredible Dr. Pol cast that you never knew.
Fast Facts About Brenda on Dr Pol
Quickly, here are basic facts you should know about Dr. Brenda of The Incredible Dr, Pol:
What Happened to Brenda On Dr Pol?
Brenda's disappearance probably makes you wonder what is going on behind the scenes of the show. Was she fired? Did she walk away? Did she get tired of the cameras? Fans are genuinely concerned to know what happened to Brenda on Dr Pol
If you've been having these questions, be rest assured that you are not the only one.
Dr. Brenda was a constant presence on the show for the first 11 seasons, and while it may have been difficult for some to perform their work obligations with the camera stuck in their faces, Brenda strived on it. So when fans noticed her absence in a couple of episodes in season 12, they became worried she was leaving the show.
Brenda's name continued to appear as a part of the credits throughout season 12, however, but this didn't stop the speculations that she was no longer interested in the show. Then season 13 came and every fan's worst fear was confirmed. Brenda didn't make an appearance all through the season. No official statement was made as to why Brenda was gone, or what happened that she wasn't on season 13 of Dr. Pol.
However, Dr. Brenda came back for season 16. But as of late, rumors have once again begun that Dr. Brenda is leaving the show. We are yet to see if she says goodbye. But as of now, Dr. Brenda is an important part of Dr.Pol's clinic and it does not look like she is leaving the clinic.
Now that you've learned what happened to Brenda on Dr. Pol, here is more about the veterinary doctor and the show that made her famous.
Jennifer Aniston

There is more to the eyes than the obvious in the life of Jennifer Aniston, one of the stars of the popular sitcom, FRIENDS, find out here
The Incredible Dr Pol
Brenda Grettenberger attained fame in 2011 for her work with veterinarian Dr. Jan Pol on the Nat Geo reality TV show, The Incredible Dr. Pol.
The show began airing in 2011 on Nat Geo Wild, mainly focused on Dr. Jan Pol; his employees, which include Brenda; and Pol's family. The show came about as a result of the popularity of Dr. Jan Pol's clinic in the Michigan area. Pol Veterinary currently boasts of over 22,000 clients, making them one of the biggest vet companies in the area.
It was Dr. Jan-Harm Pol's youngest child, Charles Pol, that pitched the show to the National Geographic Channel, and when the show came alive, he became one of the producers.
The business is in rural Weidman, Michigan, and Nat Geo Wild has aired it for more than ten years now. Since the veterinary clinic has over 22,000 clients in the region they operate in, there is no lack of clients walking into the hospital for the show.
Grettenberger initially specialized in dairy animals but started to treat smaller animals when dairy farms in the area went into decline. She mentioned at the start of the show that she enjoys working at Pol Veterinarian Services and wants to stay for the foreseeable future.
Brief Bio of Dr Brenda
Brenda Grettenberger was born on February 23, 1967, in Eaton Rapids, Michigan. Her passion for animals stemmed from being born into a family actively involved in the dairy farming business.
From a young age, she was always around animals, and while still in high school, she worked her first job in her family dairy.
We know nothing more about her childhood and private life in general. She has successfully hidden that aspect of her life from the cursory gaze of the public.
Education & Early Career of Dr. Brenda
Dr. Brenda graduated from Michigan State University's College of Veterinary Medicine in 1992. After graduation, she had difficulty getting a job before she saw Pol's advert on a neighborhood publication. She applied and became an employee of Pol Veterinary Companies in 1992. Dr. Jan Pol owns the Pol Veterinary.
Brenda revealed that during the early 90s, the idea of a female veterinary doctor was a strange idea to some of the farmers. This discrimination made Brenda's early days on the job tricky with many of the vet hospital's older clients refusing to trust her with their farm animals.
All through this, she never doubted her veterinary skills. The skilled doctor quickly won over doubters with her great attitude and exceptional results.
Dr. Brenda specializes in treating large farm animals such as horses, cows, pigs, goats, and others.
How Much She Earned On the Show and Her Net Worth.
While we don't know what happened to Brenda on Dr Pol, we know that she made the majority of her net worth due to the success of the show. She has spent almost 30 years as a veterinary and more than a decade on The Incredible Doctor Pol show.
In 2018, Brenda was estimated to worth over $800,000; money she made from her successful veterinary career and The Incredible Dr. Pol show.
Marriage and Social Life
There is a dearth of knowledge about Dr. Bernard's private life. She doesn't say much about her family and isn't even on social media. Brenda revealed in an interview with Nat Geo Wild that she relaxes by reading and spending time with friends and family.
Brenda's marital status is a dead zone, she says nothing about her relationship. However, over the course of the show, Brenda pointed out that she values family over everything else. Her lack of internet presence makes it very hard for us to fill in who these loved ones are, and while we'll love to know more about her life, we respect her wishes.
Still interested in The Incredible Dr. Pol with or without Brenda Grettenberger? Check out Dr. Pol's Instagram to catch up on new information about the show.
Conclusion
Dr. Brenda Grettenberger is a relatively quiet person but her love for animals speaks volumes about her and the type of person she is. Whether she decides to continue on the show or not, Brenda will always be held in high regard by those who've watched her work.
Dana Perino's Husband

Do you know who Dana Perino's husband is? It is an interesting read on Peter McMahon, how they met will shock you.