It was as if, an arrow was shot at the lead star of the CW series, Arrow, Stephen Amell's love life when news broke about him and his wife. Fondly remembered for his sterling role as Oliver Queen in the widely acclaimed TV series Arrow, Stephen Amell is your new-age celebrity. While the show gathered a lot of attention, people and fans alike wanted to know who Stephen Amell's wife is.
Today, Stephen is happily married to Cassandra Jean. The marriage has not been all rosy though, but they are still standing strong. Every marriage has its own peculiar challenges that make it difficult to want to continue. But the brave and strong-willed will do everything possible to make sure it stands the test of time. In this article, we will be exploring the life of Stephen Amell and who his wife is. 
Quick Facts About Stephen Amell
Who is Stephen Amell? 
Not many know that Stephen Amell is also a professional wrestler. However, he is best known for his role as Oliver Queen or Green Arrow if you like on The CW superhero series Arrow (2012-2020). The show started the Arrowverse franchise. Amell is a Canadian actor and producer. 
Stephen Adam Amell was born May 8, 1981, to Sandra Anne Bolte and Thomas J. Amell. He was born in Toronto, Ontario. As a young boy, he attended St. Andrew's College, which was a private independent school for boys of his age. 
The Early Career of Stephen Amell
Amell had always known he was going to be an actor. His first taste of acting on the screen came in his appearances in two episodes of the fourth season of Queer as Folk. He then later played Adam in the television series Dante's Cove. His first award came from his sparkling performance on ReGenesis. He won a Gemini Award for that. 
In 2010, Amell joined the cast of the Vampires Diaries, appearing as werewolf Brady. The following year, he was the real-life criminal character of Joran van der Sloot in the lifetime film Justice for Natalee Holloway. 
The Professional Career of Stephen Amell
The big break came for Amell in January 2012, when he was cast as Oliver Queen, the Green Arrow in The CW series Arrow. The series is based on the comic superhero, Green Arrow. The show would grow to become the Arrowverse, making Amell appear in other DC superhero movies like The Flash, Legends of Tomorrow and Supergirl. 
Stephen Amell also starred in the film Teenage Mutant Ninja Turtles: Out of the Shadows which became available in cinemas on June 3, 2016. 
Unfortunately, in March 2019, Amell said the final season will be aired in late 2019. 
Stephen Amell's Foray into Wrestling
Having been a wrestling fan for ages, he ventured to make appearances on WWE's weekly Raw program. Sometime in 2015, rumors said he was going to have a wrestling match with Cody Rhodes, popularly addressed as Stardust. It didn't happen. However, he won a tag team match where Amell teamed up with Neville against Stardust and King Barrett. That same year, he won the Slammy for Celebrity Moment of the Year. 
He left the wrestling sport for acting for a couple of years before he returned on November 17, 2017.
Who Was The First Stephen Amell Wife
The first Stephen Amell wife was Canadian Carolyn Lawrence. They married on December 8, 2007. The marriage didn't last. After three years, they filed for a divorce for reasons they tagged as irreconcilable differences. We do not know how the ex-couple met each other. 
Who is Cassandra Jean?
If you are familiar with fashion shows, you must have come across the story of Cassandra Jean. She quit America's Next Top Model because she was forced to cut her hair. That was the story that made her so popular, as she received varying degrees of criticism.
Cassandra Jean was born in the beautiful city of Houston, Texas on October 5, 1985. She earned her Bachelor of Arts Degree in Marketing and Public Relations from the University of Texas. 
With her stunning face and height, Jean decided to try out modelling. In 2005, Jean made it to the top 10 at the Miss Texas Pageantry. She competed with popular models like Magen Ellis. 
However, what got her quite famous was when she was forced to cut her hair in the third episode of America's Next Top Model, Cycle 5. After having back and forth with the judges, Cassandra Jean chose to discontinue her participation in the show. 
Is Cassandra Jean Stephen Amell Wife?
A very big yes. But their relationship is one that needs to be read. Nobody knows how the two met, but once they met, it was love at first sight. Stephen and Jean were so discreet with their relationship that it was only when they came out that people knew they were dating. 
It was one of those relationships that you do not have an idea on if they were dating each other. 
Cassandra and Stephen Married Twice.
Did you know that they exchanged their vows twice? It was when they were on a Caribbean vacation that Stephen Amell tied the knot to Jean on December 25, 2012. But as it was a private wedding and the couple needed to have witnesses to their wedding. So, they decided to marry again in May 2013, this time, in the presence of friends and family. 
Today, Cassandra and Amell have a daughter, Maverick Amell.
Stephen Amell Wife is Also an Actor.
Stephen Amell's wife, Cassandra Jean has appeared in a number of movies. After her sojourn with America's Next Top Model, Jean activated her acting career. In the space of two years, Cassandra Jean made appearances on shows like Las Vegas, CSI: Crime Scene Investigation, Hannah Montana, One Tree Hill, among others. The beautiful actress co-starred alongside her husband in Arrowverse's Elseworlds. She played Nora Fries. Today, Jean can boast of being in the movie industry for more than 10 years. 
Teresa Terry
After the divorce that happened between Teresa Terry and Todd Chrisley, many fans are asking where Terry is. We provided the answers here
What Happened Between Stephen Amell and His Wife That Caused So Much Backlash?
Sometime in June 2021, it was reported that Stephen had been ejected from a plane after he got into a feisty altercation with his wife. According to multiple reports, he was drunk. Stephen came out to clear the air, affirming that he indeed had a disagreement with his wife, but he was not forcibly ejected from the flight. Anyways, the couple is fine now and have clearly moved on from the incident.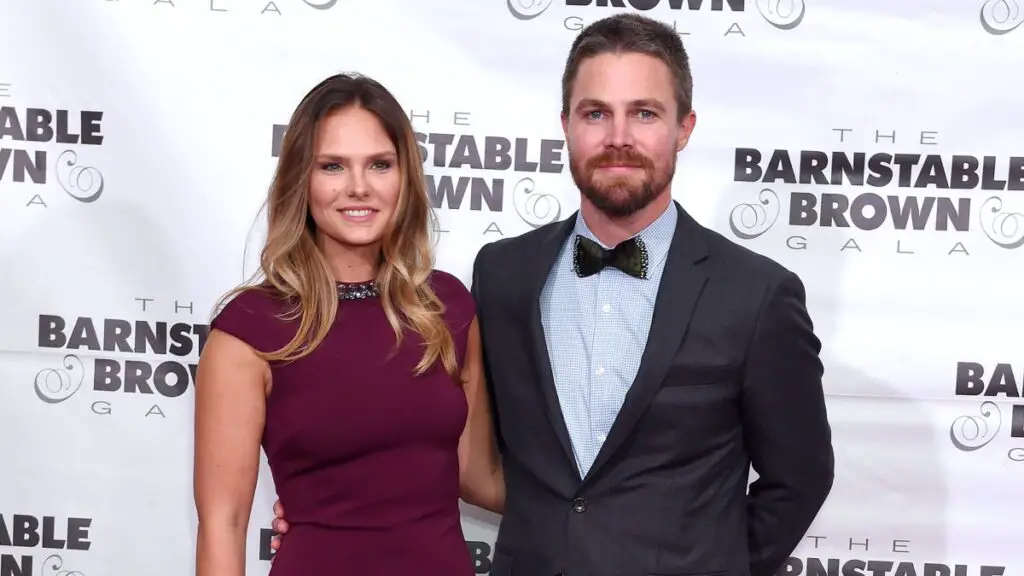 Conclusion
Stephen Amell and his wife are doing great with their lives. They are currently producing a show together. Hopefully, it comes out well.