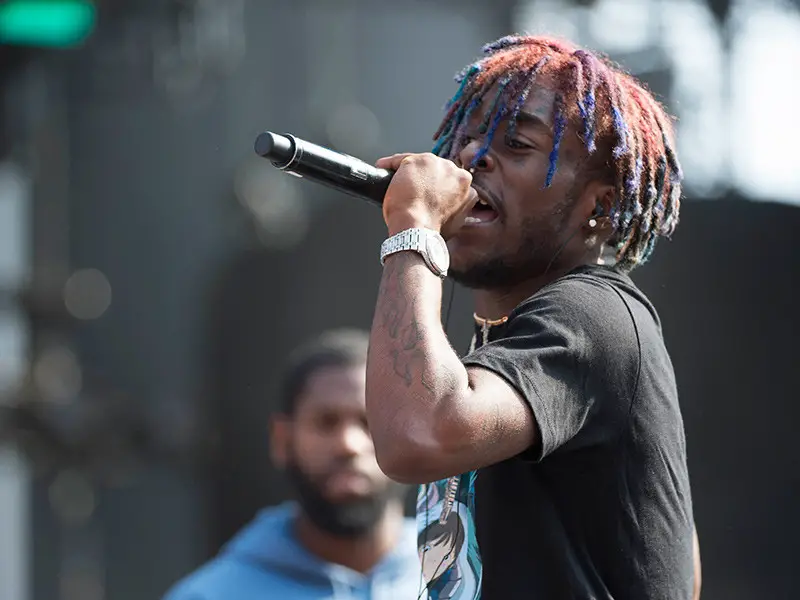 Defiant. Stubborn. Non-conformist. Colorful. Full of life and energy. These are all terms that could aptly describe Lil Uzi Vert; the latest kid on the block of rap and rock. His birth name is Symere Bysil Woods and even though you may doubt this, his mom is a strong woman.
She is possibly the kind of mom that will nag you (and definitely kick your ass out of the house!) until you become responsible. Yeah right? That is what Lil Uzi Vert had growing up in Francisville. And this is what shaped him into the man he now is.
Before Becoming a Star
Symere Bysil Woods was born in Francisville, Philadelphia, Pennsylvania USA on July 31, 1994. The 26-year-old star lived separately with both his dad and mom throughout his childhood until the mom kicked him out of the house after dropping from high school. Lil Uzi Vert's father separated from his mother while Symere Bysil was just a boy.
Symere discovered his passion for rap during his high school days. He was inspired by the likes of Marilyn Manson, Pharrell Williams, ASAP, Rocky, Kanye West, Wiz Khalifa, The Ying Yang Twins, Young Thug, Lil Wayne and the rest. At highschool, Symere Bysil Woods created a rap group with Aston, whom he heard rapping with a remade Chris Brown beat, and another guy.
The group split when Lil Uzi Vert was 17. He dropped out of high school much later and college wasn't what Symere had in mind. Dropping out of high school, he took a job at some store within the neighborhood. Four days later he quit; only to get kicked out of the house by his mom! This would be the inspiration behind the 'Faith' tattoo on his face and the motivation to go into rap full time.
His father would also aid his early life as a rapper by introducing him to rap artists in Philadelphia such as State Property and Beanie Siegel, a member of the State Property rap group.
Symere Bysil Woods' Career
Getting kicked out was not a problem, fending for himself soon became the real issue. Lil Uzi Vert in defiance to his mom's wishes (and I guess here) society, in general, did the absurd. Yeah, you guessed right…face tattoos and piercings! At least he reasoned -and rightfully so- that no one would employ him in the corporate world hence his only option is to create and sell rap.
Strange as this sounds, Symere Bysil Woods started his rap career in 2010 first on SoundCloud, then grew to what he is today. To date, he remains the highest streamed artiste on SoundCloud. Discovered by Don Cannon and DJ Drama, he made his debut into the world of rap music and remains relevant.
Records
It is to his credit that there is cool rap like 'Bad and Bougie', 'Luv is Rage', The Perfect Luv Tape' and others such as 'You Was Right' and 'Money Longer'. There is also 'Luv is Rage 2' and 'Eternal Atake' – a single in the album 'New Patek' – released in September 2018.
Symere Bysil Woods, aka Lil Uzi Vert, also has 'The Way Life Goes' and 'XO Tour Llif3' under his belt.  He featured in the Carnage Single 'WDYW' with ASAP, Ferg and Rich the Kid. He also featured in Lil Pumps Single 'Multi-Millionaire'.  In 2019, he signed up with Roc Nation – after he fell out with Atlantic records – and in that same year released his two singles 'Sanguine Paradise' and 'That's a Rack'.
So far, Lil Uzi Vert has two studio albums – his debut album Luv is Rage 2 released in 2017 and Eternal Atake released in 2020. Symere Bysil Woods' current net worth is $15 million.
Symere Bysil Woods' Awards
It is to Symere's credit that his hit song 'XO Tour Lif3' won the envious position of the 2017 Song of the Summer in the MTV Video Music Awards. Symere has been nominated twice for the Grammy in 2018 for Best New Artist and Best Rap Performance. If he continues to grow the way he's been growing, there may be a Grammy award somewhere in the future for him.
But He is Short Too!
Standing at 5′ 4″ or 1.63m, Lil Uzi Vert is a short American male. With his level of success, you would be thinking that height really should not matter. You are right about this. But we expected more from him even though it's not his fault that nature would deny him some vertical advantage.
Anyway, the industry does not seem to make a fuss about his height after all, like all the others before him who were either short or even shorter. Being a flamboyant person and a sneaker freak, he could easily get one of those elevator shoes to help him out here.
Maybe this would be exactly why he draws attention to himself by compensating. Of a slim build, he wears colors including feminine colors, stripes, patterns, and labels. His curious tastes in fashion make him stick out in the crowd as he is not one to stick to conventional male fashion rules. He loves bags too! All of them. A tote bag, a male purse, a cross bag… all of them and all the accessories (sounds interesting to be his girlfriend).
See what Symere Basil Woods is up to of recent!
Conclusion: Lil Uzi Vert
Symere Bysil Woods broke the rules into becoming a star. Everything about him defies convention. Except for his height. At least we could safely say here that he did not deviate from the norm or industry regulations by being 5ft 4. In fact, on the contrary, he seems to fulfill industry regulations by his height and with the elevator shoe, he is good to go.  
Now 26, Lil Uzi Vert is currently in a relationship with Britanny Renner. His ex-girlfriend is Brittany Byrd, a fashion designer and Instagram star (coincidence much?). He weighs 68kg, a physical lightweight.