Ronnie Coleman will forever be amongst the top-rated in the history of professional bodybuilding. Once you hear the phrase, " Yeah, Buddy! And lightweight baby!" Best believe that Ronnie Coleman is about to lift effortlessly. He was very adept and knowledgeable about the nitty-gritty of bodybuilding.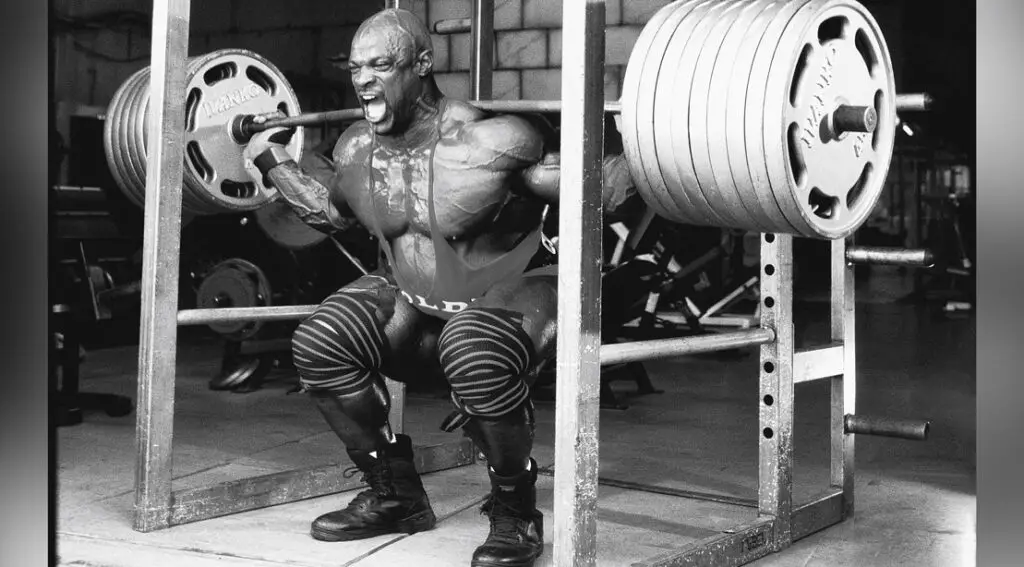 Ronnie Coleman is an eight-time winner of the Mr. Olympia crown Between the late 90s and early 2000s. Ronnie Coleman was well on his way to becoming a nine times Mr. Olympia winner in 2007, but he came in 4th instead. 
Following his retirement, Ronnie Coleman has been plagued with severe health issues. He has had to undergo numerous surgeries on his back and neck, which have taken a toll on his entire life. This article is set to unpack everything we know about Ronnie Coleman health and what he's doing now. So, read till the end.
Ronnie Coleman Underwent 3 Surgeries That Left Him Wheelchair Bound
The body gets weak as we age. No matter how often we exercise, it is an inevitable evil lurking. This can be seen in the Life of Ronnie Coleman ever since he retired. He has been going in and out of one operating room to another. The 8times Mr. Olympia winner has undergone many surgeries to stay fit. Unfortunately, some of the surgeries incapacitated him and left him bound to a wheelchair for some time.  
In February 2018, it was revealed in a video posted by RCSS Supplements that Ronnie Coleman has numerous scar tissue on his back, which resulted in his back getting operated on via his intestines. After his 2018 surgery, his recovery expectations were high. But Unfortunately, in 2019, Ronnie Coleman underwent three surgeries to fix four screws in his back.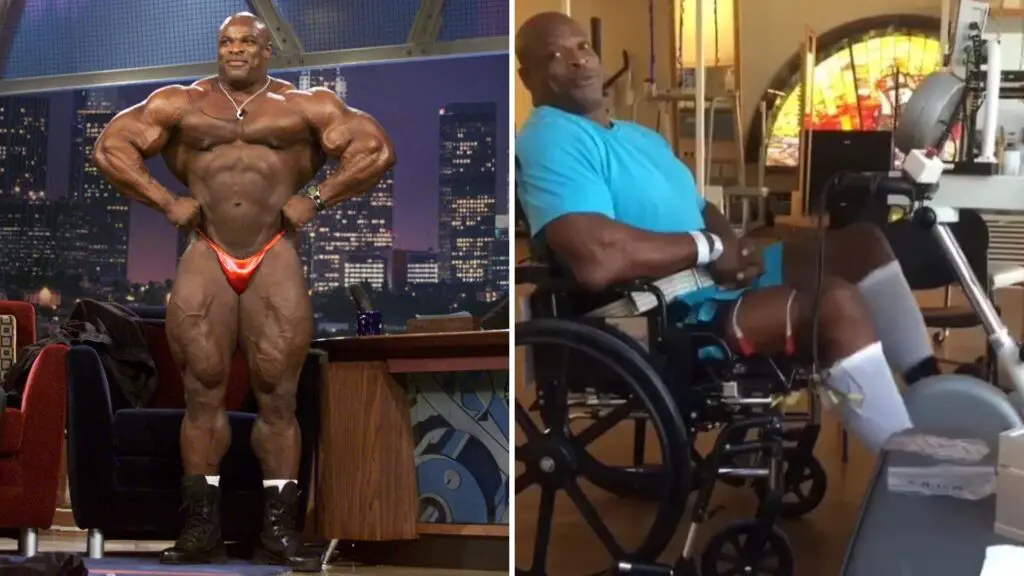 As usual, he had a steep faith in the surgery with high hopes of recovery, given that the process was successful. But unfortunately, the surgery didn't fix him as expected. Instead, his health hit an all-time low. In 2020, In an interview with Muscular Development, Ronnie Coleman dropped the spine-chilling news of his likely permanent paralysis after spending $2million on three unsuccessful surgeries. He said:
"A lot of it has to do with the way the surgeon performed the surgery and the surgeon that I've had the last three surgeries been horrible and caused a lot of damage to my body, so I don't know if I'll be able to walk… Just the way the surgeon did everything and performed everything it was like he was kind of doing these surgeries to make money."
Ronnie Coleman Resulted To Stem Cell Treatment For His Constant Backaches
After the three unsuccessful surgeries in 2019, Ronnie Coleman started using a wheelchair. We bet it was a lot of physical and emotional pain for him. Thankfully, he yielded to Joe Rogan's advice about exploring stem cell treatment as a possible cure to his back pain. Ever since then, there has been a significant improvement in his health. The backaches have drastically reduced compared to before. He confirmed this In May 2021 on Nothin' But A Podcast, In his words: 
"Every time I get one it gets better and better, so I just got to keep getting it. I've got another one in May. Every time I get one, I feel improvements. I've had two so far. The pain is gone now. I've only got a little bit now, not a lot at all. So it's getting better."
Heard about Mario Cristobal? Read about his wife Jessica Cristobal here
Ronnie Is Set To Walk Unaided Again As Stem Cell Treatment Continues To Work Wonders
Apart from the defect in his back caused by the aches, Ronnie lost significant leg muscle due to inactivity. To this effect, he has been putting in the effort at the gym to heal his leg. In December 2021, on Ain't Nothin but a Podcast show, he announced that he now weighs 285 pounds. He was too stunned to believe the first result on the scale, so he weighed himself five times on the scale downstairs.
Still, in disbelief, he went upstairs to confirm it, and to his amusement, the result was unchanging. The size of his leg going back to normal is significant progress of his stem cell treatment. However, he still uses his clutches because his feet and quads are numb but not as bad as pre-stem cell treatment.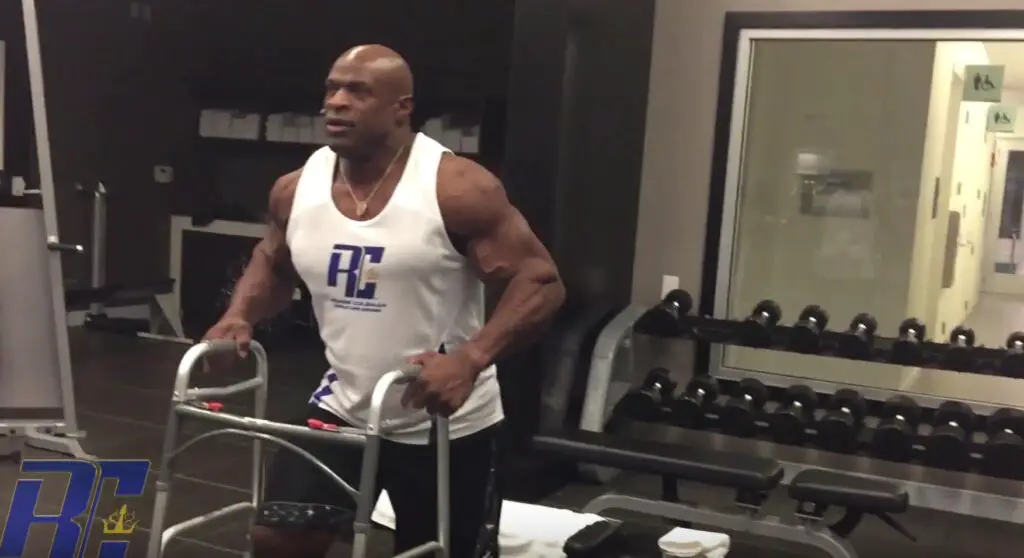 With the fast recovery rate the stem Cell therapy provides, the champ is faced with the possibility of walking unaided sooner than was expected. Just a bit more work to be done, all the numbness in the core of his body will be healed, and he will be agile again. 
Is Ronnie Coleman Still A Gym Rat? 
You would think that Ronnie Coleman would no longer frequent the Gym given his health challenges and immobile status. Well, that's not the case. Nothing has changed as he continues to train six days a week just like he did in his glory days. While he is at it, he also takes fabulous pictures for his Instagram fans. 
Ronnie Coleman Runs A Cameo Account On Instagram
When he is not in the Gym, Ronnie Coleman enjoys fishing and churning out cool Jpegs of himself on Instagram. In the same vein, he created a Cameo account. The account was solely designed to help him connect better with fans alongside making some money. "For a small fee, I'll make a short personalized video wishing your loved ones a Happy Birthday, Happy Anniversary," he captioned his announcement post. "Anything you guys want me to say to your loved ones that are funny and cool."
Conclusion
Thanks to the Stem Cell treatment, Ronnie Coleman has a bright hope of walking unaided soon. However, we do hope his recovery is super fast and permanent.