Apart from being a musical oracle, Kentrell DeSean Gaulden (YoungBoy Never Broke Again), famously known as NBA YounBoy, is famous for his numerous baby mamas.  Kentrell is by far one of the most successful rappers in the present day.  Interestingly, he has an enviable work ethic but not an enviable romantic life. All his relationships have been problematic from time immemorial. He hopped from one woman to the other, leading to a syndicate of NBA YoungBoy baby mamas. Moreso, the fact that the rapper is just 22 years old with a total of 9 children with one on the way is concerning. Hence this article will explore all NBA YoungBoy baby mamas.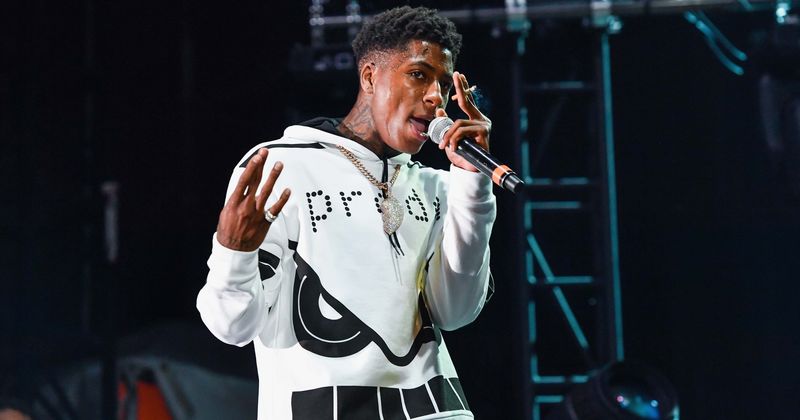 Jazlyn Mychelle Is NBA Youngboy  Latest Baby Mama
NBA YoungBoy and Jazlyn Mychelle first met each other in mid-2020 and officially started dating in late December 2020.  And by May 2021,  via a letter written in prison, he revealed that they were expecting a child. He also expressed his regrets for being absent from his children's lives and vows to be a better father by first getting out of prison.  
NBA further pleaded with Jazlyn to stay with him as he would mend his ways and be a better man. Lucky for him, she listened to his plea and stayed. She also featured YoungBoy's freshly released video for the song Purge Me with her baby bump.  It also appears that apart from expecting their second child together, they are officially engaged as  Jazlyn was spotted with a large diamond ring. 
NBA Youngboy Baby Mama, Arcola Won't Let Him See Their Son, Kaell 
Interestingly, When Kaell was born in 2021, his mother, Arcola, didn't hesitate to have his picture on Instagram to brag about the uncanny resemblance he shares with his father, NBA. But for some weird reasons best known to Arcola, she has refused to grant NBA permission to see Kaell in person or spend time with him. Now and then, the duo takes to social media to brawl about her refusal to let him see his child.  Moreso, despite the huge sum of childcare support funds she receives from NBA, Arcola still works her normal job. In her defense, with or without NBA, she ought to be able to take care of Kaell. 
Yaya Mayweather And NBA YoungBoy Were Rumoured To Be Engaged 
Yaya and NBA had a die-hard relationship as their love was pure and warm. Rumour had it that the duo were engaged at some point but had to break things off because of a violent fight. The fight involved Yaya stabbing  Lapattra when she refused to leave NBA's house on her order. Lapattra had to undergo surgery to fix the wound, while Yaya will likely face a jail term.
 However, neither Yaya Nor NBA confirmed the rumors of their engagement, but in January 2021, they welcomed their child together. Yaya didn't even reveal the name or gender of the child after it was born; she only confirmed his birth by sharing a picture of his foot on Instagram.  It was even her father, Floyd Mayweather, that confirmed NBA to be the father of his grandchild In an interview with Hollywood Unlocked. 
YoungBoy Was Arrested In 2018 For Assaulting One Of His Baby Mamas
 Jania  Jackson and NBA have a cat and rat-like relationship; despite having a couple of children together, they aren't over their selves and perpetual hate for each other; if they aren't blasting about who gave who herpes on the internet, they are making a scence in public space. It was one of their tantrums that got YoungBoy arrested in February 2018 for allegedly assaulting and kidnapping her.
The arrest came after TMZ released a video showing YoungBoy hitting and dragging her into a hotel room.  Interestingly, Jackson defended YoungBoy by stating that she wasn't kidnapped and that she wouldn't have stayed in a relationship in which she was being abused. Further investigation revealed that NBA made Jania sleep in the hotel hall so he could sleep in the room with another woman. 
Drea Symon  Became NBA YoungBoy Baby Mama On Thanksgiving Day In 2020
Although their relationship was on and off, it was somewhat short-lived. However, they currently have two daughters together. Interestingly, they welcomed their first daughter in November 2020, thanksgiving. Drea Symone took to Instagram to announce her birth with a picture and cute caption that reads: "November 26th, 2020, on Thanksgiving Day, I was given a 7.5lb reason to become more thankful. I've been caught up cherishing the days after… it's safe to say my heart is full!! Kodi Capri…
NBA YoungBoy Baby Mamas, Nisha, And Kaylyn Gave Birth To His Children A Few Days Apart In June 2020
Nisha is one of NBA YoungBoy oldest baby mamas. They had their first child Kayden Gaulden in 2016.  Then In late 2019, Nisha announced via Instagram Live that she was pregnant with YoungBoy's child. She also revealed that his ex, Kaylyn Marie, was expecting his child in the same period. Interestingly, YoungBoy never confirmed nor denied the rumors, but Kaylyn documented her pregnancy journey on Twitter.  Fast forward to June 16, 2020, Kaylyn made her tweet announcing the birth of her child. And on June 18, Nisha followed suit with a simple tweet that reads " Thanks everybody."
You can also read about Big Teak's Childhood Story: A Fairy Tale You Should Know here
YoungBoy Has Had His Fare Share Of Paternity Fraud 
It turns out that Kamron Gaulden isn't YoungBoy's biological child, but he publicly announced to continue to take care of him and raise him like his child.  Gaulden is one of NBA YoungBoy baby mama Starr Dejanee's three children. 
While he has been commended for courageously taking responsibility for  Kamron, Nia's mother isn't in support of his decision. This is because when Tay Gaulden was born  On 19th March 2017, YoungBoy doubted his paternity and threw a lot of tantrums until a DNA test confirming Tay's paternity was carried out.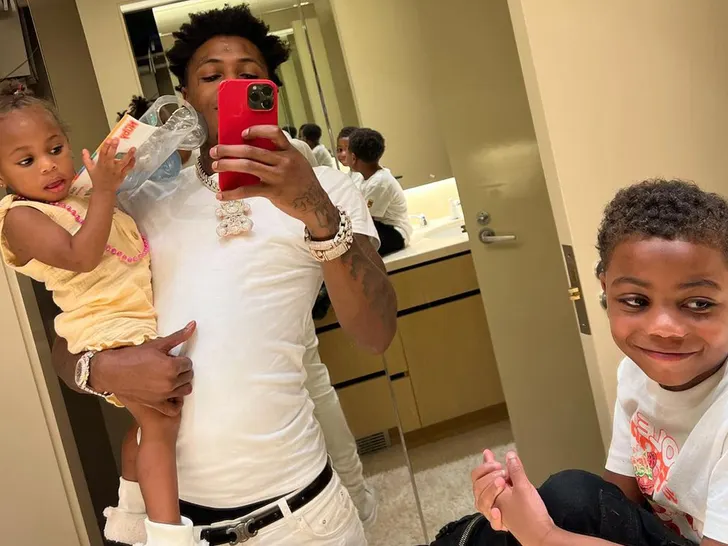 Is Arabian NBA YoungBoy Baby Mama Too? Why Did She Tattoo Him On Her Chest?  
Fans and Trolls pounced on Arabian immediately after she posted a portrait of YoungBoy tattooed her chest.  This has sparked rumors that she has his child or a baby is on the way. The tattoo got Arabian on the black book of one of YoungBoy's Baby Mamas, Jania Jackson. Jania and Arabian had a blood bath  on Twitter; she even called Jania's son her 'stepson.' 
However,  Arabian has since come out to deny all claims and accusations that she is NBA YoungBoy baby mama. She said she's nobody's girlfriend and fans should please stop the lies as the tattoo is just a part of her. 
 Bhad Bhabie Has Denied Being NBA YoungBoy Baby Mama
 After the saga with Arabian,  Bhad Bhabie has also denied having a YoungBoy tattoo. Maybe this is due to the controversial age dynamics in the relationship.  But her denial didn't make the rumors go away easily.  Moreso, the duo was rumored to be in a relationship after they posted pictures of each other on their Instagram pages. Also, some video clips of the pair snuggled in bed sufficed. However, despite the rapper's face being hidden with an emoji, his signature tattoos made it easy to identify him.
Conclusion 
At this point, it won't be a surprise if NBA YoungBoy announces more children's birth before the years run out.