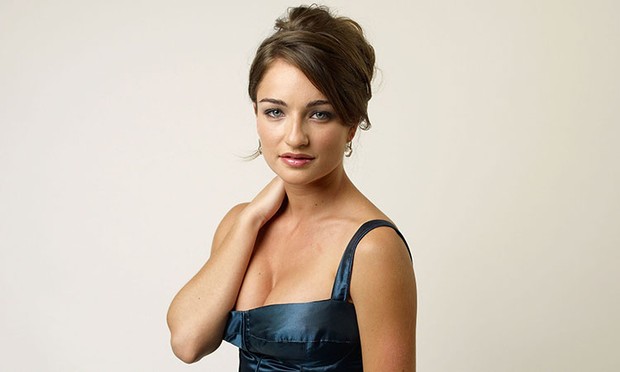 If you are a fan of the epic series 'Games of Thrones', you must have come across Kinvara, the Red Priestess altercation with Varys and show's top cast, Tyrion Lannister. You remember her now? Yes, her name is Ania Bukstein. You may not recognize her face because she didn't complete the series. This Israeli actress of Russian descent is one of the finest actresses you would see out there.
Ania Bukstein did not turn up in the popular Game of Thrones series until the sixth season but that doesn't stop many from knowing her. Some fans knew her right from her very first movie feature in 1994, where she played the role of Anna, a young holocaust survivor. You may however not know her much because most of her movies are acted in her country, Isreal.
But since taking a role in the HBO movie, Bukstein has gone more international than she can permit. So, in this article, we'll show you more than the little or much you know about the Isreali star. Facts that may actually blow your mind. Hang in there with us!
Fast Facts About Ania Bukstein
Before we proceed with the 10 facts you should know about Ania Bukstein, here are basic info that you must first know:
Brief Early Life
Ania Bukstein was born on June 7 1982 as the only child born of a Russian-Jewish couple in Moscow, Russia. She has the privilege to be birthed by two talented people. Her mother is a speech-language pathologist and her father is an established neuro-oncologist.
Growing up was mixed fun for Bukstein as her parents were constantly on the move. Perhaps, these movements from one culture to the other played a role in how Bukstein turned out to be – a talented pianist, actress, songwriter, singer, model. She encapsulates the phrase, bundle of talents.
Bukstein grew up in Moscow and studied classical piano at the age of 5. At the age of 8, she and her parents moved down to Isreal to reside, and as a teenager, she attended the Telma Yalin Arts High School in Givatayim in Isreal, as she always wanted to be a musician.
10 Facts About Ania Bukstein You Didn't Know Before
Here, we go; we'll tell you facts about Anaia Bukstein that you probably never knew and you tell us how much you know before now!
#1. Raised in Soviet Union Environment
Bukstein was born in Moscow, Russia in 1982 to Russian-Jewish parents. Her birthday was on Monday, June 7, and Bukstein grew up in a strict Soviet Union environment. And oh! She is the only child of her parents. 
#2. Ania Bukstein Was a Soldier
Bukstein served as a soldier in the Israeli Air force band for two years. This should explain the steely aura she carries, right? Being a soldier for two years must have inundated some form of steeliness and resolve in her, little wonder, she excels well in whatever she does.
#3. Nominated At Age 12!
Ania was the youngest actress to receive a nomination for one of the most prestigious awards in Israel, the Ophir Award. She received a nomination for the best actress for the movie, Eretz Hadasha (A New Country), at age 12. Stunning!
She later received another nomination for the award in 2005 for her performance in the Shmuel Hasfari directed film Shoshelet Schwartz. She finally won an award for Best actress in the POFF festival for her role in the movie which also won the Best Film, The quiet heart.
Bukstein has also won the most promising actress award. An award that Israel Theatre gave her.
#4. Ania Bukstein Speaks Four Languages
Ania Bukstein speaks four different languages. Four of the most difficult languages in the world, in fact. She doesn't just speak these languages, she speaks them with a high level of proficiency. Imagine someone who speaks French, Russian, English, and Hebrew fluently.
#5. Sound of Music Key Role
You definitely must have come across the popular movie, The Sound of Music. Glad that you have, but did you know there is an Israeli version? Well, the key character, Maria Von Trapp, was played by Ania Bukstein in the Israeli version and it was a huge success in Israel. Ania is a household name in Israel and has slowly worked her way to the top.
#6. Failed Audition for Game of Thrones
Did you know that Ania Bukstein auditioned for the record-breaking series, Games of Thrones, from the first Season? Well, according to her, she had always wanted to be a part of the project. She sent in her audition tape, and when she didn't get the slot, she gave up. Not until when the movie was running into its sixth season that her agent called her that she got the GOT job.
For GOT fans, that's how Bukstein got in. There are videos online of that scene when she confronted Varys and Tyrion Lannister. Some call that scene one of the best scenes in the series, just because of Bukstein.
#7. Ania Bukstein's Role in Genius
Ania Bukstein was the star actress in the critically acclaimed TV series, a remake of Albert Einstein's life, the Genius. With Bukstein playing the Russian spy, Margarita Konenkova, who had an affair with Einstein.
#8. Accomplished Pianist
We were saving the best for last! Bukstein is an accomplished pianist! That's the punch! Her Instagram page is filled with her rendering beautiful chords on the piano. This just cements her artistic prowess. 
#9. Ania Bukstein Has An Album
Oka, this is the last! Did you know Ania Bukstein has a whole album to her name? Want to know one more cool thing? She wrote and composed the songs herself. The album was produced by Johnny Goldstein in 2014. Critics have compared her sultry vocals to American singer-songwriter, Norah Jones.
#10. She Loves Instagram
Did we say the fact about Bukstein's album was the last? Pardon us. How can't we tell you that Ania Bukstein is unable to keep most of the memorable events of her life from Instagram? Ana loves Instagram so much that when she gave birth to her first and only child so far, Instagram was the place she chose to disclose the news to the world.
Why not check her out on Instagram?
Conclusion
There you go! Ten interesting facts about Ania Bukstein. These facts just go to show how much of a talent she is. Talented, beautiful, dedicated, Bukstein is all you would want in a role-model. You could check out on Instagram if you would like to learn a few tricks on the piano.