Indeed, social media is a great equalizer. It brings people from all works of life together irrespective of their demography. Hence, Hasbulla Magomedov big break into the Mixed Martial Arts industry shouldn't come off as a surprise. He is the newest kid on the block who got a massive push into the world of combat sports with social media platforms like TikTok and Instagram. Hasbulla has over a million followers.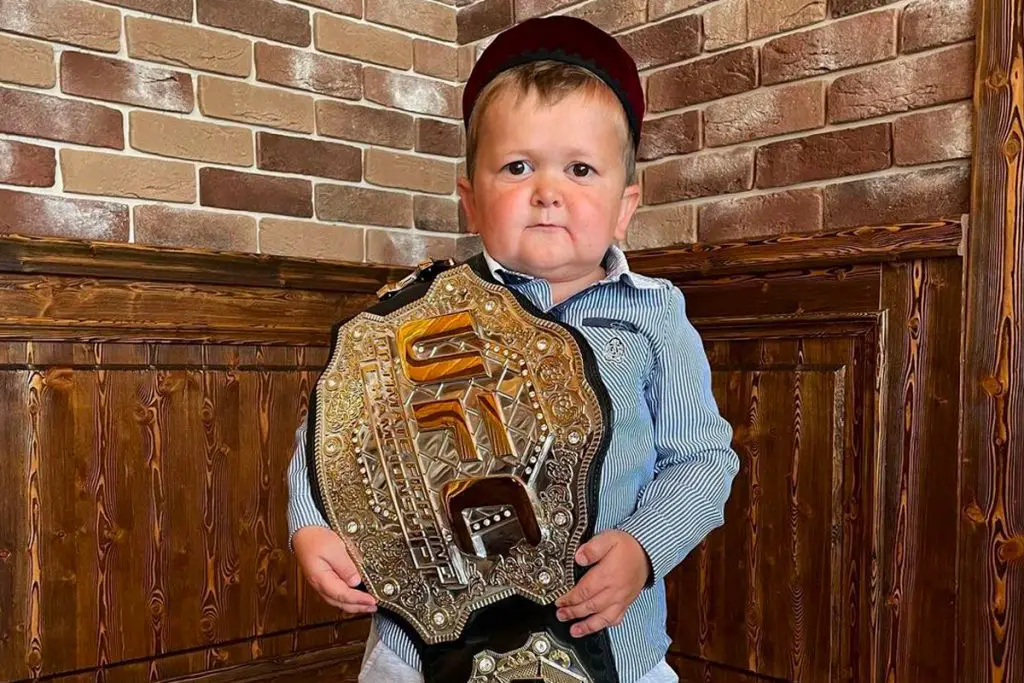 Hasbulla Magomedov started out posting pranks and spoof videos of MMA fighters. After he went viral on Instagram, he has gained a lot of attention from high-ranking MMA fighters like logan Paul, Rafael Fiziev, and the likes. Hasbulla Magomedov even got a special mention on Joe Rogan's podcast. More interestingly, Hasbulla Magomemdov went from an influencer to an MMA fighter in a nanosecond. After his pre-fight press conference with Tajikistan singer Abdu Rozik. The duo is set to combat anytime soon. This article will divulge some really interesting facts we bet you didn't know about Hasbulla Magomedov. Please keep on reading. 
Who Is Hasbulla Magomedov?
Hasbulla Magomedov is the latest rave in the MMA industry. He is a Russian social media influencer and blogger from Dagestan. He came to the limelight in May 2021 for his spectacular work on his TikTok and Instagram accounts which he created in November 2020.
Hasbulla Magomedov Is A Dwarf
One of the endearing features of Hasbulla Magomedov is his height. Although he was born in 2003 and is currently 18 years old, Hasbulla Magomedov looks like a cheerful five-year-old. This is because he suffers from a form of dwarfism. This genetic disorder usually comes about as a result of the body not producing enough growth hormones hence Hasbulla's stunted growth and a high-pitched voice. He is 3′ 3″ tall and weighs 16 kilograms. 
You can read about the mysterious Juan O Savin here. Did you know this is not his real name? Also, he is rumored to be John F Kennedy descendant, do you want to know why? Read here
Quick Facts About Hasbulla Magomedov
Why Is Hasbulla Magomedov Called 'Mini Khabib'?
Following his big break into the MMA community, Hasbulla bagged himself a monicker in no time. Hasbulla became friends with Khabib Nurmagomedov after he comically recreated his UFC weigh-in video. Since then, the duo has gone on to make several videos together, which has even given Hasbulla more visibility and earned him the moniker, 'Mini Khabib.' Hasbulla's friendship with Khabib Nurmagomedov has also spurred rumors that the pair are related by blood. Moreso, it is almost impossible to believe they are not blood relatives given the similarity in their surname and their shared mannerisms.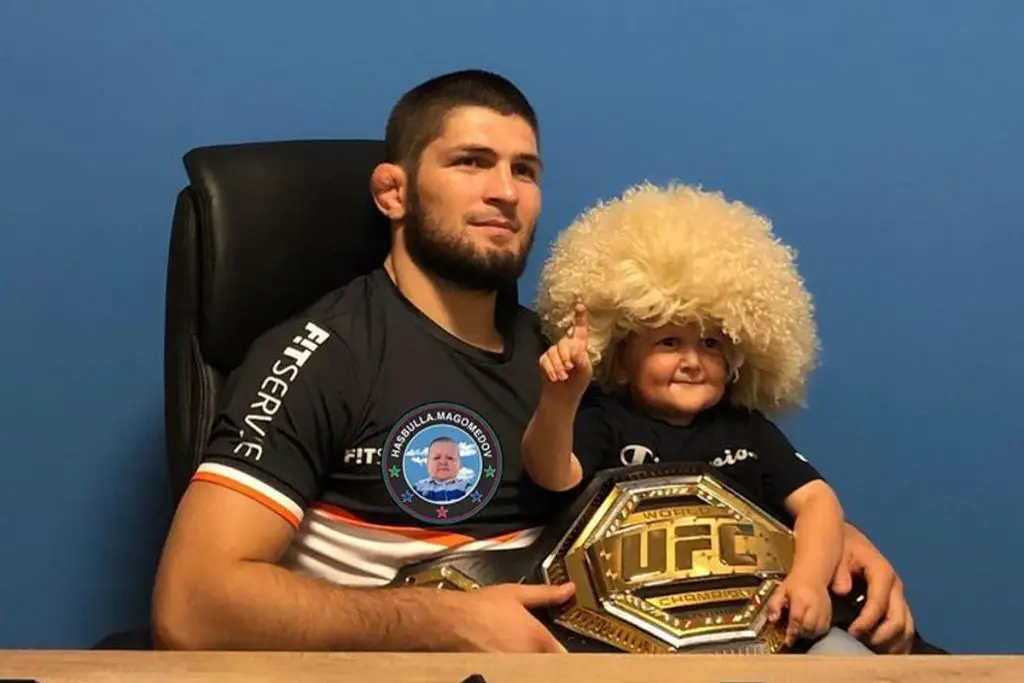 What Made Hasbulla Magomedov Go Viral?
 Hasbulla Magomedov began creating content in the heat of the pandemic in November 2020. He went viral in May 2021 on Tiktok and Instagram, where he has a cult following. One of the videos that made him go viral first was his pre-fight press conference with another famous social media influencer, Abdu Rozik. At the conference, they both bantered, brawled, and did a lot of trash talking. 
When Is The Fight Between Hasbulla Magomedov And Abdu Rozik?
If you are yet to watch the video of their Pre-fight press conference, we highly recommend that you watch it. Although it was a vocal tug of war between the two 18-year-olds, we bet you are also in anticipation of their physical combat. Also, Chechen MMA fighter Ashab Tamaev is the organizer of the alleged MMA fight between Hasbualla and Abdu. However, there isn't a fixed date yet. 
Interestingly, the fight has been condemned by the Russian Dwarf Athletic Association. The association described the staged fight between Hasbulla and Abdu as unethical. Perhaps this remark is the reason for the delay of the said fight. Even worse, it has been canceled.
Hasbulla Magemdov's Social Media
For the young blogger and influencer, social media is where it all began. You can check him out on social media platforms. He has over a million followers on Instagram. His handle is @hasbulla_. While on Tiktok, his handle is @hasbulla.magomedoov.
Fun Facts About Hasbulla Magomedov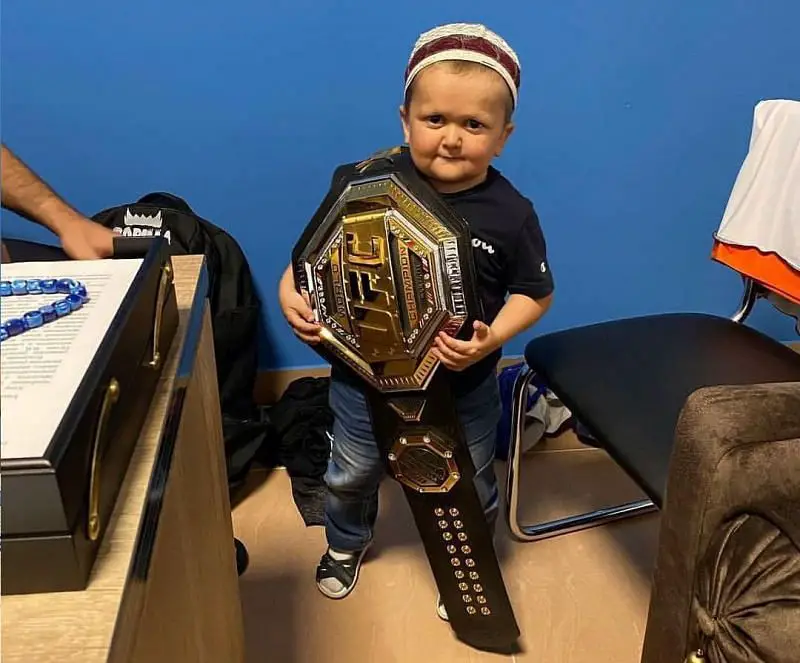 What Is Hasbulla Magmedov's Networth
Following his success as a blogger and social media influencer, Hasbulla has met a lot of opportunities. Although the big fight between him and Abdu Rozik eventually pushed through, he is definitely going to make his pile. However, Hasbulla is currently rumored to be worth an estimate of $100 000.
Conclusion
Hasbulla is such a delight to watch. There is no doubt he would come out victorious in the duel against Abdu Rozik if it eventually holds.