Like Simone Biles's parents, John Metchie parents are very instrumental in his football career. John Metchie is a Taiwanese-Canadian wide receiver for the Alabama Crimson Tide. He got his big break In his sophomore year of 2020. He emerged as the top three receivers in Alabama with a 916 yards distance on 55 catches and six touchdowns.
John Metchie was the first receiver to earn the Jon Cornish Trophy as the best Canadian in NCAA football for the 2020-21 season. But, unfortunately, his big dream of becoming an NFL star is currently under attack because of an ACL injury. While his coach, Nick Saban, has refused to reveal the severity of the injury. Meanwhile, John Metchie Parents are yet to say anything about it. However, we know that they are very supportive of John's football career. To learn more about John Metchie parents, please read to the end. 
Who Are John Metchie Parents?
There are not many details about John Metchie parents except their names. John Metchie's mother is Joyce Metchie, while his father is John Metchie II.
What Is The Ethnicity Of John Metchie Parents?
From his appearance, it is evident that the football star is of mixed race, which begs the question of his parent's ethnicity. While his mother is Taiwanese, his father is a Nigerian. 
Why Did John Metchie's Parents Move To Ghana?
Safe for his tourist visit in his high school days. John Metchie has no vivid memory of his birth country. He was born on 18th July 2000 in Taiwan. After a while, his parents relocated to Ghana for some reasons best known to them. During their stay in Ghana, he unknowingly developed his athletic skills. As a growing child in Ghana, he was subjected to always sprinting away from angry stray dogs. The dogs were fierce and brutally fast, and he had to run to safety lest he'd get bitten. In an interview with The Undefeated, he said: 
"There are a lot of wild, stray dogs in Ghana. I would hate leaving the house because it would always involve sprinting to the car, sprinting away to avoid them as much as possible."
John Metchie Parents Relocated To Canada For Greener Pastures
By the time John was six years old, his parents had relocated alongside him and his siblings to Canada, searching for greener pastures. John Metchie parents eventually settled down in Brampton, Ontario. However, hockey is an easily loved sport for most Canadians, except a few like John Metchie. He never even attempted watching, let alone playing the game. Instead, he took an extreme liking to football. 
Thankfully John Metchie parents are pro sports. They supported John and his brothers in participating in diverse sporting activities, including lacrosse. Their support was beneficial to John and his brothers. It helped them build good relationships, especially Royce, with whom he bonded over football.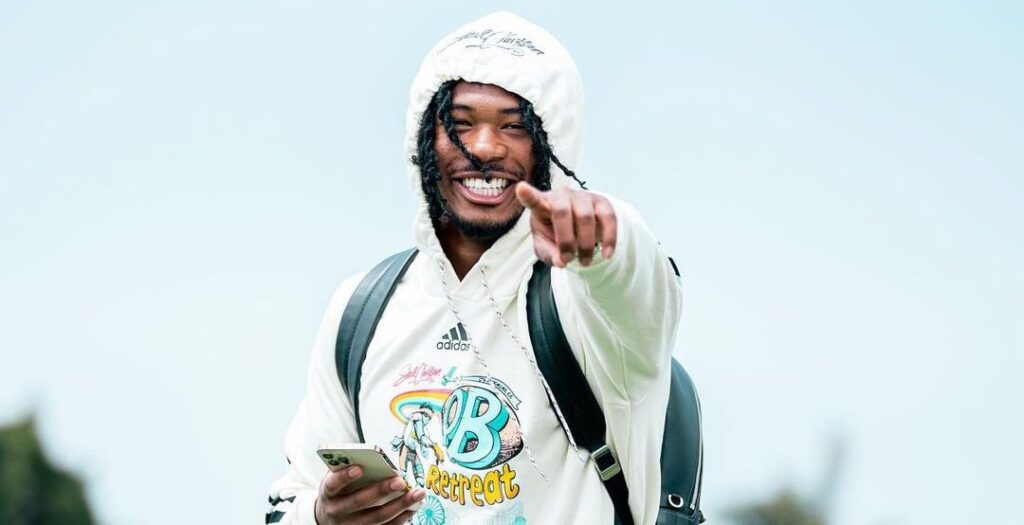 John Metchie Parents Have Always Been In Support Of His NFL Dreams
John Metchie is an undoubtedly gifted footballer. However, his parents have paid considerable sacrifices to help him explore his full potentials to achieve his dreams. As a resident footballer in Canada, he could have easily gotten into the CFL. But typical John Metchie always aiming for the stars, he had a big dream to join the NFL. 
To his advantage, his parents are not frugal. Instead, they supported the big dreams. This included letting him go all alone to America at the very young age of 14. His solo move to America was a strategic move to make him visible to American scouts and coaches. 
Living up to his parent's expectations, John Metchie joined Saint James School in Hagerstown, Maryland. And still, in pursuit of his big dream, he played under the John Root team for a couple of months. 
John Metchie's Family Are Concerned About His Health During His Injury
Although there has been no word from them yet about his injury, it is apparent that they are worried and care about him. After a few months of playing for John Root, John Metchie had an injury that threatened his career. The scan results showed that he had an enlarged heart. This was because of extended hours of training.
It was a dark period for him, the injury posed a big threat to his NFL dreams. He had to watch from the sidelines for the rest of the year. Despite his parent's absence, they still showed concern and care from Canada. John Metchie told The Toronto Sun that : 
"I think that was one of the most challenging times of my high-school career, especially dealing with this whole thing in a different country, being away from my mom and my brothers and stuff like that."
Even his brother Royce showed concerns. He often encouraged him to cheer up and play with his friends. But John would ignore him because he had his eyes set on the price, to prove that Canadians can play football well. too 
Did you know that Jordan Love was singlehandedly raised by his mother? Click here to find out why and learn more about Jordan Love.
Conclusion
John Metchie parents are yet to say anything about his recent injury. They care deeply for him and wish him a speedy recovery as they are his greatest fans. His coach has also expressed strong faith in his recovery. With a steep hope, we all await the rising of the football star like a phoenix.