Domestic violence will never be a societal norm, whether verbal, sexual, emotional, or physical abuse. It is greatly frowned upon regardless of the gender of the abuser. Unfortunately for Ray Rice, he got entangled in the webs of domestic violence controversy barely a year after his big break in his career. He was the running star for his club Baltimore Ravens when they won the Super Bowl. To this effect, the footballer's career took a substantial hit. As a result, the Baltimore Ravens released him, and shortly after, the NFL indefinitely suspended him. However, before the incident, Ray Rice was the man of the people. He enjoyed total capacity of love from his fans worldwide; hence the uncanny act was quite unbelievable.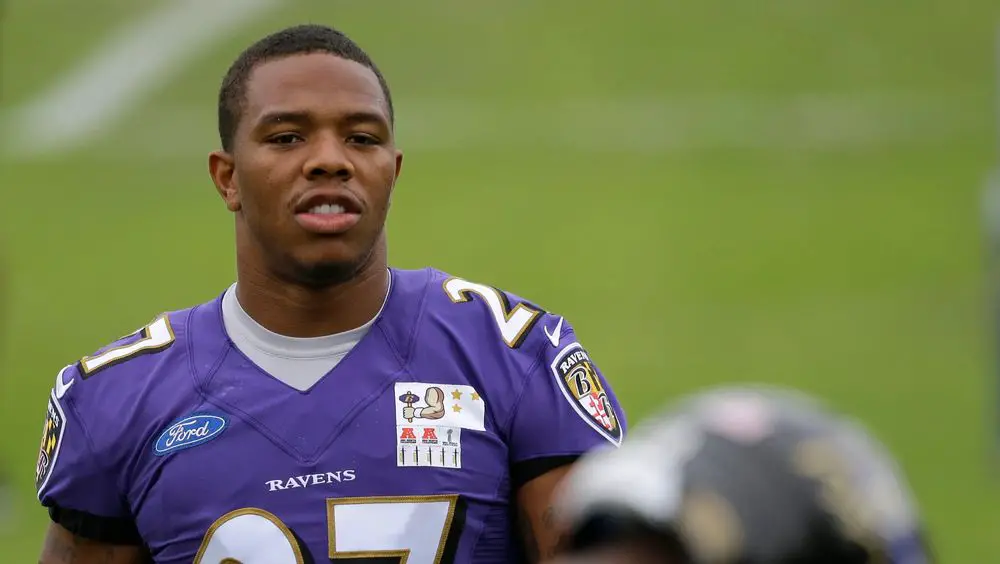 However, Ray got an appeal against the NFL suspension. Sadly no team wanted to be affiliated with him. Thus, he lost a lot of deals bar his football career. Five years later, and it doesn't remain straightforward. Fortunately, this article will demystify what happened between him and his then-fiancee. What he has been up to ever since, ultimately if he is willing to get back into the NFL.
Ray Rice Domestic Violence History
Domestic violence has been endemic from time immemorial. It affects one in four women and one in nine men worldwide. What makes it sinister is the ignorance that surrounds it. It can take diverse unsuspecting forms, including sexual abuse, verbal abuse, emotional abuse, physical abuse, economic abuse, stalking, isolation, and intimidation.
Lots of people are currently being abused but cannot recognize it. Even worse, they are being gaslighted. In the Case of Former Ravens Running star, he was the abuser. The news of his involvement in domestic violence took everyone by surprise because of his goody-two-shoes personality. Barely 24 hours after valentine's day in 2014, he was caught on camera dragging his then unconscious fiancee, Janay Palmer outside an elevator in Revel Casino in Atlantic City.
Find out What Harold Henthorn has been up to and his new life in the prison here.
A confirmatory video surfaced a few months later. the video captured him exchanging blows with Janay earlier that day before she became unconscious. Following the substantial shreds of evidence against him, he got arrested and charged for assault while his career hit rock bottom.
Ray Rice's Career Took The Fall
Amidst all the shreds of evidence in the open against Ray Rice for intimate partner violence, his silence was very deafening. Even though it was all on camera, the former running start didn't react to it. Reconciling the character in the video and his known personality was a big chore. Unfortunately, his career took the fall for his misconduct. Ravens released him and eventually suspended indefinitely by the NFL. However, he won an appeal for the suspension, yet no team would sign him up, which is fair.
Ray Rice Is Now An Advocate Against Domestic Violence
Its been over five years since the uncanny news of his involvement in domestic violence, Ray Rice seems to have turned a new leaf. He has taken full responsibility for his past mistake. He currently champions the NFL campaign against domestic violence. In addition, he took up the mandate of sensitizing people about the dangers of intimate partner abuse, using himself as an example.
Ray Rice has metamorphosed into a staunch advocate against domestic violence to football players and athletes generally. He often speaks to college football and NFL teams and has a strong affiliation with the Childhood Domestic Violence Association organization.
In his advocacy, he opened up about having underlying issues he tried to treat with football instead of seeking professional help. Although Ray Rice has been practically vulnerable, he uses himself as a case study to other NFL members, telling them to seek help instead of repeating his mistake.
Read how a popular Tiktoker shot her friend after getting drunk at a party. Read the Yandere Freak case here
Ray Rice Has No Intentions Of Returning To The NFL
Before the whole incident, Ray Rice had a promising football career that had just kicked off. Although he still has a large following for his rebranded personality as an advocate against domestic violence. He had a cult following as a footballer. So many fans are itching and would give anything to have him back in the game. However, he currently eyes a career as a sports psychologist; even without the educational qualifications, he takes his advocacy platform seriously. But, to all our surprises, he also made it clear that he had no intentions to play football professionally again because he hated the pressure of being a football star. 
Ray Rice And Janay Palmer Are Married Now
Unlike most cases of domestic violence, Ray Rice and his then-Fiancee ended in holy matrimony. The couple got married in March 2014. They had a private wedding a day after his indictment on third-degree charges. They broke the news officially in a gathering at the Four Seasons Baltimore with their close friends and family.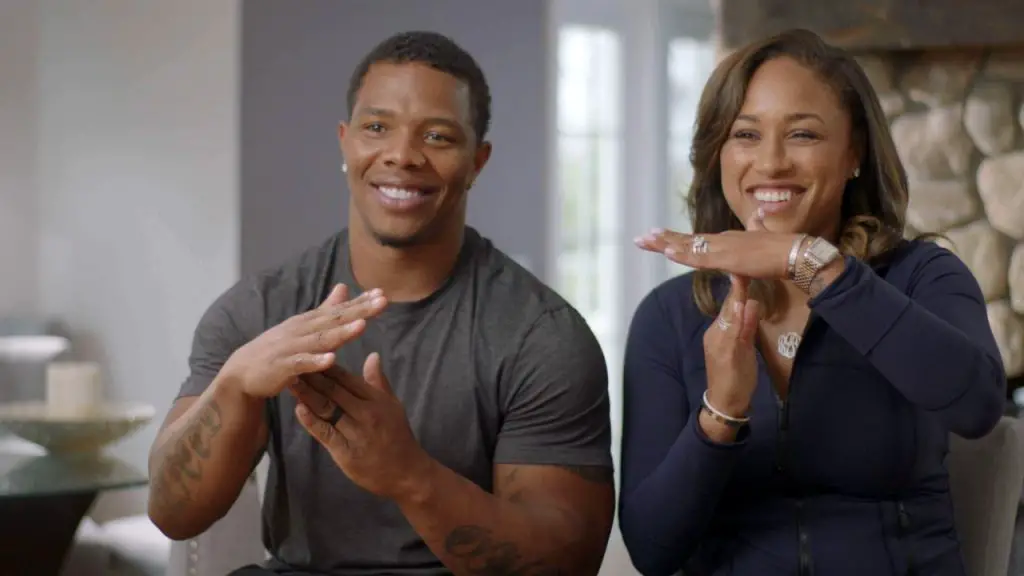 While their union may have raised eyebrows and got tongues wagging, Janay Palmer has come out to defend their marriage. She stated that the physical assault experience was one of the most challenging times of their lives, but they are past it now. And she has never watched the clips of the assault because she doesn't want to relive the experience as it was the first and last time he had hit her.  Although, she admitted to being ignorant about the abuse as she considered it standard at the time. On the other hand, Ray Rice has been very remorseful and grateful that Janay gave him a second chance at life and love again.
Conclusion
Ray Rice and his lovely wife, Janay Palmer, are still together and stronger eight years later. Although the incident altered certain areas of their lives, like Ray's career choice, it didn't deter them from raising their two lovely children in a stable home.