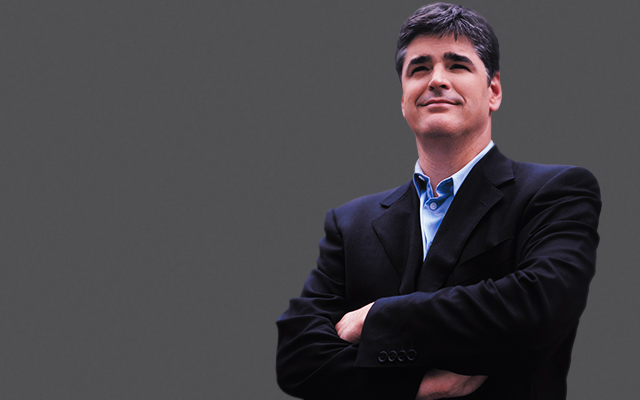 When your call can directly be linked to the most powerful president in the world, then, you are really huge. Sean Hannity is such a man you can consider really huge in this sense.
Controversial, an overbearing advocate for President Trump, vocal, talented, and possessing great oratory prowess; all these attributes make up the personality of Sean Hannity.
Sean Hannity is a talk show host that has built for himself a legacy that is high up there with the very best. But as much as he is a handful of talents, he also comes with a lot of controversies. Maybe, the controversies are what have gotten him this far. Let's find out in this article.
Fast Facts on Sean Hannity
Brief Bio of Sean Hannity
Hannity was born on December 30, 1961, in the bustling city of New York to Hugh and Lilian Hannity. His father was a family court-officer, while his mother was a stenographer. As the youngest of four siblings, Hannity had people all around him.
While he may have Ireland's blood coursing through his veins, Hannity never visited Ireland. Starting a career as a general contractor, Sean Hannity grew to host some of the biggest shows on TV.
His TV host journey began from volunteering as a talk show host at UC Santa Barbara in 1989 to hosting shows in Atlanta, New York, and then Alabama.
His Education
Even though Hannity went to two universities – New York University and Adelphi University – he never graduated. This had no role to play in his career path, however. He started a house-painting business to offset his bills, in 1982, before pursuing his dreams of being a radio host.
Sean Hannity's Career
It looked like Hannity had a clear idea of what he wanted to do right from his college days. He was the guy who loved to talk and he put that passion into good use as we can see.
Hannity was quite intense about his being on the radio, as he placed ads on several radio stations describing himself as "the most talked-about college radio host in America."
From High school to the real world, Hannity always maintained his desire to want to host and talk about general issues. He was known then as the blunt, direct host, which he still portrays to this day.
In 2013, Sean Hannity signed a contract with Premiere Networks. In 2014, he also signed contracts to air his shows on several communications stations. He is seen today as one of America's foremost political analysts.
He is currently on the payroll of Fox News, signing a lucrative deal.
Oh, for the record, Hannity remains the highest paid star on Fox. He earns $25 million each year from the media powerhouse.
Sean Hannity Writes
If Sean Hannity had no books written, you'd agree with us that we should have had him jailed. It is simply a norm for celebrated TV anchors and professionals to have books written, where they share their experiences on the job or give opinions about certain issues.
So, Sean Hannity has written three New York bestsellers. The first one, Let Freedom Ring: Winning the War of Liberty over Liberalism, was published in 2002. His latest book, Live Free or Die, is due for release in 2020, a book that would be his fourth.
Sean Hannity Relationship with President Donald Trump
Remember that in the opening paragraph, we said Hannity had his way with the President of the United States of America, Donald Trump. Well, their relationship has come a long way from Trump's campaigns in 2015 till now.
As a staunch supporter of Trump, Hannity has severally jumped in defense of the President, citing him as "the best President the U.S could ever have."
He has also been accused of granting Trump airtime during the campaign for Presidency elections more than any other candidate.
Their relationship started before the elections in 2016, where Hannity was seen to repeatedly support Trump blindly, as some would call it. The two are so close that news filtering around the White House is that Hannity is the 'shadow' Chief of Staff.
There are several reports confirming that the two talk to each other every other day of the week.
To date, Sean Hannity regularly defends the President on his actions even when they look glaringly wrong. He has a way of finding truth in everything that is said to be false as regards his relationship with President Trump.
Sean Hannity's Relationship
One big question fans ask is: Is Sean Hannity married? Well, he was but in June 2020, Sean ended his over 25 years of marriage with Jill Rhodes. Actually, from every indication, the two had ended their marriage for a few years now but had been private about it.
Rhodes, 57, had two children with Hannity, a daughter, Merri Kelly, and a son, Patrick.
It seems the two ended the divorce amicably. They still have a good relationship; it is just that marriage didn't work out fine for them as they had thought.
Both still give glowing remarks about each other when they have the chance. Sean Hannity and Jill Rhodes also create out time for their kids.
Other Interesting Facts About Sean Hannity
Here are other facts of Sean Hannity that we diddn't capture above:
Want to find out more? Hurry to Sean Hannity's Instagram!
Conclusion
Hate him or like him, Sean Hannity has created a name for himself with his style of journalism. As an 'opinion journalist,' as he calls himself, Hannity really goes all in to create controversies. Let's say he does it to keep the conversation about him flowing. In any case, he's achieved that, or how else would you rate a man whose show is viewed by millions of people?