The biggest Spanish TV series in the world right now is La Casa de Papel (Money Heist). The series became a global hit due to sterling performances from people like Ursula Corbero who played the character Tokyo. To date, the team behind the creation of the series do not believe that the TV show was going to be a global sensation. But, isn't that what a good TV series should do? 
In this article, our focus would be on the delectable, beautiful Ursula Corbero, who many have come to love-hate because of her controversial role in the hugely popular Netflix drama. But, you can't hate Corbero. It is simply impossible, especially if you have heard her talk outside the movie set. The beautiful Spanish actress isn't new to the movie industry. She has been there all her life but you know how one movie can change everything about your life; that's exactly what happened.
Who is Ursula Corbero?
Aside from acting, Ursula Corbero Delgado is a supermodel. Corbero was born on August 11, 1989, in Barcelona, Spain. It is safe to say that she is Catalan. However, she has often refuted claims that she is hardcore as she is always open to the rights of both parties. She grew up in Sant Pere de Vilamajor. Corbero was raised by a carpenter, Pedro Corbero and a shopkeeper, Esther Delgado. She is not the only child of her parents as she also has a sibling, Monica. 
The Early Years of Ursula Corbero
There are some people who know what they want right from a tender age. For Corbero, this was the case. Right from when she was 6, she had nursed the ambition of being an actress. By age 13, she got an acting role in commercials. Before then, she had commenced her acting classes. Alongside taking acting classes, she also took jazz dance classes, too. After completing her studies, she was flown to Madrid to feature in the TV series  Fisica o Quimica. 
The Early Career of Ursula Corbero
Ursula Corbero made her screen debut aged 13 in the television series Mirall Trencat in 2002. Two years on, she would be a cast member on Ventdelpia, starring as Sara. That same year, she also made appearances in the popular series Cuenta atras. But, it was her performance in the television series Fisica o Quimica that sparked national interest in her acting. Though the series itself was subject to controversies, Corbero's performance garnered a lot of commendations. 
She left the series in 2011. Already with a reputation, she didn't stay too long before she got another role. This time around, she was the main character. Her role in the Television Espanola series 14 de abril La Republica was profound. However, the show hit a snag and the second season didn't air till November 2018 due to political tensions with the People's Party.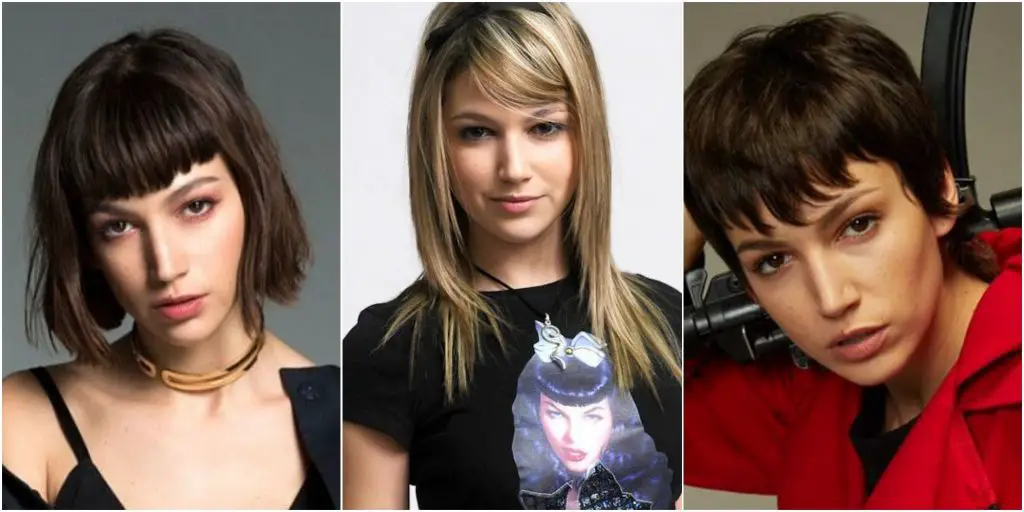 Between that time, Corbero had featured in several other movies and series. In 2011, she co-starred with her Fisica o Quimica star Maxi Iglesias in the horror film XP3D. The film didn't live up to its billing despite several campaigns to make it appealing. A year later, Corbero was the director of the television movie Los Dias de Gloria. This movie again was postponed due to political tensions. It finally aired in July 2013. Corbero would later join the third season of La 1's series Gran Reserve, where she played the role of Julia Cortazar. Again, she made it to the cast of another horror film Afterparty. This film just like the other horror film didn't get rave reviews and did poorly in the market. 
Ursula Corbero is Part-Time a Comedian
Sometime in 2013, Ursula starred in the Spanish Comedy Quien mato a Bambi? She starred with Quim Gutierrez and Clara Lago. This time around, the film garnered a lot of affectations. 
In 2014, Ursula Corbero played Margarita de Austria in the widely acclaimed historical series Isabel. That year, she became the first woman to receive the Untameable Award at the Sitges Film Festival. That year was a very good one for Ursula as she was named Woman of the Year by Men's Health Magazine. 
Ursula Corbero cemented her position as one of the best comical actresses in Spain with her immaculate performance in the movie Como sobrevivir a una despedida. The film was so good that it got nominated for Best Picture. 
La Casa de Papel Star: Corbero's Hollywood Breakthrough
Ursula Corbero's walk to worldwide stardom began when she landed the main role in the Spanish television series La Casa de Papel (Money Heist) series in 2017. She played Tokyo as well as the narrator of the story. Tokyo was a runaway robber who was discovered by the Professor to participate in his plan. The series became a global hit because of its dark humor, emphasis on women's freedom, anticapitalism. Created by the talented Alex Pina, the series first aired in Spain on Antenna 3 before being snapped up by Netflix. 
Ursula Corbero's performance earned her a nomination for Best Actress in a TV series at the Premios Feroz. She also won Atv Award for Best Actress. 
Today, Money Heist is the most viewed non-English speaking series on Netflix. 
From then onwards, it was way up for Ursula Corbero. A year after, she got her first English-speaking role in the American crime-drama series Snatch. In 2019, it was announced that Corbero would play G.I Joe villain the Baroness in Snake Eyes. The movie directed by Robert Schwentke was released on July 23, 2021, in Dolby Cinema. 
Is Ursula Corbero Married?
The first mention of a romantic relationship with Ursula was in 2008. She dated actor Israel Rodriguez for two years between 2008 and 2010. They ended the relationship after they couldn't progress. In 2011, Corbero and tennis player Feliciano Lopez started a relationship. This too would end after just five months. There was no mention of a relationship till 2013 when she started a relationship with another actor and model Andres Velencosco. This relationship lasted for three years before they called it quits. 
Ursula Corbero is currently in a relationship with actor Chino Darin since 2016. They met on the set of the television series La embajada. For more than five years now, their relationship has waxed strong. They even live together in Madrid. 
Is Ursula Corbero on Social Media?
The global success of La Casa de Papel cast more spotlight on Ursula Corbero. In 2018, she became the most followed Spanish celebrity on Instagram with 5 million followers. That record has been eclipsed though by Georgina Rodriguez and Ester Exposito. However, today she has over 21 million followers in the platforms. She is also active on Twitter but not as much as on Instagram. 
Ursula Corbero is a Feminist.
Ursula Corbero uses her platform to propagate the gospel of feminism. 
Conclusion
Ursula Corbero's success is a testament that with hardwork and talent, you can reach anywhere from the suburbs or anywhere. We strongly believe this is just the beginning of what is to come.